Legal Online ScratchOff Lottery Tickets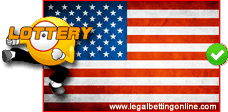 Since the dawn of mankind, people have found ways to gamble. History shows us that even in ancient civilizations like Egypt and China and Rome, people gambled on a wide variety of games. While our games in 2016 might look a lot better, be more plentiful, and a lot more easily accessible thanks to the Internet, the fact is that we're no different culturally than our ancestors who loved to play games of chance. There's a thrill provided when you're risking money for a shot at winning a lot more money. Gambling deals directly with our base instincts as human beings to have more. We want those millions of dollars. We want to win while gambling.
Legal Betting Online recognizes that gambling is a widespread genre, not only dealing with sports or online casino games. This is why we try to touch on a little bit of everything, even scratch off lottery tickets. Earning billions of dollars in revenue every year, scratch-offs are huge in the United States, and most states allow them. Some only cost a buck and might pay out a few thousand dollars, while some tickets cost $20 or more and can turn you into an instant millionaire. But can you buy online scratchoff lottery tickets legally in the US? Our guide answers all the questions you have and even the ones that you wouldn't think to ask.
What Are Scratch Off Tickets?
In all the gambling topics we have ever covered, scratch off lottery tickets are perhaps the easiest to explain. In essence, these are pieces of paper that have winning or losing number combinations on them. The numbers are covered up by a sort of thick film that must be scratched off. This covering keeps the tickets a mystery, and so people who buy a scratcher don't know if they've won or lost until after they've scratched off the covering, typically using a coin or their fingernail. With online scratch off tickets, the same principle applies. Only you will use your computer's mouse, or finger on a touchscreen, to scratch away the covering.
These tickets are produced typically by states, or at least sanctioned by the state, and they are available in dozens of varieties. You can find tickets for $1, $2, $3, $5, $10, $20, and some tickets might even cost you $50 to try your luck! Your odds of winning depend on the ticket you buy. It should tell you what your chances of winning are; e.g. "1 in 4 tickets win; 1 in 6 tickets win, 1 in 2 tickets win." This usually also depends on the amount. For instance, if you're paying $20 for a ticket, you'll probably find that 1 in 4 win, whereas a $1 ticket might have odds like 1 in 10 winning. Winning amounts also depend entirely on the ticket itself. Some pay out a few hundred or few thousand dollars, while some have very large jackpots that can reach a million or more.
Is Playing Online Scratch Off Tickets Legal In The US?
Two very quick, very simple points to make here. Point #1: It is perfectly legal, no matter where you live in the US, to play a scratch off lottery ticket and to be eligible to win. No states, nor the federal government, have laws which stop you from purchasing a scratch off ticket where you can find one legally offered. So, yes, they're legal for you to play as a US citizen. Point #2: Not every state offers legal tickets. This doesn't mean they're illegal for you to play if you live in that state; it just means your state doesn't offer them.
To point 2, there are six states in the USA that do not allow legal lotteries like scratch off tickets: Alabama, Alaska, Hawaii, Mississippi, Nevada and Utah. One can understand the morality police in Utah not offering scratchers, but what's with Mississippi and Nevada? These states have hundreds of legal on-location casinos. And that's the crux. These states want you supplying revenue to their brick-and-mortar establishments. They don't want you putting money into a lotto machine. Though if you're in Mississippi and go buy you some scratch offs from Louisiana, you're operating perfectly within the law, per point 1.