LEGAL NFL BETTING SITES – SPORTSBOOKS FOR THE NFL PLAYOFFS 2019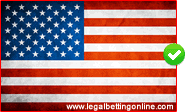 When the NFL Playoffs kickoff in January, it marks the start of not only one of the most intense sporting events but also the start of the biggest month of NFL betting action in the United States.
After the 32 NFL teams have completed their 16-game regular season schedule at the end of Week 17, the six best AFC and six best NFC teams will be placed in a double-sided, single-elimination bracket with the winners from both the AFC and NFC meet in the Super Bowl to determine the champion for this season.
For betting on the NFL Playoffs, we want to provide you with the best and most trusted legal online sportsbooks, so you don't get blindsided when wagering on this season's best NFL teams.
IS IT LEGAL TO BET ON THE NFL PLAYOFFS IN THE UNITED STATES?
Offshore: Yes! There is no federal law in the United States that prevent you from betting on the NFL Playoffs at a licensed online sportsbook located outside of the country. Each of the NFL betting sites we recommend below has been reviewed our staff to ensure each sportsbook fits our criteria.
Domestic: Local options located within state lines are becoming more common following the repeal of PASPA in May 2018. A few states have legalized sports betting, but only a couple offer the option to bet online, which means more than likely the sportsbooks below are your best options the betting on the NFL Playoffs online.
BEST NFL PLAYOFFS SPORTSBOOK FOR USA PLAYERS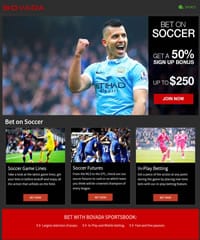 The Bovada sportsbook has been a trusted betting source in the USA for over a decade. Industry professionals and casual players agree that Bovada offers a premium service with favorable game lines.
In addition to offering a premium trusted service, Bovada is easy to use, has multiple banking options for USA players, and excellent customer support services.
 Pros
US Friendly
Owned And Operated By The Bodog Family (Most Reputable)
Deposit Easily With Your Credit Card Or Bitcoin
Fast And Reliable Payouts Guaranteed
50% Welcome Bonus Up To $250
Enjoy Sports Betting, Casino, Horses Ect.. All With 1 Account
Cons
Only accepts U.S. Mexico And Brazil Players
Excluded States: NY, NV, NJ, DE, MD
TOP LEGAL NFL PLAYOFFS BETTING SITES FOR THE USA
CURRENT 2019 NFL PLAYOFF PICTURE – AS OF WEEK 14
Below are the teams who would qualify for the 2019 NFL Playoffs if it started today along with the teams currently in the hunt to potential sneak in before the regular season ends.
AFC First Round BYE
No.1 Seed: Kansas City Chiefs (10-2)
No.2 Seed: New England Patriots (9-3)
AFC Wild Card Round
No. 6 Seed: Baltimore Ravens (7-5) @ No.3 Seed: Houston Texans (9-3)
No. 5 Seed: Los Angeles Chargers (9-3) @ No.4 Seed: Pittsburgh Steelers (7-4-1)
AFC – In the Hunt
Miami Dolphins (6-6)
Indianapolis Colts (6-6)
Denver Broncos (6-6)
Tennessee Titans (6-6)
Cincinnati Bengals (5-7)
Cleveland Browns (4-7-1)
Buffalo Bills (4-8)
Jacksonville Jaguars (4-8)
New York Jets (3-9)
AFC – Eliminated
Oakland Raiders 2-10
NFC First Round BYE
No.1 Seed: Los Angeles Rams (11-1)
No.2 Seed: New Orleans Saints (10-2)
NFC Wild Card Round
No. 6 Seed: Minnesota Vikings (6-5-1) @ No.3 Seed: Chicago Bears (8-4)
No. 5 Seed: Seattle Seahawks (7-5) @ No.4 Seed:  Dallas Cowboys (7-5)
NFC – In the Hunt
Carolina Panthers (6-6)
Philadelphia Eagles (6-6)
Washington Redskins (6-6)
Tampa Bay Buccaneers (5-7)
Green Bay Packers (4-7-1)
Atlanta Falcons (4-8)
New York Giants (4-8)
Detroit Lions (4-8)
Arizona Cardinals (3-9)
NFC – Eliminated
San Francisco 49ers (2-10)
2019 NFL PLAYOFF SCHEDULE AND BRACKET
Here is the schedule for the entire 2019 NFL Playoffs. We will update each matchup with the teams, time, location and channel when it becomes official.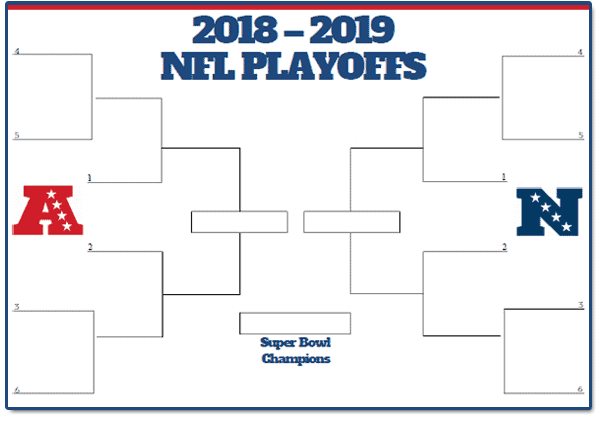 NFL WILD CARD ROUND
Saturday, Jan 5, 2019
AFC Wild Card Round: TBD
NFC Wild Card Round: TBD
Sunday, Jan 6, 2019
AFC Wild Card Round: TBD
NFC Wild Card Round: TBD
NFL DIVISIONAL ROUND
Saturday, Jan 12, 2019
AFC Divisional Round: TBD
NFC Divisional Round: TBD
Sunday, Jan 13, 2019
AFC Divisional Round: TBD
NFC Divisional Round: TBD
NFL CONFERENCE CHAMPIONSHIPS
Sunday, Jan 20, 2019
NFC Championship Game: TBD
AFC Championship Game: TBD
SUPER BOWL: AFC CHAMPION VS. NFC CHAMPION
Sunday, Feb 3, 2019
Super Bowl LIII: TBD
NFL PLAYOFFS BETTING GUIDE – TIPS AND STRATEGIES
The NFL Playoffs is an entirely different level of football than what is seen during the regular season. Teams are vying to get to the Super Bowl and because each team is only a couple games away from making it, the team who wants it more will always come out on top. Here are five tips and strategies to keep in mind when betting in the playoffs.
TOP 10 NFL PLAYOFF FUN FACTS – DID YOU KNOW?
From 1960-69, the NFL had a third-place game for the losers of both conference championship game called the Playoff Bowl.
Bart Starr won 90 percent (9-1 record) of his starts in the NFL Playoffs, which is the best out of any quarterback who has started at least five games in the playoffs.
The Ice Bowl played between the Cowboys and Packers in Green Bay, Wisconsin in 1967 is the coldest game in the history of the NFL Playoffs with the temperate at -13 degrees Fahrenheit at kickoff.
However, the Freezer Bowl featuring the Chargers and Bengals in Cincinnati, Ohio was the coldest game in the history of the NFL, not just playoffs. Kickoff temperature was -9 degrees Fahrenheit, but with sustained winds of 27 miles per hour, the temperature "felt" like -59 degrees.
During the 1972 Divisional Playoff game between the Steelers and Raiders with 30 seconds left, Terry Bradshaw's threw to John Fuqua, but Raiders Safety Jack Tatum lit up Fuqua, causing the ball to bounce off the collision. While in the air, Franco Harris snagged the ball before it hit the ground and ran 35 yards for the touchdown, winning the game for the Steelers and becoming known as the "Immaculate Reception."
The largest comeback in NFL history happened during the playoffs when the Bills came back from a 32-point deficit against the Houston Oilers after being down 35-3 to win 41-38 in overtime.
Only six teams in history have won in the NFL Playoffs without scoring a touchdown for the entire game.
Brett Favre and Tom Brady are the only two quarterbacks over the age of 40 to start and win a playoff game.
Tom Brady currently has 27 playoff wins, which is nearly double that of any other player in NFL history. Joe Montana is second with 15 playoff wins.
The Tom Brady-Peyton Manning Rivalry was one of the best in NFL history and both are considered the greatest to ever play the quarterback position. Brady won 11 out of 17 matchups, but when it came for the playoffs, Manning finished with a 3-2 record against his archrival.