Legal NHL Betting Sites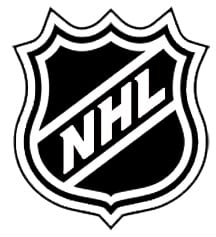 National Hockey League betting lines and odds are as old as the league itself, originating in Canada before being passed down to the United States during the early to mid-1900s. Today, the league features 31 NHL teams with the Vegas Golden Knights being the latest addition – a fitting one due to the league changing its stance on sports betting in 2018.
Our NHL betting guide was created to provide you with current legal hockey betting information and to offer our suggestions on where to find the most trusted online sportsbooks for betting on the NHL, so that you don't end up in the penalty box when betting online this season.
Are Online NHL Sportsbooks Legal in the United States?
Offshore: Online sports betting is legal in the United States when the sportsbook is located outside the country and is licensed in the country where they reside, making each of the online sportsbooks in the next section 100% legal, safe and secure for residents of the United States to bet on NHL lines and odds.
Domestic: When it comes to betting at NHL sportsbooks located within the U.S., the number of legal betting options become slim since only a handful of states have legalized sports betting since the repeal of PASPA and even many of those do not allow online bets on the NHL or any sport.
Best NHL Sportsbook for USA Players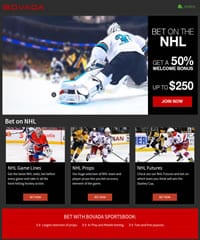 If you like betting on NHL Hockey games then you should see Bovada's NHL betting lines. Bovada offers betting lines and multiple betting types for practically every NHL game. In addition, you can also bet on period lines, team totals, and futures.
Bovada has been servicing the USA for almost a decade now offering Americans a trusted source for NHL betting. Below are some of the many reasons our team of industry professionals chooses Bovada over the other guys.
 Pros
US Friendly
Owned And Operated By The Bodog Family
Deposit Easily With US Credit Cards Or Bitcoin
Fast And Reliable Payouts Guaranteed
50% Welcome Bonus Up To $250
Other Services Include: Sports Betting, Casino, Poker
Cons
Only accepts U.S. Mexico And Brazil Players
Excluded States: NV, NJ, DE, MD
Top Legal NHL Betting Sites for the USA
National Hockey League - Format
The NHL has 31 professional hockey teams that play in the Eastern and Western Conference.
These two conferences are each split into two divisions:
Eastern: Atlantic (8 teams), Metropolitan (8 teams)
Western: Central (7 teams), Pacific (8 teams)
Every NHL team plays an 82-game regular-season schedule and 16 teams, 8 from both Eastern and Western, who score the most points during the regular season will make the playoffs.
Points are awarded each game and are based on the outcome of the game:
2 points are awarded to the winning team in regulation.
1 point is awarded to both teams making it to overtime or shootout with an additional 1 point awarded to the winner in post-regulation.
No points are awarded to a team for losing in regulation.
For the Stanley Cup Playoffs, 16 teams are seeded into a double-sided bracket where points determine seeding, and the highest seed (No.1) plays the lowest seed (No.8) from each conference.
Each team plays a best-of-seven series, and the team that wins four games advances to the next round.
After three rounds, the remaining team from both the Eastern bracket and Western bracket will play the last best-of-seven series, the Stanley Cup Finals, to determine which team will be named champions of the NHL for that season and win the Stanley Cup. For further information about the post season, see our guide to betting on the Stanley Cup playoffs.
2019-20 NHL Season Schedule – Events and Important Dates
When betting on the NHL, it's important to keep in mind when certain wagers will payout or when value can be found due to a lot of action coming in on a marquee event. Here are all the key dates to keep in mind for the 2019-20 NHL Season:
2019-20 NHL Regular Season

October 2, 2018 – April, 4th, 2020

2020 NHL Global Series

October 4, 2020: Chicago Blackhawks & Philadelphia Flyers (Prague)
November 8th & 9th: Buffalo Sabers & Tampa Bay Lightning (Stockholm)

Bridgestone NHL Winter Classic

January 1, 2020: Dallas Stars vs. Nashville Predators at Cotton Bowl® Stadium, Dallas, Texas.

2020 NHL All-Star Game

January 26, 2020: Enterprise Center St. Louis, Missouri

NHL Stadium Series

February 23, 2020: Los Angeles Kings vs. Colorado Avalanche at Falcon Stadium, U.S. Air Force Academy, Colorado Springs, CO

2020 Stanley Cup Playoffs
2020 Stanley Cup Finals

Last possible day: June 15, 2019
Betting on NHL Game Lines – Puck Line and Money Line Explained
The two most common bets placed on NHL games is the puck line and the money line. Both lines work similarly to other sports with some minor exceptions.
NHL Puck Line
The puck line is the hockey version of a point spread given by sportsbooks on other sports, which is used to handicap the game to create a balanced number of bets placed on both sides with a roughly equal payout.
However, there are some major differences to keep in mind.
The NHL puck line is frequently set by an online sportsbook at -/+1.5 where the favorite (-) must win by 2 goals to win the bet, and the underdog (+) can win the game or lose by no more than 1 goal.
This is where betting on the NHL can turn out badly if you don't know what you're looking at because, in the example, Carolina is the perceived favorite to win the game but not by more than 1 goal over Chicago.
Since that's the case, Chicago is actually the favorite for this puck line even though they are given the positive number for the underdog. The real favorite in a puck line is indicated by the odds in parenthesis and the amount required to bet (Chicago $180 to win $100, Carolina $100 to win $160)
Also, an NHL puck line typically never moves and if it does, it will always have a .5 to avoid a push. Instead, the odds will move instead to balance the action on either side
NHL Money Line
The NHL money line is straight-forward and exactly like that of other sports and may even be better than other points since the odds are typically super close.
A money line is a bet solely on which team will win the game with no handicap on goals scored. The -/+ odds will indicate which hockey team is favored and the difference will determine just how likely they are to win the game.
Taking the same betting line from Bovada that featured the puck line, we can see Carolina is favored as indicated by the (-) and a $175 bet would win $100 while a $100 bet on Chicago would win $155.
The most important takeaway is to know that the puck line and money line will essentially pick the opposite teams, which is different from other sports where they'll be aligned with the point spread and money line showing a clear favorite and underdog.
Bets on the NHL are a bit different since games tend to be low scoring and close, but because the margin between the two teams is much smaller, then it means value can easily be found when a team is an outlier on your projected model.