Scouring the news wire this morning, we came across an interesting story with the following (comically long and biased) headline:
"A Black Army officer says she was profiled when she was denied entry to a Louisiana casino after an employee discredited her military ID"
We have no idea what the "Black Army" is, but it does sound pretty cool.
Anyway, here's the nutshell:
Back on October 5, 23-year-old Deja Harrison – a US Army second lieutenant – went with her stepbrother to the Harrah's New Orleans Hotel & Casino for a bit of fun.
And who can blame them?
Casinos are loads of fun.
But when Harrison put her driver's license into the ID scanner, it failed to register.
The system could not read the card.
As all domestic commercial casinos in America have minimum age requirements of 21 and up, showing ID is par of the course
No ID, no gambling.
So, to settle the issue with the ID scanner, Harrison then showed her military ID.
She was summarily informed that she could not enter the establishment.
Naturally, the mainstream media has tried to frame this is an act of "profiling" and "racism" or whatever.
To Harrison's credit, however, she apparently didn't take that latter tack.
Per her statement:
"[The security guard] immediately looked at my rank, and he was like, 'This ID is fake. This isn't you, and there's no way possible that you made this rank in a short period of time.'"
While Harrison didn't play the race card (this is in New Orleans, after all, which would make that extremely difficult considering the city's demographics), she did attempt to make the issue an assault on her character and capabilities, nebulously tying the alleged affront into some broader discrimination targeting – or doubting – female achievement.
Again, per Harrison:
"I just commissioned the summer. I just came from a 38-day training, sleepless nights, 16-hour days, walking 12 miles a day with heavy equipment on, and I was just like, wow, this man is telling me I didn't do this. I've worked so hard to be in the military and to be where I am now."
There's only one problem with the premise: There's no evidence whatsoever that the guard said any of this.
Harrison only started recording the confrontation after the above offense was allegedly uttered.
It's her word against his.
And for what it's worth, these are his words (which were recorded on video):
"I'm not saying that the ID is fake. I'm saying that I don't think it's you."
Outrageous, right?
And it may genuinely sound that way.
Until, of course, you actually see the IDs in question: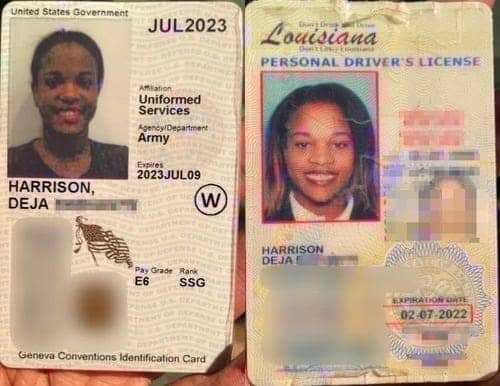 If we were running security at a casino – which is mandated by state and federal gambling laws to strictly scrutinize all IDs and err on the side of caution – we'd reject these two photographs as being the same person, too.
They look absolutely nothing alike.
Naturally, Harrison is suing the casino.
Maybe Harrison hit the jackpot without ever setting foot on the casino floor.
But these kinds of issues happen all the time.
The one place they don't happen, however, is at legal online casinos operating offshore.
These sites all use industry-standard KYC protocols to ensure you are who you say you are – that you and only you have access to your betting bankroll and the wagers you place.
However, because these sites operate electronically over the Internet, the process is far more streamlined and takes out any possibility for judgment calls.
When using most online bet funding methods (i.e. credit, debit, bank wire, etc.), players must upload a photo ID with the same residential address they've entered during the site signup process.
If there's any question about the validity of the ID thereof, further documentation – such as a utility bill for the aforesaid address and in the name of the site member – may be requested.
Social security numbers are never asked for (and if you come across an online betting site that does require such, you'll know right away to stay away).
But the process is simple, straightforward, and easy.
Players never run the risk of outdated ID photos barring their participation, for example, as the standards for online identity verification are necessarily looser than such standards at domestic brick-and-mortar casinos.
There's more trust between the operator and the player, and the former is concerned only with making a good faith effort to ensure that you're you.
And, of course, if you want to skip all that entirely, crypto deposits and withdrawals are even better.
Crypto banking affords the player more anonymity, which is a big reason why domestic venues do not accept Bitcoin betting deposits, Ethereum gambling deposits, and other altcoin transactions.
If you're an online gambler – or simply a casino player that wants the most convenient, accessible way to gamble 24/7 no matter where you are – offshore betting sites are the best option.
These KYC protocols cover your butt so you can cover the spread, and they let you pull the legal online slot crank without ever pulling your leg.
You should absolutely insist upon them.
For Harrison, we understand that her ID situation interrupted a good time.
It's not her fault, but it's not Harrah's fault, either.
Still, she could have avoided the headache of it all by sticking to the online gambling market, instead.
Let that be a lesson to you!