Legal Bitcoin Gambling In The US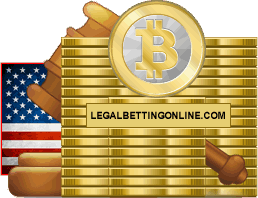 USA players often have the most limited banking options available due to the Unlawful Internet Gambling Enforcement Act(UIGEA) which prohibited banks from processing gambling related transactions. This is the reason why so many players experience declined transactions when using their credit cards for gambling. But with the advent of Bitcoin crypto-currency, there are no more failed credit card attempts and players are now able to collect their winnings in hours instead of weeks. Bitcoin is truly a god send for the US market and in a lot of ways has been the single most contributing factor to pushing the gambling industry forward in recent years.
This page was created to give USA players a general overview on what Bitcoin is and how to use it to gamble legally in the United States. We will answer common questions such as how it works, if Bitcoin gambling is legal and much more. We also rank and review the leading US friendly online gambling sites that are both legally licensed and accept Bitcoin. By the end of this page, you should have a firm grasp on the alternative currency and how you can apply it to your online gambling endeavors.
Is Bitcoin Gambling Legal?
There seems to be a lot of confusion as to whether or not it is legal to gamble online with Bitcoin in the United States. The truth is Bitcoin gambling is really no different than any other gambling as far as USA players are concerned. At the end of the day the same laws apply to Bitcoin gambling as they do with any other type of gambling. And what the law says about gambling in the US is that it's illegal to accept wagers, but it's not illegal to place them. This is the exact reason why all of the gambling sites that accept USA players are located offshore so they don't run afoul of US regulations.