Kansas Legal Online Gambling Guide 2018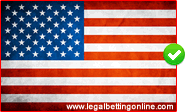 Kansas residents have local access to the standard fare when it comes to gambling entertainment. You'll find pari-mutuel, lottery, casino and poker gambling available throughout the state. The state has gone from a history of anti-gambling laws in the late 1800s to a complete turn about in the 1980s when the state began embracing various types of gambling. Kansas is now a US destination in which you can find a decent selection of legal gambling options and even some interest in the up and coming state based online gambling scene. It is safe to say that Kansas is pretty warm and fuzzy when it comes to their stance on gambling.
This guide was created by a team of online gambling professionals, designed specifically to provide information to residents of and visitors to the state of Kansas. It is our strong belief that in order for you to make an informed decision regarding your involvement with online gambling, you need accurate, up to date and unbiased information that provides insight into the legalities and nuances of online gambling for the state of Kansas. We also touch on the potential for state based online gambling in the Sunflower State by taking a look at legislation that has been introduce to that end. You will find the information in this guide broken down by venue to make it easy to access precisely the information you are looking for.
Is Online Gambling Legal In Kansas?

This in fact is a loaded question. The answer is actually yes and no. It is currently not legal to own or operate an online gambling site within the borders of Kansas state. While not specifically prohibiting online gambling in the state, there are just no laws in place to authorize the state to license and regulate online gambling at a state level. The laws and statutes for Kansas are basically silent when it comes to online betting. This means that anyone offering online gambling services within the state's borders is doing so without a licensed, thereby classifying himself or herself as the provider of illegal gambling activity.
The good news is that the gambling laws in KS do not prohibit online gambling in the state. It is not illegal for gamblers in Kansas to participate in certified and regulated offshore Internet gambling. The important factor to remember is to never consider getting involved in any type of online gambling that isn't licensed and regulated by a legitimate governing jurisdiction.
There was one piece of legislation introduced in 2013 that addressed online gambling, however not in the direction we would like. Senate Bill 2055 was introduced, but failed by a 24-15 vote. However, since the measure sought to ban state side online gambling, we're pretty relieved that it didn't get far. There has not been any online gambling related legislation reintroduced since that time. We are hoping that the fact that the senate did not vote in favor of banning state based online gambling that this means there is some hope for it to become a reality in the near future. We will be diligently watching to see how things shape up on this front, and will certainly update this page should there be any movement one way or the other.
KS State Facts & Quick Jump Menu
---