LEGAL NASCAR BETTING GUIDE FOR 2023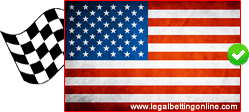 Based in Daytona Beach, Florida, the National Association for Stock Car Auto Racing (NASCAR) was founded in 1947. Today, betting on NASCAR races is far and away the most popular form of wagering on motorsports in the United States.
There isn't a bigger race during the year than the Great American Race known as the Daytona 500, which cranks the engine on the NASCAR calendar each year in February. One of the perks to betting on NASCAR is it's one of the few sports that can be wagered on nearly year-round since it lasts from February to November, covering 10 months of the year.
If you want to get in on the action for the 2023 NASCAR Cup Series schedule, our legal NASCAR betting guide will give you pole position with info on gambling laws as well as tips and strategies so you can navigate each race and have your bets take the checkered flag every time.
Is It Legal To Bet On NASCAR Races In 2023?
If you are at least 18 years old and live in the United States, there are no federal laws that prevent you from betting on NASCAR races when using any of the top legal offshore betting sites.
In fact, NASCAR is one of the few sports that is embracing sports betting and has several casino sponsors for the 2023 season. You can get more information on each betting site from our online sportsbook reviews.
Bovada Sportsbook
#1 Rated Legal Online Sportsbook For 2023
Bovada Sportsbook is the most popular and trusted legal online sports betting site available to USA players. Bovada features a track full of NASCAR odds, including NASCAR futures on specific races, NASCAR Cup Series odds, individual NASCAR betting head-to-heads, specific race props, and a garage full of additional action.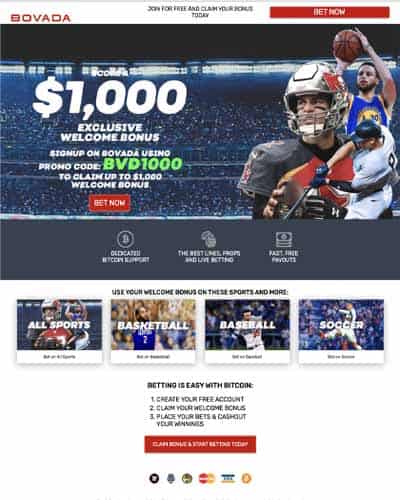 US Friendly - Most US States Accepted

Most reputable name in online sports betting

Licensed by Curacao - Operates within Costa Rica

Generous 50% bonus up to $1,000 for new members

Easy deposits using credit cards or Bitcoin/crypto

Fast and reliable payouts guaranteed
Only US, Mexico and Brazil players accepted

Residents of DE, MD, NJ, NV, NY not accepted

Limited deposit options compared to other sites
Legal USA-Friendly Nascar Betting Sites
2023 DAYTONA 500 ODDS
The 2023 Daytona 500 is the inaugural race of the NASCAR season, and it's being held on Sunday, February 19, at 2:30 PM EST (FOX).  Pole position qualifying begins on Wednesday night, so the following odds do not take those positions into account. For further information see our Daytona 500 betting guide where we go into detail about how to bet on the big race.
HOW TO BET ON NASCAR RACES - A GUIDE TO BETTING AND UNDERSTANDING NASCAR
NASCAR is America's preeminent motorsport and covers 38 races spanning over the course of 10 months — from February to November — each year, giving it the longest season out of the major professional sports leagues and associations. In turn, this means that betting on NASCAR is available more often than any other sport in the United States.
But exactly how does one go about betting on NASCAR? The fact of the matter is that things can get a bit tricky in this regard since wagering on races differs from a timed game or sporting event. Instead of point spreads, money lines and over/under on the totals, NASCAR features bet types such as futures, prop bets, and head to head matchups.
HOW TO PLACE A BET ON NASCAR - DIFFERENT USA WAGERING OPTIONS EXPLAINED
There are a lot of different ways to bet on NASCAR. Below we will cover the most common betting options for a race which will also include a few betting tips to really give you an understanding on how to approach NASCAR betting and what you should keep in mind when placing a wager.
Futures - Betting on the odds of a NASCAR driver to win before a race begins is known as a wager on "futures." Not only can you bet on the race itself but you can also wager on which driver will win the championship cup months or even weeks ahead of time.
Laps Led - This type of bet is exactly as it sounds with a wager being placed on which driver will lead the most laps. A driver's finishing position is irrelevant since the only thing that matters is that a bet on your driver is in 1st place for more laps than any other driver.
Prop Bets - Proposition bets or "prop" bets are wagers made on something that doesn't affect the race itself, such as whether the winning car be odd or even numbered or whether the number of caution flags will be over/under a set number.
Head To Head - If you're looking for a bet that has only two possible outcomes, then H2H is the way to go and can be a way to get in on the action before the race itself. This type of bet can be on the qualifier or the race itself and requires you to bet on which of the two drivers in the same starting spot finish with a higher position.
Top 5 Finish - This is a bet on a specific driver to finish in the top 5 positions, and the odds are higher for all drivers since your bet doesn't have to win the race but can finish in the top 5 out of the 43 drivers.
HOW TO PICK WINNING DRIVERS
For any of the 38 races in the NASCAR season, one thing remains unchanged: The field starts with 43 drivers. It isn't always the same 43 drivers because each driver must qualify on a weekly basis.
Each track has slightly different qualifying criteria, but the rule of thumb is that the fastest get to race on Sunday. Of those 43 drivers, when the checkered flag is waved, which one will end up winning? In a strict mathematical sense, each of the 43 drivers has a 2.3% chance of winning the race, but understanding trends in NASCAR, driver tendencies, pit crews, and other factors, you can start to improve those odds.
Knowing how a driver performs in restrictor plate and non-restrictor plate races, whether a driver tends to wreck a lot when the track allows three-wide, and how a driver handles long, short, and road tracks is a huge part placing successful bets on NASCAR and require some research ahead of time. However, doing so allows you to make an informed wager and beat the odds.
Who will win the 2023 NASCAR Cup Series?
Betting on which driver will be the NASCAR Cup Series champion is one of the most difficult predictions to make in sports since a lot can happen between February and November. Current NASCAR Cup Series odds to win the championship are as follows:
UNDERSTANDING THE FORMAT - 2023 NASCAR CUP SERIES
A lot can happen in the 10-month stretch of a NASCAR season and knowing how a driver wins the Cup Series is crucial because it differs than other sports, and the rules tend to change every few years.
For the 2023 NASCAR Cup Series, there are officially 36 races that award points, and the Cup Series champion is determined by the number of points each driver accumulates over the course of the season.
Cup Series points are awarded for the finishing position and laps led, and the 16 drivers with the most points advance to the NASCAR playoffs. Drivers can also automatically qualify for the playoffs by winning any race during the regular season.
The NASCAR playoffs consist of four rounds and after the round of 16, the round of 12, the round of 8, and the Champion 4, the driver of the four remaining contenders with the highest finish at the season finale in Homestead-Miami Speedway is crowned the Cup Series champion.
ADDITIONAL SPORTS BETTING OPTIONS FOR YEAR-ROUND ACTION
Legal Football Betting - For non-stop NFL and college football action that includes a wide range of betting lines, creative wagering options, and live in-play betting, you'll want to check out this guide to learn how to select a secure and trusted option for betting on football.
Legal Basketball Betting - NBA and college basketball fans who want to stay informed before, during, and after basketball season will enjoy this guide to finding and following the industry's best odds, betting lines, and wagering options at the safest and most reputable online sportsbooks.
Legal Baseball Betting - Use our guide to legally betting on baseball to learn what options are available to USA players, and where to find the most trusted and reliable sports betting sites for wagering on MLB and college baseball games.
Legal Horse Betting - Horse betting is gaining momentum with its growing online presence, and this guide features the most legitimate and secure racebooks for legal online horse betting.
Legal Soccer Betting - Soccer is the most popular sport in the world and is growing in popularity in the United States. This guide is a glimpse into the world of soccer betting, offering all a bettor would ever need to know.
Legal Tennis Betting - A guide to assist players in participating in legal, USA-friendly betting on tennis at reputable online sportsbooks. We provide insight into the industry, including the current legal status of options that are available to bettors in the United States.
Legal Hockey Betting - Learn which sportsbooks are the best for betting on NHL hockey games and which offer the best lines and wagering options for American players.
Legal Golf Betting - This section of our site focuses on golf betting and offers our own personal recommendations on which sportsbooks offer the best wagering options.
Legal Olympics Betting - This guide breaks down all the legalities and details the best betting sites so you can make an informed wager on the Olympic Games..