Legal Online NASCAR Betting 2017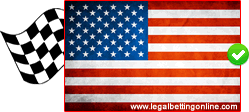 Headquartered in Daytona Beach, Florida, the National Association for Stock Car Auto Racing (NASCAR) was founded in 1947. With its roots running back to illegal moon shiners that souped-up their cars so they could evade capture from authorities, NASCAR sanctions three major racing series. The Sprint Cup Series is the most important and popular racing series in the world, and NASCAR also runs the Nationwide Series and the Camping World Truck Series. MotoGP and Formula 1 are two other motor sports gambling options you will see at some legal Internet sportsbooks. But legally betting on NASCAR races is far and away the most popular auto racing wagering activity, both in the US and around the world.
NASCAR rules over approximately 1,500 races at more than 100 tracks in 39 US states as well as Canada. Originating and still predominantly centered in the Southeastern United States (a full 18 of the 36 Sprint Cup races are hosted at tracks in the Southeastern US), NASCAR is only outdone by the globally popular National Football League when USA television ratings are compared. What started out as a bunch of "good old boys" racing their customized hot rods on the weekends is now a billion-dollar business. And so is legal NASCAR betting. As mentioned above, the Sprint Cup Series generates the most money for NASCAR, and it also generates the greatest amount of money for any motor sport at virtual and physical betting windows.
In the Sprint Cup Series there is no bigger race during the year than the Daytona 500, which kicks off the annual NASCAR season every February. And legally betting on NASCAR means the longest professional sports season of the year, a 10 month long inclusion of 36 points races and 5 non-points race. The first 26 races drivers attempt to compile enough Sprint Cup points to qualify for the NASCAR Cup Chase, which is run the last 10 races of the year, ending in mid-November. The winner of the Chase is then crowned Sprint Cup Champion. Because 43 drivers start each race every week, the typical gambling option you will see for betting on NASCAR is each individual driver posting odds-against to win a particular event. For instance, in any given race, the popular Jimmie Johnson may pay off 6 to 1 if he wins, and Dale Earnhardt Junior may have 10 to 1 odds to win in that same race.
Legal NASCAR betting will also include proposition and futures bets at the top legitimate Internet sportsbooks. The odds are handled in the same manner as an individual race, with Sprint Cup Championship futures available for wagering usually before the first race is run at Daytona each year. You can of course experience parlay wagering options when betting on NASCAR, and individual sportsbooks may offer specialty bets and other site-specific promos. The races leading up to the Chase are known as the Race for the Chase, and at this time many online sportsbooks will reward depositors with special time-limited bonus money and other incentives when they make a wager on a NASCAR Sprint Cup race.
Since the sport of NASCAR racing involves 43 cars simultaneously running on a 1 to 2 1/2 mile track, with drivers reaching speeds up to 200 miles an hour, crashes and wrecks can play a significant part in your legal NASCAR betting strategy. The sport also consistently shows NASCAR teams and drivers running extremely well or poorly for several races in a row. By spotting an up-and-coming driver with long odds who is currently running well, the savvy NASCAR gambler can use the volatile nature of this sport to his advantage when that long shot navigates a wreck-strewn raceway and takes the checkered flag.
Is It Legal To Bet On Nascar Races In The US?
Although NASCAR runs the vast majority of its races in the United States, and 100% of the important Sprint Cup races are run there, legal NASCAR betting online is not offered by US-based companies. The Justice Department in the USA has declared sports betting online as an activity which will not be legally permitted by companies owned and operated in the United States. The same is not true in Canada, the UK or other countries around the world where online sports betting is 100% legal and much more accessible. So the Internet sportsbooks listed on this page have created a legal presence in offshore locations where Internet gambling is regulated and licensed. By obtaining legal licensing these industry recognized locales, the sites listed below can legitimately offer safe, secure and enjoyable NASCAR betting options to US and international motor racing fans. You can get more information on the available options from our online sportsbook reviews.