Legal Online NASCAR Betting 2018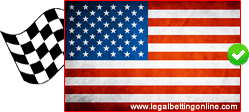 Headquartered in Daytona Beach, Florida, the National Association for Stock Car Auto Racing (NASCAR) was founded in 1947. With its roots running back to illegal moon shiners that souped-up their cars so they could evade capture from authorities, NASCAR sanctions three major racing series. The Sprint Cup Series is the most important and popular racing series in the world, and NASCAR also runs the Nationwide Series and the Camping World Truck Series. MotoGP and Formula 1 are two other motor sports gambling options you will see at some legal Internet sportsbooks. But legally betting on NASCAR races is far and away the most popular auto racing wagering activity, both in the US and around the world.
NASCAR rules over approximately 1,500 races at more than 100 tracks in 39 US states as well as Canada. Originating and still predominantly centered in the Southeastern United States (a full 18 of the 36 Sprint Cup races are hosted at tracks in the Southeastern US), NASCAR is only outdone by the globally popular National Football League when USA television ratings are compared. What started out as a bunch of "good old boys" racing their customized hot rods on the weekends is now a billion-dollar business. And so is legal NASCAR betting. As mentioned above, the Sprint Cup Series generates the most money for NASCAR, and it also generates the greatest amount of money for any motor sport at virtual and physical betting windows.
In the Sprint Cup Series there is no bigger race during the year than the Daytona 500, which kicks off the annual NASCAR season every February. And legally betting on NASCAR means the longest professional sports season of the year, a 10 month long inclusion of 36 points races and 5 non-points race. The first 26 races drivers attempt to compile enough Sprint Cup points to qualify for the NASCAR Cup Chase, which is run the last 10 races of the year, ending in mid-November. The winner of the Chase is then crowned Sprint Cup Champion. Because 43 drivers start each race every week, the typical gambling option you will see for betting on NASCAR is each individual driver posting odds-against to win a particular event. For instance, in any given race, the popular Jimmie Johnson may pay off 6 to 1 if he wins, and Dale Earnhardt Junior may have 10 to 1 odds to win in that same race.
Legal NASCAR betting will also include proposition and futures bets at the top legitimate Internet sportsbooks. The odds are handled in the same manner as an individual race, with Sprint Cup Championship futures available for wagering usually before the first race is run at Daytona each year. You can of course experience parlay wagering options when betting on NASCAR, and individual sportsbooks may offer specialty bets and other site-specific promos. The races leading up to the Chase are known as the Race for the Chase, and at this time many online sportsbooks will reward depositors with special time-limited bonus money and other incentives when they make a wager on a NASCAR Sprint Cup race.
Since the sport of NASCAR racing involves 43 cars simultaneously running on a 1 to 2 1/2 mile track, with drivers reaching speeds up to 200 miles an hour, crashes and wrecks can play a significant part in your legal NASCAR betting strategy. The sport also consistently shows NASCAR teams and drivers running extremely well or poorly for several races in a row. By spotting an up-and-coming driver with long odds who is currently running well, the savvy NASCAR gambler can use the volatile nature of this sport to his advantage when that long shot navigates a wreck-strewn raceway and takes the checkered flag.
Is It Legal To Bet On Nascar Races In The US?
Although NASCAR runs the vast majority of its races in the United States, and 100% of the important Sprint Cup races are run there, legal NASCAR betting online is not offered by US-based companies. The Justice Department in the USA has declared sports betting online as an activity which will not be legally permitted by companies owned and operated in the United States. The same is not true in Canada, the UK or other countries around the world where online sports betting is 100% legal and much more accessible. So the Internet sportsbooks listed on this page have created a legal presence in offshore locations where Internet gambling is regulated and licensed. By obtaining legal licensing these industry recognized locales, the sites listed below can legitimately offer safe, secure and enjoyable NASCAR betting options to US and international motor racing fans. You can get more information on the available options from our online sportsbook reviews.
Best USA Sportsbook For Betting On Nascar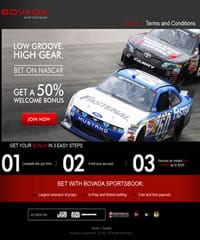 Bovada is the most popular and trusted online sports betting site available to USA players. They feature all sorts of Nascar betting options including head to head bets, specific race props and so much more.
 Pros
Open To All USA Players
Owned And Operated By The Bodog Group
Legally Licensed And Regulated
Easy Credit Card Deposits With High Success Rates
Now Bitcoin Friendly
50% Welcome Bonus Up To $250
Casino, Sports, Horses and Mobile Betting Available
Cons
Only accepts U.S. Mexico And Brazil Players
Excluded States: NY, NV, NJ, DE, MD
Legal USA Friendly Nascar Betting Sites
How to Bet on NASCAR Races - A Guide to Betting and Understanding NASCAR
The National Association for Stock Car Auto Racing, better known as NASCAR, is one of America's most preeminent sporting leagues. Taking up nine months of the calendar year with 36 professional circuit races in chase of a points championship, NASCAR's season is well longer than the NFL, MLB, MLS and NHL. This is not only a great thing for fans of stock car racing, but it's also a great thing for gamblers. Betting on NASCAR drivers and races is big business, and it's practically a year-round activity. But exactly how does one go about betting on NASCAR? The fact of the matter is that things can get a big tricky in this regard. You're not dealing with regular point spreads, moneylines and over-under lines as with regular sporting matches. With auto racing, you're mainly dealing with drivers, finishes and propositions.
Of course, this resource intends to help you easily understand the ins and outs of NASCAR betting. We always strive to preach caution and truly hope you're not chasing bets or laying down big money on long odds. However, for people who bet logically and responsibly, betting on NASCAR can be very fun and even profitable, and there are certainly enough races to keep you entertained throughout the year.
How To Actually Place A Nascar Bet - Different USA Wagering Options Explained
There are a lot of different ways to bet on Nascar. Below we will cover the most common betting options for a race which will also include a few betting tips to really give you an understanding on how to approach Nascar betting and what you should keep in mind when placing a wager.
Picking A Winner - Picking a straight up winner is easier said than done. The key here is to look for value. In looking at the odds, you might see Jimmy Johnson +300, Jeff Gordon +850, Denny Hamlin +1500 ect... This means if you risked $100 on Denny Hamlin to win the race straight up, you win $1500. That's tremendous value but a longshot as there are a lot of drivers in the race. What I do is look at which racetracks the drivers have been most successful in the past, and ride those trends.
Nascar Prop Betting - Prop bets can be a lot of fun regardless of what sport you are betting on. You can find props on just about everything under the sun such as will the winning car be odd or even numbered, will the number of caution flags be over or under 8, or whether or not your favorite driver will finish in the top 5 positions. They are fun to bet, but I never bet serious money on props unless I see one that really offers great value.
Head To Head Matches - With head to head driver matches, you are basically betting on which driver will finish ahead of the other. There's not a whole lot to this particular wagering type. Standard odds are given based on how good the driver is compared to the other. So you might see something like Dale Earnhardt Jr -200 to finish ahead of Carl Edwards +150. So since Dale is the favorite in this matchup, $100 only wins you $50 compared to betting on the under dog Carl Edwards where a $100 wager wins you $150.
Finishing In The Top 5 - Here you are betting on a particular driver to finish in the top 5 positions. The odds aren't as great compared to betting on a driver to win the race straight up, but I like this bet if you have a hot driver that has been finishing in the top 5 as of late.
Futures - This type of betting allows players to bet on seasonal wins. Once you select futures under the wagering options, you will find a wide range of future betting options with their respective odds.
Recognizing Winning Drivers
For any of the 36 races in the NASCAR season, one thing remains unchanged: The field starts with 43 drivers. Now, of course, it isn't always the same 43 drivers; it all depends on who qualifies; each race has slightly different qualifying criteria, but the rule of thumb is that the fastest get to race on Sunday. Of those 43 drivers when the flag is waved, which one will end up winning? In a strict mathematics sense, you're a little better than 2% for any one driver to win. But understanding trends in NASCAR, driver tendencies, support teams and other factors, you can really start to improve those odds.
For instance, look at the type of track a driver is racing on. Say your favorite is Dale Jr. How well does he do in races where they run three-wide? How about restrictor plates vs. a more wide-open style? What about short tracks or super speedways or even road courses? We do not mean to sound vague here whatsoever, but the fact of the matter is that the onus is on you to research these various data.
We can, however, give you a push in the right direction. For instance, let's say the race is at Pocono Raceway. What you want to do is research what type of race that is. It's a wide-open superspeedway that's in the shape of a triangle. Drivers aren't going into the pits very often, and you're probably not going to get a lot of caution flags. This type of race suits a driver who can control their line, and whose teammates are able to lend support. So, the type of driver that will be favored in this type of race is someone who's accustomed to winning and who has the best teammates. This leads to options like Jimmie Johnson, Jeff Gordon, Kevin Harvick, and others who can run hard and fast out front while having teammates on the track willing to play the drafting game and to keep lanes clear.
You recognize winning drivers by matching drivers to the track on which they're racing. Of course, this is going to change from week to week. From Talladega and Bristol to Kentucky and Atlanta, each speed and raceway is different, and each driver has strengths and weaknesses. So, just because a driver won a short track at Bristol doesn't make them a favorite for a road course at Watkins Glen. Momentum in NASCAR is an overstated concept. It's all about the driver (and his/her equipment and team) and the course on which that driver is racing.
Understanding the Seasonal Format
Speaking of the course, things really do tend to change over the course of the season. Because NASCAR now has a points chase for their Sprint Cup Points Championship, you will see a lot of new dynamics unfold toward the middle and end of a season that weren't there at the start of the season. For instance, let's say that Jimmie Johnson, Jeff Gordon, Dale Jr, Kevin Harvick and Tony Stewart are all neck and neck going into the mid-way push for the chase, while many other drivers in the field are out of it. What happens to these drivers that they seemingly get better toward the end? Well, it's not that they become better race car drivers; it's that their teammates, who are not in points contention, help them by clearing lanes, drafting and staving off competition.
This is why Jimmie Johnson always credits his team first and foremost when he wins a championship. He knows that, without those other drivers sacrificing their own glory to promote Johnson's car, those titles are not possible. So, when you're gambling on Nascar races, this is something to keep in mind. The drivers who are doing well on points—granted they have a decent race team—are the drivers who will consistently lead laps, have top-five finishes, and even end up winning races. NASCAR will eventually tinker with this format, as they do with all things, but for right now it's one of the best predictors for gamblers. Toward the middle of the season, focus your betting efforts on people who are at the top of the leader-board, provided they're part of a strong racing team.
Additional Sports Betting Options For Year Round Action
Legal Football Betting Sites For US Players: For non-stop football action that includes a wide range of betting lines, creative wagering options, and live, in play betting, you'll want to check out this guide to learn how to select a secure and trusted option for betting on football.
Legal Basketball Betting Sites For US Players: Basketball fans who want to stay informed before, during and after basketball season will enjoy this guide to finding and following the industry's best odds, betting lines, and wagering options at the safest and most reputable sportsbook brands.
Legal Baseball Betting - Use our guide to legally betting on baseball to learn what options are available to USA players, and where to find the most trusted and reliable sports betting sites for wagering on MLB and college baseball games.
Legal Horse Betting Sites For US Players: Horse betting is gaining momentum with its growing online presence, providing accessing to horse races and wagering options that players normally wouldn't be able to participate in due to their limited accessibility to land based race tracks. This guide features the most legitimate and secure racebooks for legal online horse betting.
Legal Soccer Betting - Most American would agree that soccer isn't quite as popular as other sports such as NBA and NFL. Some might be surprised that it's actually the most watched sport in the world. This guide is a glimpse into the world of soccer betting offering all a player would need to know.
Legal Tennis Betting - A guide to assist players in participating in legal, USA friendly betting on tennis at reputable, trusted and high quality online sports betting sites. We provide insight into the industry, including the current legal status of options that are available to bettors in the United States.
Legal Hockey Betting - Learn which sportsbooks are the best for betting on hockey games and which offer the best lines and wagering options for American players.
Legal Golf Betting - This section of our site focuses on golf betting and offers our own personal recommendations on which sportsbooks offer the best wagering options.
Legal Olympics Betting - While Nascar racing isn't an event at the 2016, you still might be interested in betting on other events for the summer Olympics. Go USA!!!