2023 NASCAR Points System Explained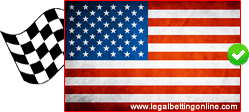 It's no secret that the NASCAR points system determining the playoffs and Cup Series champion is a bit confusing to both fans, bettors, and people looking to learn more about the motorsport in general.
2023 NASCAR Cup Series: How Drivers Earn Points
Hopefully, NASCAR finds a format in the future that works well with a 36-race marathon of a schedule, but for now, buckle up because here is a breakdown of how the current points system will determine which driver is crowned the 2023 NASCAR Cup Series champion.
Drivers
To start, each NASCAR race can field a maximum of 40 cars.
Races
In total, there are a total of 36 races that award points based on driver position.
Races Awarding Points: 36
Of these 36 races, the first 26 races make up the regular season and the last 10 races make up the playoffs.
Regular Season: First 26 Races
NASCAR Playoffs: Final 10 Races
Stages
Every race is divided into 3 stages: Stage 1, Stage 2, Final Stage. The first two stages are roughly 25% of the race each and award the top 10 drivers with points based on their finish when the green-and-white checkered flag is waved.
Note: The Coca-Cola 600 is the only race that has four stages and each is 25% of the race.
Points Earned in Stage 1/Stage 2
1st — 10
2nd — 9
3rd — 8
4th — 7
5th — 6
6th — 5
7th — 4
8th — 3
9th — 2
10th — 1
The Final Stage is the last 50% of the race (sort of like a second half after halftime in other sports) and awards points based on the finishing position for each driver at the end of the race when the black-and-white checkered flag is waved.
Points Earned in Final Stage (finishing position)
1st — 40 pts
2nd — 35 pts
3rd — 34 pts
4th — 33 pts
5th — 32 pts
6th — 31 pts
7th — 30 pts
8th — 29 pts
9th — 28 pts
10th — 27 pts
11th — 26 pts
12th — 25 pts
13th — 24 pts
14th — 23 pts
15th — 22 pts
16th — 21 pts
17th — 20 pts
18th — 19 pts
19th — 18 pts
20th — 17 pts
21st — 16 pts
22nd — 15 pts
23rd — 14 pts
24th — 13 pts
25th — 12 pts
26th — 11 pts
27th — 10 pts
28th — 9 pts
29th — 8 pts
30th — 7 pts
31st — 6 pts
32nd — 5 pts
33rd — 4 pts
34th — 3 pts
35th — 2 pts
36th — 1 pts
37th — 1 pts
38th — 1 pts
39th — 1 pts
40th — 1 pts
Playoff Points
Playoff points are bonus points awarded that "convert" to championship points at the start and during the playoff. Playoff points are awarded for all races except the Championship 4, the final race.
5 Playoff Points: For Winning Any Race
1 Playoff Point: Per 1st Place Finish in Stage 1/Stage 2
Playoffs
After the 26th race, the 16 drivers with the most points qualify for the NASCAR playoffs, which consists of four elimination rounds: Round of 16, Round of 12, Round of 8, Championship 4. Regular season points do not carry over to the playoffs and now, only championship points and playoff points matter. Any driver that wins a race during the playoffs, automatically qualifies for the next round, regardless of point total.
Round of 16: 3 Races, 16 Drivers
Round of 12: 3 Races, 12 Drivers
Round of 8: 3 Races, 8 Drivers
Championship 4: 1 Race, 4 Drivers
Determining the NASCAR Cup Series Champion
The driver who earns among the top 16 most regular season points, qualifies for the playoffs, advances with the most points (and bonus points) through each of the three playoff rounds (with points or wins), and has the most points among the final four drivers (or wins the final race) will be crowned the NASCAR Cup Series Champion for the 2023 NASCAR Cup Series season.
Summary
And that pretty much wraps it up. Everything is based on points, and though it can be quite confusing, winning the race is still the most important factor. The system definitely needs some tweaking, and hopefully, NASCAR will make a format that is easier to understand for fans, bettors, and for all people interested in racing ahead of the 2023 NASCAR Cup Series season.