The Most Difficult NASCAR Race Tracks For 2023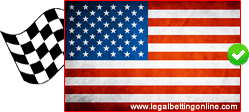 When you're driving around a track for hours on end, for hundreds of miles, at around 200 miles per hour, the word "difficult" is a vast understatement.
Being a driver in NASCAR is certainly a specialty skill, and only a handful of people on the planet have the talent to live through this chaotic atmosphere.
Even still, some races are much more difficult than others. Out of 36 races, there are a solid five that really stand out as very difficult, and all for different reasons. So it makes sense to keep in mind the difficulty level of any specific track when betting on NASCAR races.
The likelihood of a wreck doesn't only affect your driver's odds of finishing the race but is also affects the field negatively as cautions slow the race and allow back-of-the-pack drivers to get a fresh restart and compete for the lead. Below are some of the toughest races on the NASCAR circuit.
The Top Five Toughest Tracks In NASCAR
1. Bristol Motor Speedway - A few of these races we have already briefly touched on in previous sections of the site, but here is our opportunity to really delve into how difficult they truly are.
Bristol Motor Speedway is a brutal, fast track that only takes a few seconds before a driver is riding up a steep bank into the wall. The short straights at Bristol run on a 6-10 degree incline, while the banks on the turns run from 26-30 degrees.
This is steeper than many people's roofs on their homes, and it leads to some incredibly dangerous driving. Going even two-wide into a turn could easily cause one car to become an egg as it cracks to pieces against the wall at 180 MPH. Drivers at Bristol must be skilled, patient, and their reflexes must be incredibly sharp and quick.
2: Darlington Raceway - Darlington Raceway is home to the Bojangles' Southern 500, and while the shape of this track looks rather innocuous, the reality of the driving is something different. Its nickname is the Lady in Black, and it is known as the toughest track to tame on the circuit.
A four-turn track that's roughly 1.36 miles in length, its turns vary in degree from 25 at 1 and 2 to 23 at 3 and 4, meaning drivers must enter turns at different speeds and angles to tame the beast. Shockingly, it only takes around 30 seconds for drivers to complete a full lap, so the speeds are truly incredibly. And running three-wide on this track could lead to catastrophe at any given time.
Fans certainly love watching the race here, while drivers dread the course.
3: Talladega Superspeedway - Other than Daytona, Talladega may be the most famous track in NASCAR. There was even a very popular movie about it starring Will Ferrell. Talladega is a sort-of triangle-shaped track that can be ran three and even four-wide in some spots. To ensure that nobody starts running on the straights at deadly speeds, a restrictor plate is used to limit the MPH of drivers.
But even with that, 180 MPH is no joke, and this 2.66 mile track has more than its fair share of accidents. What's so tough about this race is the grueling length. You might think that a long track leads to disparity in the front and back of the pack, but the straightaway nature of the track means most drivers run in groups at the same speeds.
This makes one of the world's fastest sports operate like a chess match in traffic, and this excitement for the viewers equates to true danger for the drivers.
4: Daytona International Speedway - What can be said about Daytona Speedway that hasn't been said a thousand times already? It truly is like the Super Bowl of NASCAR, though rather than having to wait months for it to happen, this race actually kicks off the Sprint Cup series.
The track itself is a tri-oval shape that isn't that far removed from Talladega in terms of shape and course structure. However, the banks at Daytona can be a lot more vicious than other speedway courses, and coming in at 31 degrees in the turns, the steep banks mean some jaw-dropping excitement as drivers speed past the wall.
Perhaps what makes Daytona the most difficult, however, is that there is no pulling away. The entire race is a traffic jam; so if there's a wreck up front, it can literally hit half the pack before the back of the field realizes what happened. This track keeps drivers alert for every millisecond of action.
5: Watkins Glen International - There's a long running joke in NASCAR that the sport is boring because you're basically watching people make left turns for three hours. However, NASCAR also has some road courses added into the mix, like the very difficult Watkins Glen International Speedway.
This 11-turn track is a road course that forces drivers to display a high aptitude for low-speed maneuverability as well as high-speed chasing as found elsewhere. The track is also incredibly long, coming in at 3.4 miles, and the surface varies from asphalt to concrete, so the traction is different in different parts and thus speeds must be monitored and controlled. When you watch this race, get ready for some real excitement.
The difficulty of the track certainly has a strong bearing on your bets. If you want to bet on a driver who historically hasn't ran well at a certain track, then the smart money says to find another driver! Gamblers cannot afford to be fans.
If your aim is to bet and win money, then remember the lessons from our site: Research accordingly, spread small bets out for better odds, don't take the long shots, and don't bet too much too early. If you can bet responsibly, you can have some great fun and make good money with NASCAR and its very lengthy race season.