Guide to Legally Betting on Politics In 2020 For The Presidential Race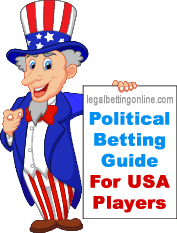 Legally betting on politics is one of those intriguing niches within the gambling industry, and unbeknownst to many bettors, political wagers can end up yielding a nice hefty payout if you place your bets right. While some individuals who enjoy gambling may not be aware that this type of betting opportunity is offered through legal online sportsbooks, this venue is certainly gaining momentum. As a larger range of people have become more politically aware and involved during the last two presidential elections, the bettor base has expanded exponentially. Based on this steady growth in legal politics betting, we decided to include this gambling platform as one of the topics covered in our guide.
The irony of betting on the elections and events associated with those politicians attempting to outlaw gambling is not lost on the American people. However, it is still prudent to make sure you understand the legalities surrounding political betting, and what legally sanctioned options should really be considered. This guide will break down this data for you so that you can make highly informed decisions about your involvement in this type of entertainment based on accurate and up to date facts.
Legal Status For Betting On Politics In America
Many players just want a simple explanation as to whether or not it is legal to bet on politics in the United States. The short answer is yes,
betting political events online is legal in the US
simply because there are no specific federal regulations that outlaw the act of online gambling.
---