Guide to Legally Betting on Politics In 2020 For The Presidential Race
Learn how to legally bet on the Presidential Election and other Political events in the US.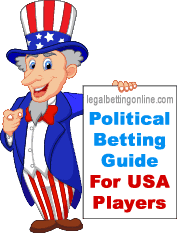 Legally betting on politics is one of those intriguing niches within the gambling industry, and unbeknownst to many bettors, political wagers can end up yielding a nice hefty payout if you place your bets right. While some individuals who enjoy gambling may not be aware that this type of betting opportunity is offered through legal online sportsbooks, this venue is certainly gaining momentum. As a larger range of people have become more politically aware and involved during the last two presidential elections, the bettor base has expanded exponentially. Based on this steady growth in legal politics betting, we decided to include this gambling platform as one of the topics covered in our guide.
The irony of betting on the elections and events associated with those politicians attempting to outlaw gambling is not lost on the American people. However, it is still prudent to make sure you understand the legalities surrounding political betting, and what legally sanctioned options should really be considered. This guide will break down this data for you so that you can make highly informed decisions about your involvement in this type of entertainment based on accurate and up to date facts.
Legal Status For Betting On Politics In America

Many players just want a simple explanation as to whether or not it is legal to bet on politics in the United States. The short answer is yes, betting political events online is legal in the US simply because there are no specific federal regulations that outlaw the act of online gambling.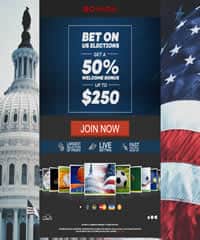 Bovada is our recommended sportsbook for betting on politics. Their lines are always competitive and comparable to the Las Vegas sportsbooks. Because Bovada caters almost exclusively to USA players, they put a lot of thought and work into creating a comprehensive range of betting lines and odds for those who enjoy betting on US politics. They also sometimes cover big elections in other countries.
In addition to political betting odds, Bovada is a full service online sportsbook and casino site. They basically offer everything under the sun all under one betting account. So whether you want to bet on the presidential election, an NFL game or play some online casino games, Bovada has you covered with the most robust software suite in the industry. They are also the most trusted site who has never missed a payout. So if trust and reputation is as important to you as it is to us, then Bovada is genuinely an excellent choice.
 Pros
Accepts USA players from most states
Full service sportsbook and casino
Legally licensed in Canada
Most trusted site for US players
Fast payouts on time every time
50% bonus up to $250 for sports
100% bonus up to $3,000 for casino
 Cons
Excluded States: NY, NV, NJ, DE, MD
Other Top Rated Sportsbooks
That Offer Political Betting Odds
The following is a list of the most reputable offshore racebooks in the industry. They pay out winnings just as fast if not faster than the US regulated options above and many of them offer some great ongoing promotions and bonuses for loyal players. Most of these sites don't offer wagering on Greyhounds for whatever reason, but they offer a full service sportsbook and horse racebook which gives players a lot more options for betting more than just the dogs.
Is It Legal To Bet On Political Events In The US?

Surprisingly, there are multiple legal options for betting on politics in the US. It may not be the hottest lines in Vegas, but reputable and high quality US friendly sportsbooks often include these types of lines in their offerings. The key is accessing the legally licensed and regulated destinations that allow you to enjoy political betting within the confines of the law. Betting on politics is a segment of sports betting, therefor there are three laws that impact your options and decisions regarding your involvement. Those three laws are the Professional and Amateur Sports Protection Act, the Federal Wire Act, and the Unlawful Internet Gambling Enforcement Act. All three of these play some role in where and how you are able to engage in gambling in the US.
The Federal Wire Act and PASPA combine to prohibit both online and offline USA based sports betting. The exception is in four specific states that are exempted from PASPA's restrictions. Those states are Delaware, Montana, Nevada and Oregon. The Federal Wire Act directly prohibits online sports betting through US based businesses, and PASPA prohibits land based sports betting in general outside of the four approved destinations. This does not mean US residents have no opportunity to bet on sports though. These two laws do not prohibit American bettors from visiting and participating at online sportsbooks that hold legal licensing and certifications, are subject to regulatory oversight, and are located outside of the United States. As long as a sportsbook is licensed and regulated by a jurisdiction that has legalized online sports betting, then they are able to legitimately offer their services to anyone they want, including the United States. So while USA based sports betting is very limited and not easily accessible by most people, the legal offshore betting sites fill that void very nicely and legally. You can view our gambling laws section for more information about each of these laws.
We offer a list of recommendations for US players seeking legal online sportsbooks that offer betting lines on politics. Our team of professional analysts has carefully reviewed each of these sites, and has verified that they hold the credentials necessary to operate legitimately within the industry as licensed and regulated destinations that are overseen by a respected governing jurisdiction and gaming commission. These sites also feature competitive betting lines, odds and paylines, and a safe, secure wagering environment. Their banking suites support US players through their range of deposit methods and the speed of their payouts, and their customer support is knowledgeable and responsive. We require that a site offer a nice range of betting lines and wagering options to be included here, and that they operate with the highest level of integrity. At the end of the day, you can rest assured that the political sportsbooks we list below are the most reputable in the industry.
Donald Trump Wins 2016 Election
I just wanted to say congratulations to all the Trump backers. Many pundits have been laughing about his chances of winning ever since he announced he was running as a candidate. But he has been beating the odds since day one, so I can't say I'm surprised. So congratulations to all that bet on Trump to win. That was a nice score especially if you bet him early when the odds were +600 or more.
Betting On Who Will Win The United States 2020 Presidential Election Race
The next US Presidential election will take place on November 2020. The controversial and drama packed primary season has effectively redefined political standards in the US, pushing the limits of what the American people are willing to tolerate and withstand in a potential United States president. The nominees for each party are now in place with their chosen running mates, and the head to head battle between republicans, democrats and libertarians has commenced. Hillary Clinton, Donald Trump and Gary Johnson will be going full steam into the final leg of the election process as they each try to convince the people why they are the best answer to America's problems and the best person to fill the Office of the President of the United States.
With all three candidates recently announcing their running mates, the odds will shift again based on how the public receives each Veep choice. Polling and odds calculations will now be based on 'team performance' during the campaigns. With the dynamics taking a shift as the race restructures, it will be interesting indeed to see how betting lines and odds shape up to accommodate the upcoming debates and final vote. You will notice that the odds are strongly against the independent, 3rd party candidate Gary Johnson at this time. However, given the number of voters who are disenchanted with both Clinton and Trump, we would not be surprised to see Johnson's odds become increasingly more favorable as the race continues. Never before has there been a presidential race that is more polarizing than this one, and Gary Johnson may just provide the unifying relief that many are hoping for.
Betting Odds For The 2020 Presidential Election
Betting odds taken from Betonline Sportsbook and are updated automatically so they are always current. Betonline offers the biggest signup bonus for new players (50% bonus up to $2,500) looking to place future bets on the 2020 Presidential election and are one of the most reputable sites that still cater to American players.
Potential Candidates For 2020 Election Race
| Candidate | Betting Odds | Party |
| --- | --- | --- |
| Donald Trump | +200 | Republican |
| Michelle Obama | +800 | Democrat |
| Elizabeth Warren | +1000 | Democrat |
| Mike Pence | +800 | Republican |
| Hillary Clinton | +2500 | Democrat |
| Cory Booker | +1600 | Democrat |
| Joe Biden | +2500 | Democrat |
| Bernie Sanders | +2500 | Democrat |
| Julian Castro | +2500 | Democrat |
| Paul Ryan | +2000 | Republican |
| John Kasich | +5000 | Republican |
| Ted Cruz | +5000 | Republican |
| Kanye West | +5000 | Republican |
| Kanye West | +5000 | Republican |
| Will Smith | +5000 | Democrat |
| Mark Cuban | +5000 | Democrat |
| Michael Bloomberg | +2500 | Democrat |
| Andrew Cuomo | +2000 | Democrat |
| Amy Klobuchar | +3300 | Democrat |
| Marco Rubio | +3300 | Republican |
Types of Political Wagering Lines and Odds Offered For the 2020 Presidential Election
As you might imagine, the big bet here boils down to the big office. Who will win the Presidency is always the biggest betting line. And you can often find more than just a winner-loser dichotomy; you can actually bet on electoral vs. popular votes, winning percentages (like point spreads), and other variations in a single 1 vs. 1 election. Though you can also find betting lines on entire parties. For instance, the recent midterm elections had Republicans favored to take both houses of Congress, which they did. The next midterms may be reversed.
Governorships and even council members are always hot-button items on the betting circuit. You can find a range of different political lines on which to bet. You can also find prop bets, which will include things like the gender of the winner, the party of the winner, a clean win vs. a run-off/recount, and even bets about legislation like health care or immigration.
If it's part of politics, then there's undoubtedly a sportsbook out there with a betting line on it.
Though the selection of betting options surrounding the 2020 Presidential race will change as the election nears, we thought we would provide some information concerning the types of bets that are most commonly available to you. You are not limited to solely predicting the overall winner as there are betting lines and odds for a variety of aspects pertaining to the election's progress leading up to the final results, as well as specific prop bets concerning details of the circumstances of the race, such as gender and party results. Keep in mind that these options are the most common ones offered, but that political betting lines and odds vary from site to site.
Betting Odds Explained - The Most Common Types Of Betting Lines Available:
Odds for winning the 2020 Presidential Primary – this type of betting line will allow you to bet on who will win the nominations in the primary for each party. If you are participating early in the process and are placing a futures bet, your range of options may include individuals who have not yet announced their candidacy but that are active in the political landscape and are considered potential candidates. The closer you get to the actual election, the more accurate your list of options may be. However, keep in mind that the futures bets can pay off big if you guess correctly.
Odds for Winning the 2020 US Presidential Election – Obviously, this type of betting line will concern the overall winner of the election. You will typically have a variety of associated lines, including the following:
Odds for who will win the 2020 Presidential Election
Odds for which party will win the 2020 Presidential Election
Odds for which gender the winner of the 2020 Presidential Election will be
Odds for the gender balance on the 2020 Presidential Tickets – this line is sometimes broken down by party affiliation, but not always.
Odds On Who Will Be Selected As The Republican Vice President – These odds are no longer available. Update: It was announced that Mike Pence was chosen as the GOP Vice President nominee on Friday, July 15th.
Odds On Who Will Be Selected As The Democratic Vice President These odds are no longer available. Update: Hillary selected Tim Kaine as her vice president nominee.
Odds For Winning a Specific State – This type of betting line predicts the winner of influential swing states. For example, the Iowa Caucus odds start surfacing very early in the race. Other states are added closer to the actual election. Winning the electoral votes in an influential state can make or break the election, hence these betting lines are particularly exciting and can determine the outcome of the election. The results of swing state Electoral College votes can be unpredictable, as we saw in 2012 when Obama took Florida despite the fact that Romney was the favored candidate to win the Sunshine State.
Odds For Winning the Popular Vote – Once the candidates have been selected, you will find more betting types added to the line up, such as betting on who will win the popular vote. Though it has no bearing on the overall election, political aficionados enjoy betting on who will win the popular vote. There are times when the winner of the popular vote is not elected as President. The popular vote can be unpredictable, making it a very exciting wagering option. This type of option typically does not appear in the lines until about a month or two out from the actual election.
Electoral College Count - You will find that your range of wagering options for these lines increases after the candidates are selected and the election is approaching. This is when additional prop bets and specific options appear, such as over/under wagers for betting on the Electoral Vote count. In this type of political betting line you are predicting whether a candidate will receive more or less Electoral College votes than predicted.
Prop Bets - Some of the sportsbooks now offer some interesting prop bets for the election. At Betonline they offer some matchups that work similar to a quinella in horse racing. For example the first one on the sheet is Jeb Bush/Hillary Clinton matchup at +2200. That basically means that if you bet $100, you would win $2200 if those are the 2 primary candidates in the 2020 presidential election. There are some other interesting props such as Bernie plus the field at +500. So if Bernie is the Democratic nominee, $100 wins you $500.
Why Betting on Politics Intrigues Us
One of the most amazing things about President Barack Obama's election in 2008 was that no one had really heard of the man in 2007. A junior Senator with an iffy record of no-votes and voting "present" on big issues, even those getting to know him didn't think he had the political chops. However, democracy proved what democracy is, in that experience counts for next to nothing when you're a popular, charismatic figure. The people spoke, the people voted, and President Obama is almost finished with his second term in office. Who actually saw that coming? Very, very few saw it coming. But for those who did, they may have cleaned up tremendously by betting on Obama.
That's right; you can actually place political bets and win money on different political elections. The beautiful irony here is that it's actually politicians who seek to make gambling illegal across the nation, yet one of the most lucrative lines of betting is to wager on their elections and futures. Some may consider that to be very fitting, given the duplicitous, snake-like nature of many of these political buffoons.
But we're not out to play politics. Republican or Democrat, liberal or conservative, socialist or libertarian, it matters not. It's all about the gambling here, and we'll take a closer look at political betting for all interested parties.
How to Hate Politics but Love Betting on It
Compartmentalization is a word you may often hear, but you may not really know what it means. Well, put it this way: You can absolutely loathe the political process, yet you may still find a way to make money by gambling on politicians. Don't worry; this isn't cognitive dissonance. This is simple math. Money spends better than hatred. Now, of course, there are plenty of reasons to despise politics. People who aren't even as smart as you, yet they stand on a podium, lie to the masses, and earn hundreds of thousands of dollars a year in salary and benefits. Heck, when a politician retires, they earn a pension package that's probably higher than your salary, and they could have been a horrible politician. It's no wonder Congress has such low approval ratings. The average person despises politics.
But keep in mind that a government is something you're stuck with. Death and taxes, they say, and a savvy politician will even tax your death! How's that for control? There's just no shaking government; it's a monolith that's always with us. So, as the old adage suggests, one must laugh to keep from crying. Betting on politicians' fates can actually lighten you on the subject. You can learn to love gambling while still hating the political process.
Latest Political News Headlines