Nebraska Legal Online Gambling Guide 2018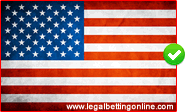 In the 1800s and early 1900s Omaha Nebraska actually had a very active underground gambling culture, largely run by criminal the mob, including infamous criminals such as Tom Dennison. Dennison controlled the gambling underworld in Omaha Nebraska up until the 1930s. Many believe that gambling activities were controlled by the notorious Italian mob families well into the late 1960s and early 1970s. Today's gambling landscape in the Cornhusker State are quite changed, with very little happening in the way of state regulated gambling entertainment for Nebraskans.
This guide will assist Nebraskan citizens who are seeking information about and access to legally sanctioned gambling opportunities state side. Legal Betting Online takes a close look at the current legal status for various forms of gambling in the state, as well as what types of online gambling opportunities are afforded Nebraskans. A lot of changes have taken place in the United States concerning the gambling industry, with state regulated online gambling emerging and efforts being made by some to expand sportsbook gambling in the US. This guide will provide the most current and accurate information regarding these topics to ensure you have everything you need to make informed decisions that coincide with your objectives.
---
Online Gambling Laws in Nebraska

Nebraska's gambling laws make no mention of online gambling whatsoever. This means that it is not legal to own or operate an internet gambling site within Nebraska's borders. It also means that the laws of the land do not prohibit Nebraskans from participating in legally licensed online gambling that is regulated and located offshore. Until such time that Nebraska lawmakers make a move to support state regulated betting, players in the Cornhusker State can legally access legitimately licensed and regulated gambling sites that are based outside of the United States. Doing so does not violate any state or federal gambling laws as long as you limit your interactive gambling to only those destinations that are operating legally within the industry. This means that they must hold legitimate credentials that include licensing, compliance certifications and regulatory oversight from a respected governing jurisdiction. The web based gambling sites that are listed on this page are all legally licensed and accept players from Nebraska.
Is Online Gambling Considered Legal In Nebraska?
There are
no specific state or federal laws that actually ban or make the act of online gambling illegal in Nebraska
. As long as you are gambling with an offshore site that is located outside of the United States, you can legally gamble due to international free trade laws.
Does Nebraska Have Any Plans To Legalize Online Gambling In The Future?
Nebraska has been very slow to warm up to most types of gambling entertainment found in the state. They are very conservative in their choices regarding legal betting in the state. We do not see them joining the slow moving trend for state based online gambling very quickly. They are willing to loose revenue to other states to maintain their desired standards. We would love to be wrong on this and see gambling at a state level become a new industry here.
NE State Facts & Quick Jump Menu