Arizona Legal Online Gambling Guide 2018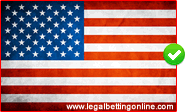 Arizona holds a fairly pro-gambling stance, with Arizona gambling laws allowing a decent selection of options to residents. The state presently holds gambling compacts with 21 of the 22 Indian tribes in Arizona. Most of them operate land based casinos and poker rooms, while the others operate bingo halls. Though there have been some disputes between the state and the Indian tribes in the past, for the most part it is a mutually beneficial collaboration. Pari-mutuel wagering is also legal in the state and there is a state lottery as well. Arizona also handles online gambling a little differently from other states that offer state regulated options. While they are gambling friendly in general, many players will not be keen on how they approach the online initiatives. This guide will break down the legalities of online gambling for AZ and provide information about the legal options that are available so that players can make informed decisions that best fit their personal situation.
---
Arizona Online Gambling Laws

Arizona is also one of the few states whose gambling laws do address online gambling. In essence, state based online gambling is legal as long as nobody is playing for real money and only participates for entertainment. Most gamblers I know are not overly excited about enjoying casino or card games in which they cannot win any money. It is not legal in Arizona to own or operate an online gambling site of any type that offers real money gambling. Will their position on state regulated online gambling eventually embrace real money gambling? It is impossible to say at this point. No legislation has been presented to legalize real money online gambling in the Grand Canyon State as of early 2016.
However, residents do have some options to consider. The restrictions that are in place with the state regulated online gambling do not apply to legally licensed and regulated offshore gambling sites. Those types of sites are able to offer real money gambling to their customers, including those from Arizona. State laws do not prohibit players from engaging in legally sanctioned online gambling that is located outside of the United States. You will see recommendations of the top offshore Arizona friendly online gambling sites, all of which have been vetted by our team of analysts to ensure they are legally licensed and regulated, hold legitimate compliance certifications, and deliver a premium online gambling experience.
Is Online Gambling Legal In Arizona?
There are not any state regulated options since Arizona hasn't legalized online gambling as of 2018. However
there are no Arizona state or federal laws that prohibit players from gambling online for real money
. Since all of the sites we recommend are located offshore, they are not bound by US law and can legally accept players from most US states including AZ due to international free trade laws.
AZ State Facts & Quick Jump Menu
---