West Virginia Legal Online Gambling Guide 2018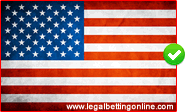 West Virginia offers multiple forms of legal gambling entertainment, along with some restrictions worth taking note of. Residents of and visitors to the state can enjoy casino games, poker, lottery, charitable gaming and pari-mutuel wagering. Commercial gambling laws are fairly relaxed, while restrictions on social and private gaming do exist. The Mountain State delivers a surprisingly diverse repertoire of enjoyable gambling venues if you understand how to navigate the terrain properly. Acquiring a clear and concise understanding of the legalities surrounding the gambling industry in WV is a key component to effectively gamble online legally in the US.
The primary objective of this resource guide is to deliver helpful, accurate and up to date information that assists gamblers in West Virginia in acquiring the knowledge you need to make informed decisions regarding you involvement in gambling entertainment. If you understand the legal status of betting in the state, and precisely what is and is not legal, you can confidently determine your best course of action. Please do not mistake this guide for professional legal advice. We are not attorneys, and the input we provide is intended for informational purposes only. We provide our informed and educated opinions based on extensive experience in the industry and committed, thorough research. We are not qualified to provide any type of professional legal advice or services. Those seeking that type of service should contact a licensed attorney.
---
Online Gambling Laws In West Virginia

The laws and statutes in West Virginia do not make mention of or address online betting. Therefore, it is not legal to own or operate any type of online gambling site within WV state lines. All state based gambling that takes place in West Virginia must be licensed and regulated by the state. Since lawmakers in WV have not legalized internet betting, the state is not issuing any licensing or regulatory framework for this type of initiative as of yet.
Is Online Gambling Legal In West Virginia?
The good news is that the state's decision to not direct any attention to the virtual side of the industry also means that
there are not state laws in place to prohibit West Virginia players from gambling online
at a licensed, regulated and certified gambling site located offshore. Residents of VT are free to visit and participate in online gambling at legitimate sites located outside of the United States.
WV State Facts & Quick Jump Menu
---