New York Legal Online Gambling Guide 2018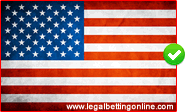 There are in fact legal online gambling sites that accept New York players; however there are not any state regulated gambling sites available at this time. The legitimate gambling sites that are providing services to NY players are located outside of the United States. There are discussions taking place concerning state licensed online poker, however nothing is in place yet. With all of the changes taking place in the US regarding online gambling, understanding the complexities involved with navigation legitimate options can be challenging. This guide was designed to present a clear and concise explanation of the legalities involved, what options are legitimate, and how to find the best opportunities available that provide legal access to online gambling destinations.
The state of New York does have various authorized gambling options available, including a state lottery, several racinos, pari-mutuel wagering and tribal gaming facilities and casinos. 2014 saw significant activity regarding the gambling industry in New York. Two online poker bills were introduced for discussion, a marketing campaign launched by GM began to garner public support for potential state regulated online gambling options, and industry expansion that includes commercial casinos was approved. When it comes to legal state based online gambling, New York has not yet made that bet, though we are hoping that this will change in the near future.
When online gambling became a reality in neighboring New Jersey, it drove residents of the Empire State to call for access to their own online casino and poker gambling options. Recognizing a potential new market, GM began supporting that pro-online gambling movement and helped spread the word through an effective marketing campaign. There is support for online poker from government leadership in the state, including the governor and others. New York could possibly see an online poker measure approved in 2016.
---
NY Gambling Laws

At the time of this writing, it is not legal to own or operate an online gambling site within the state of New York. The state does not issue licenses for any type of online gambling operations at this time. While the gambling laws in New York do not expressly address the legality of online gambling, there is also nothing authorizing it either. There may be some changes to the statutes concerning online gambling in NY as companion bills addressing online poker were introduced in 2014 by Assemblyman Gary Pretlow and Sen. John Bonacic and will be re-introduced in 2015. You can view the text of the Bill No A09509 and see specifically how supporters of online poker are approaching their quest.
Bonacic views the bills as a way to begin discussions on the matter and not necessarily a clear shot at regulation. Pretlow and Bonacic are not expecting that an online poker initiative will launch in 2015, but are hoping the discussions surrounding the two bills will drive hearings to take place on the matter during 2015.
While gambling reform may be slowly taking shape in New York, there are a number of legal alternatives to NY residents seeking legitimate online gambling access without traveling to New Jersey. There are not any New York state laws or federal laws that prohibit residents from participating in legally licensed and regulated online gambling that is based outside of the United States. While not all offshore gambling destinations are a safe bet, there are a number of legitimate businesses that deliver the type of legally sanctioned, secure, high quality and technologically advanced gambling experience we are looking for. Below you will find more information on these types of licensed online gambling portals that welcome players from New York.
Is Online Gambling Legal In New York?
While there are some federal gambling laws which make it illegal to open up an online casino or gambling establishment within the United States borders,
there are actually no federal or state laws ban the act of gambling online in NY or that target players specifically
. Any US resident is welcome to gamble online as they please, as long as they play with a
legal offshore betting site
(located outside of the US) such as those listed throughout our website.
NY State Facts & Quick Jump Menu
---