Legal Online Lottery Buying Guide 2018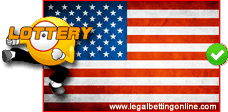 The internet has made everything easier, faster, and convenient for the modern consumer. Gambling is no exception. The purchasing of lottery tickets has become very popular over the last few years and many offshore gambling sites cater to the U.S. The internet offers various opportunities to buy lottery tickets legally. Some states even have their own Mega Millions or Powerball version of online tickets although players must reside in those states in order to purchase state these tickets. However there are many offshore companies that offer the purchase the lottery tickets. Buying online lottery tickets through these offshore sites is an alternative in states that do not allow traditional online lottery sales.
Legal betting online in the 21st century now includes playing international and US lotteries from your PC or smartphone through legal online lottery sites. From any stable Internet connection you can now purchase lottery tickets to the popular Powerball and Mega Millions lotteries in the United States, and lotteries like La Primitiva in Spain and EuroMillions in Europe. This gives you access to possibly life-changing paydays like the $656 million won by 3 ticket holders on March 30, 2012 in the Mega Millions lottery in the US, or the $595 million won by Gloria MacKinzey on May 18, 2013 in Florida playing Powerball.
Is It Legal To Buy Online Lottery Tickets In The United States?
Buying lottery tickets online is perfectly legal in the United States. In 2011, the DOJ released a formal opinion stating that the Federal Wire Act only applied to sports betting and did not affect other forms of online gambling. In addition they stated that it was up to each state to determine it's own destiny regarding online gambling. This is why you've seen a few states now offering players the ability to buy their tickets right online. Furthermore, you aren't even gambling online when you utilize any of the lottery agents we recommend in our guide. These are simply messenger services that buy the tickets on your behalf, then email a scanned copy. Continue reading below where we recommend 2 of the most reputable and safe online lottery retailers to purchase your tickets from. Good luck.
How It Works
By combining global messenger services with the worldwide reach of the Internet, legal online lottery sites purchase tickets for you on your behalf. Those tickets are then scanned and the images e-mailed to you, and if you win big, these companies will even help you collect. Many of the sites offer tools which help you choose the lotteries which offer the best odds, you can filter by the lotteries which deliver the most money, or you can focus on those lotteries which are about to be drawn soon. And you can improve your odds by joining lottery syndicates, or arrange for automatic purchasing of your favorite lottery tickets every month. You can learn more about these agents by accessing our online lottery site reviews.