Legal QB Direct Gambling Sites 2023
2023 Update: The top legal online betting sites no longer support QB Direct for making credit/debit-based LTC deposits. However, these sites still accept Litecoin and other popular cryptocurrencies directly. 
It's no secret that Bitcoin gambling sites are the way most online bettors and players prefer to go about their hobby, and online gambling sites accepting QB Direct have tapped into that trend, simplifying the whole process for players. In fact, legal betting sites operating overseas prefer all their members to use cryptocurrencies like Bitcoin, Litecoin, and others, which is why they sweeten the pot by giving crypto depositors extra bonus perks for doing so.
But crypto has many more advantages than just boosted online gambling bonuses. With this alternative digital currency, you get the lowest fees, the best deposit limits, and same-day payouts, which is something no other payment type can offer.
However, crypto also has a major drawback for those new to the phenomenon, in that it can take a long time to initially purchase these digital coins before you can use them. Online gambling sites accepting QB Direct have provided a streamlined solution for players who want to use crypto without having to establish an account with an exchange or be subject to traditional waiting periods.
Using the third-party QB Direct service (by QuickBit) to fund legal online betting sites is a great choice for those who game at sites that accept this new deposit method. While QB Direct is not related to the legal betting sites that support the platform, these sites use the service to make buying crypto faster and easier than ever.
Is It Legal To Use QB Direct For Gambling Online?
Yes! You can legally use QBDirect to deposit into any international betting site that supports the platform. While it's still a new option and has limited site support, several of the best online casinos have already added it to their banking options, and there are no federal US laws against gambling online with overseas providers. All US gambling laws are directed only at domestic operators, which means international venues are not prohibited.
Currently, only one state actually bars online gambling: Washington. However, if you live in WA, you can still sign up with these online casino sites (at your own risk), as those laws are not enforced, and we've never heard of a WA resident getting into any legal hot water for gambling online. 
Top Online Casino Accepting QB Direct For 2023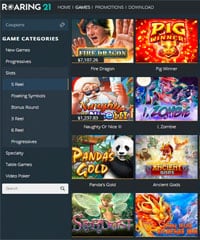 Roaring 21
Fund Your Account Directly With QB Direct!
Roaring 21 might be a newer brand, but its parent company – Entertainment Software Group (ESG) – has been in the business for years and has a number of successful and reputable online casinos for both the US and international markets.
Now, thanks to supporting QB Direct as a new deposit method, Roaring 21 makes it easier than ever to deposit with crypto – even if you don't already own any of the stuff!
When you top off your account using the QB Direct service, you can get all the benefits and bonuses of using cryptocurrency to gamble online – including rapid same-day payouts – without having to wait days or weeks to buy crypto from an exchange. For the fastest crypto deposits for new gamblers, there is no better site than Roaring 21.
Up To $10K In Bonus Free Plays For New Members
Launched by Entertainment Software Group, N.V. (ESG N.V.) in 2018

Legitimately licensed in Curacao

Uses renowned Realtime Gaming (RTG) casino software

Over 200 fair-play certified RNG casino games

Instantly fund your account with crypto using QBDirect payments

State-of-the-art encryption for enhanced security and privacy

24/7/365 support: Email, telephone, live chat

USA friendly + International support
Minimum age: 21 years old

Some countries not supported, including Australia, Germany, UK

No sportsbook, racebook, or poker room
Best Sports Betting Site Supporting QB Direct Deposits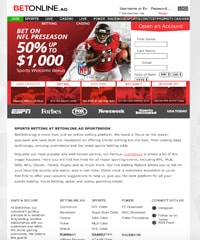 BetOnline Sportsbook
QB Direct – The Newest QB On Your Sportsbook Roster!
BetOnline is one of the most respected legal online sportsbooks in the industry. Founded in 2004, the site has a solid generation under its championship belt, and it has the longstanding online reputation to match. Now, with the addition of QB Direct deposits, you can get your BetOnline AG account loaded up with cryptocurrency faster than ever.
When betting on sports, lines often shift one hour to the next, and if you don't have adequate funds in your account to go big on that sure thing, you need to get your money transferred over in a hurry. More than any other gambling market, sports betting is time sensitive. For bettors and athletes alike, hesitation is a real killer.
Thankfully, QB Direct is the killer app that lets you deposit with cryptocurrencies like Bitcoin and Litecoin (among others) without having to deal with exchanges, crypto wallets, or the like. If you want the best online sportsbook bonuses – and BetOnline's are among the most valuable in the industry – make QB Direct a part of your hurry-up offense today!
Bonus: Up To $1000 New Member Crypto Bonus Using QB Direct
Legally licensed and regulated in Panama City, Panama (2004)

Accepts Bitcoin and other crypto deposits

Now supports QB Direct for immediate crypto transfers – no wallets or exchanges necessary!

Biggest cryptocurrency bonuses of any top online sportsbook

Covers dozens of leagues and international tournaments

1000s of daily wagers + live betting on most contests

Bet from anywhere with full iPhone/Android mobile app support

Includes full casino, live dealer games, poker room, racebook

Accepts 18+ US members from 49 states
Residents of New Jersey not accepted

Bonus rollover slightly higher than some other sites
Best Legal Online Sportsbooks That Accept QB Direct
2023's Best Online Poker Site Accepting QB Direct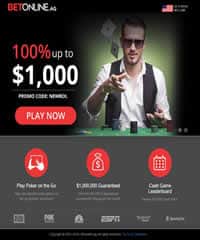 BetOnline Poker Room
Ante Up ASAP With New QB Direct Deposits
Online poker isn't worth a 2-7 offsuit hand if you can't get your account funded in a timely manner. While cryptocurrencies like Bitcoin and Litecoin allow you to make near-instant transfers, some users don't have any crypto at all. For them, there's a learning curve, and that's a pain when all those cash tables, Sit 'N' Gos, and huge jackpot poker tourneys are calling.
Fortunately, BetOnline – one of the top online poker sites in the world with millions of players from around the globe – now lets members deposit with QB Direct. This lets poker players make crypto deposits without jumping through any hoops: Just put in your credit or debit card number, choose the QB Direct banking method, and you're money!
Forget the big blind of that crypto learning curve. To get the best bonuses, the fastest and cheapest transfers, and same-day online poker payouts, crypto deposits using QB Direct are the Ace up your sleeve.
Bonus: 100% Deposit Match Poker Bonus Up To $1000 + No Rollover!
Legitimately licensed and regulated out of Panama City, Panama (2004)

Sit & Go tournaments held multiple times each day

Huge tournament poker events with $100,000+ payouts

Texas Hold 'Em, Omaha, Omaha Hi/Lo poker games

Multiple buy-ins for every level of player from beginner to pro

Biggest online poker bonus in the industry, no strings attached

Challenge 1000s of real poker players from all around the world

100% mobile compatibility for iPhone poker + Android poker

Full sportsbook, casino, and horse racing betting with single membership

US residents welcome at 18 and up
Restricted State: New Jersey

Multitable play performs better with downloaded Mac/Windows app
Best Legal Online Poker Sites That Accept QB Direct
QB Direct is actually two different products depending on whether you live in the USA or in a different country. However, for residents of the world interested in Bitcoin gambling and other cryptocurrency use at online casinos, QB Direct is a way for players to use their credit or debit cards to purchase Bitcoin, Litecoin, and other cryptos directly from their favorite offshore casinos and then have that crypto applied to their betting accounts instantly.
Essentially, QB Direct is a simple way to bypass the long wait times associated with purchasing Bitcoin, Litecoin, and other altcoins through traditional exchanges.
This allows US and international online gamblers who have never used crypto before – and who don't necessarily want to learn the technicalities of cryptocurrency in general – get all the benefits of Bitcoin deposits with the least possible fuss and muss (i.e. none whatsoever!).
The QB Direct platform is also sometimes used by online casinos as a further step of encrypted account verification for traditional credit and debit deposits.
Note: QB Direct is used by reputable online gambling sites to facilitate rapid crypto buy-ins. However, the service is not associated with gambling in any way, does not sponsor the activity, and is not involved in the online betting industry. 
How To Fund Your Online Gambling Account With QB Direct
US Players:
If you live in the United States, a QBDirect payment is a lot like using Zelle to fund your online gambling, but it simplifies that process even further because instead of buying Bitcoin or altcoins from a third party and then sending those tokens to your betting site of choice, you are buying your coins from your betting site directly. Then, the site automatically deposits your crypto for you, allowing you to wager right away.
International Players:
For International players, QB Direct works the same way. However, there's also an added bonus where it can work somewhat differently, in that the service can be used as an extra credit/debit verification system that secures typical card-based transactions.
In this application, QB Direct provides users with a one-time password (OTP), which can be quickly entered to confirm your deposit.
In either situation, of course, QB Direct is a valuable tool, but it's especially useful for those who don't own any crypto but wish to make crypto deposits for online gambling.
The Best Gambling Sites With QB Direct Support
Right now, there are only a few legitimate, legal online betting sites that support QuickBit's QB Direct platform to help their members easily make cryptocurrency deposits. These are listed in the table above, and each of them is a trusted operator that you can feel confident gambling with.
These QB Direct casino venues are the first in the industry to support the new payment service, but they surely won't be the last, so please be sure to check back often as we update our list of gambling sites that make it easier than ever to deposit with crypto!
How To Deposit Using QB Direct
When you're ready to make a deposit into your Litecoin gambling site or BTC casino of choice, but you don't have any crypto and don't wish to wait the 10 days a typical exchange transaction takes, you can opt to make a QB Direct deposit.
The process is extremely straightforward – it's literally just like buying something on Amazon with your credit card. These simple steps are all it takes to kick of a QB Direct payment with any participating offshore casino:
Choose one of the QB Direct-friendly casinos listed on this page and follow the link to the site from your device of choice (desktop, laptop, iPhone, iPad, Android, etc.).
Make an account at your chosen online casino using your real name, address, and phone number. This data is kept secure and confidential, but it must be legitimate or else you will not be able to receive your payouts when you win.
The next screen will ask you to make a deposit. Here, select "QB Direct" from the list of options.
Enter the amount you wish to deposit into your account. Usually, these sites will have low minimum deposits of $20-50.
Enter your credit card information. Visa, Mastercard, American Express, and even select international gift cards are supported.
Select any optional bonus you wish to activate.
Submit your payment.
Upon receipt of your payment – which just takes a few moments and will never be interrupted by US federal gambling laws like the UIGEA – you will have your crypto credited to your account in the form of USD or CAD, and you'll be able to start playing real money online slots and table games with absolutely no waiting!
There are several QB Direct pros and cons to consider when it comes to getting your online casino account topped off.
That said, the pros dramatically outweigh the cons for most players, and there is no reason not to use the QB Direct Litecoin and crypto purchasing options provided to you by these participating Internet gambling sites.
QB Direct Pros:
100% reliable way to fund your online gambling account
An immediate way to deposit using cryptocurrency (Litecoin, Bitcoin, etc.) if you don't already own any crypto - perfect for first-timers
Supported by some of the most reputable online casinos in the industry
Go from creating your account to gambling online for real money in just a few seconds
Get all the benefits of depositing with cryptocurrency, like no added fees, low deposit minimums, high deposit maximums, and the best bonus options
Receive no-fee same-day payouts when choosing to be paid out via cryptocurrency
Enjoy extra security thanks to crypto blockchain technology
QB Direct Cons:
Limited online casino selection
Some sites only accept Litecoin deposits via QB Direct, which means you can only get same-day payouts via Litecoin, not Bitcoin
You must use all purchased crypto at your gambling site of choice – QB Direct does not make your online betting operator a crypto exchange
To be paid out in crypto, you will need to set up a cryptocurrency wallet
2023 QB Direct Gambling FAQs
Yes! QB Direct is a legitimate company.
While the brand is still relatively unknown in financial services markets, it is supported by these top gambling sites thanks to its strong security profile, advanced technological backend, and overall reliability.
After all, online casinos can't run their businesses if you can't deposit into your account, so they wouldn't offer a payment platform unless it was absolutely bulletproof.  
There are no local, state, or federal US laws barring the use of QBDirect payments to fund your legal online gambling pastime. In fact, there are no laws against using QB Direct to fund any lawful enterprise or purchase any lawful goods or services.
Yes! QB Direct is safe to use, transactions are guaranteed, and your purchases will never be stalled by the UIGEA or other pesky laws.
If you don't hold any cryptocurrency yet but wish to make secure deposits so you can reap all the benefits of crypto and start gambling immediately, QB Direct is the best, safest option there is.  
There are many sites out there selling retail goods that will allow you to make purchases using QB Direct. However, when it comes to the online gambling industry, there is nothing else you can purchase using the platform. It is strictly a quick, easy, guaranteed cryptocurrency deposit method.
No. At legal online casinos operating offshore, QB Direct is used exclusively as a deposit method. When you use QB Direct to fund your betting account, you can choose to be paid out via cryptocurrency or traditional methods (bank wires, money orders, courier checks, etc.).
This is a completely different product that refers to Intuit's QuickBooks platform.
QuickBooks direct deposit payments (not to be confused with QB Direct deposit payments) allow employers to pay their employees quickly and easily with direct deposit.
This has nothing to do with legal betting online.
There is no legal minimum age you must be in order to use QB Direct, albeit the casinos that currently use the money-transfer protocol require their members to be at least 21 years old to sign up and play for real money.
No. However, you can get the best bonuses available, as QB Direct deposits are technically cryptocurrency deposits, which always come with the most bonus bucks and best terms and conditions for all new and returning members.
QB Direct/Quickbit is not associated with this website or any of the online gambling sites mentioned on this page, nor do they endorse any form of gambling. This website simply reviews and provides information on how QB Direct/Quickbit works and how it can be used to fund legal online gambling accounts.