Legal USA Online Horse Betting Guide For 2018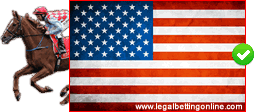 Long before mankind kicked a ball or passed one around, people were riding on horseback for sport. The sport of horse racing dates back before even the Romans trotted around in their purple robes, and it is easily one of the most popular sports in a nation like America today. As soon as horses became domesticated, man realized they could ride them. And with the riding, well, as all gamblers know, guy one undoubtedly said to guy two, "Hey, bet I can beat you." And racing was born.
Horse racing is perhaps most popular in the United States, where most of the nation's 50 independent states have some type of horse track available, and where it's typically considered either outright legal or tolerated. At Legal Betting Online, the legality is what we are aiming to touch on, first and foremost. We are here to provide you quick, accurate, straightforward information about horse racing's legality and availability, as well as information on betting structures, how to find a good racebook, and even tips to win money. If that's something that interests you, you are in the right place.
Is Online Horse Betting Legal In The United States?
In 2006, president George W. Bush signed into law the Unlawful Internet Gambling Enforcement Act, known as the UIGEA. This crippled online poker rooms, casinos, and even niche games like bingo and keno because it cracked down on the financial institutions that process gambling related transactions. However, within the complex language, written and rewritten by teams of politicians, special carve outs were made for the horse racing industry. Perhaps because of the popularity of big-time races like the Kentucky Derby, or maybe just because most states offer live tracks so enforcing anti-Internet gambling seemed obtuse. Whatever the reasons, the UIGEA actually carved out a spot for horse racing in particular, and thus it was never considered illegal like poker or blackjack.
Not only horse racing, but also dog racing, like the greyhounds. That's right; these types of racing have always been considered legal online, all but a few states. Washington, Mississippi, Nevada, Utah, Arizona, Missouri, Illinois, Virginia, Maryland, the Carolinas and Georgia do not have legalized horse racing; however, most of these US states do offer legal gambling. So, if you live outside of the aforementioned states, you can gamble online legally on horse racing. If you live within one of those states, you may need to seek other options, such as an offshore site, which is perfectly legal to bet at.