Legal Missouri Online Gambling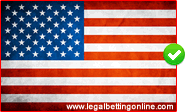 Missouri offers a surprisingly robust gambling industry that provides a decent variety of legal gambling opportunities. I'm not sure why this came as a surprise to me, but it certainly did. I've never though of the Show Me State as a gambling hot spot, but I now stand corrected. While underground gambling has been present in the state since the 1800s, regulated gambling entertainment did not really surface in Missouri until the 1980s. The state permits charitable gambling, lottery, casino gambling and pari-mutuel wagering. These options really deliver a range of options that covers almost all betting venues with the exception of sports betting, which is only legal in four states within the US.
The last three decades have brought a lot of changes concerning gambling entertainment in Missouri as well as in the United States in general. This page will provide information about the legal status of offline and online gambling in Missouri and provide insight into what the Missouri gambling laws specifically allow and prohibit. Additionally, we provide information about accessing legally sanctioned online gambling entertainment that is available to players in the United States, including those in Missouri. This is not an effort to provide professional legal advice or professional legal services of any kind. If you are seeking legal advice, Legal Betting Online recommends that you contact a licensed attorney who is familiar with Missouri state laws and statutes.
---
Missouri Online Gambling Laws

The gambling laws in Missouri do not address online gambling. This being said, there are not any state licensed online gambling options available to residents and visitors to the state. It is not legal to own or operate an online gambling site of any kind within Missouri state borders. The only forms of legal online gambling available to Missouri citizens are licensed and regulated offshore online gambling sites. There are no provisions in Missouri state laws or US federal gambling laws that prohibit residents of the Shoe Me State from participating in online gambling at destinations that are legally licensed, subject to legitimate regulatory oversight and located outside of the United States. As the legalities stand at this time, you will not be in violation of any state or federal laws should you choose to engage in legally sanctioned online gambling sites from offshore destinations. This guide provides information on gambling sites that accept players from Missouri that have been vetted and approved by our team of analysts.
Is Online Gambling Legal In Missouri?
Like most US states,
Missouri hasn't passed any state gambling laws that ban online gambling
. This makes online gambling perfectly legal for residents of MO as long as the site they are placing the bets with is located outside of the United States. All of the sites we recommend on this page meet this criteria and are legally licensed in an offshore jurisdiction that has already legalized online gambling. This allows them to legally accept wagers from players in the US including Missouri due to international free trade agreements. Basically the United States DOJ can't touch the offshore sites.
MO State Facts & Quick Jump Menu
---