Legal US Online Poker Guide 2018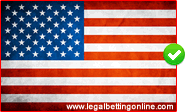 Most American poker players want to be able to enjoy a friendly online poker game from the comfort of their own home without having to worry about any legal ramifications for doing so. The legalities surrounding online poker for United States residents is nothing short of confusing. And the fact that the legal landscape continues to change all the time doesn't make it any easier for players to make heads or tails out of the current laws that affect the gambling climate.
The good news is this is the exact reason why we've created www.legalbettingonline.com. We understand the challenges players face and have worked very hard to come up with an easy to follow and useful guide that can help players understand the current situation for US online poker. While we are not lawyers and strongly recommend each player to seek out the advice of a professional attorney, we can offer some insight as to what is currently going on with legal online poker in America and how it affects USA players.
To sum it up, there are no gambling laws on the books that make playing online poker for real money illegal in the United States. The only exception to this is the state of Washington which explicitly makes playing online unlawful in the state.
Current Legal Status Of Playing Online Poker In The United States
The current legal status for playing real money online poker in the United States continues to evolve every year. In the past few of years we've seen Nevada, New Jersey and Delaware begin to offer state regulated gambling options to their residents. And we expect even more states to come on board in the coming years. The only problem is you need to reside in one of those states in order to play at one of the state regulated poker rooms.
So what about all the other states who haven't yet legalized online poker? The good news is if you live in a state where federal or state-run poker has not been legalized, (which is the vast majority of Americans) you still have viable options by playing at a legitimate online poker room that has been legally licensed by a respected offshore gambling license provider. These offshore sites can legally offer their poker services to USA players because they are not located within U.S. borders and therefore not bound by U.S. law.