Indiana Legal Online Gambling Guide 2018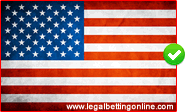 Indiana has evolved into a rather gambling-friendly state over the years, allowing various forms of legal gambling entertainment, to include casino games, poker, racing, bingo and the lottery. Charitable gambling is also allowed in Indiana. Modern day interest in gambling really emerged in the 1980s, though it would be some time before the state would take steps to actually legalize any forms of gambling entertainment. Quite a bit of Indiana's gambling industry is younger than 25 years old. Unregulated gambling however has been a part of the state's culture for much longer, dating back to the early 1900s when gambling was not only tolerated by the state's government, but also endorsed by them in some cases.
This page will take an in-depth look at the gambling laws that regulate state licensed gaming within Indiana. We will discuss laws for land based gambling, online gambling, and take a realistic look at what betting options are legally available for Hoosier State residents to engage in. We finish up with some helpful FAQ's and links to some resources that can provide you with additional information. The scope of this guide is to serve as informational in nature, and is not intended to substitute for or provide professional legal services, expertise or advice. If you are seeking professional legal advisement on a matter related to Indiana gambling laws, we suggest you speak with an attorney that specializes in gambling.
---
Gambling Laws In Indiana

Gambling laws in Indiana are contained within the state's code of statutes. The IC defines gambling as any bet that is made on anything involving an element of chance and the use of any gambling device. State regulated gambling in the state began with the lottery, which was legalized in 1988. A legal state lottery seemed to entice a pallet for betting in the Hoosier state, and in 1993 the next wave of gambling regulation was brought to life. Modifications to the state's gambling laws continued to take place that allowed expansion to the gambling industry as recently as 2011 when land based casino properties were made legal.
Indiana is one of the few states that does address online gambling in their criminal code within section 35-45-5-3, but only from an operator standpoint. It is a class D felony crime in the Hoosier State to operate an online gambling site of any kind within state borders. The law does not make any mention of players or participants of online gambling, and does not criminalize engaging in online gambling from a player position. So while you are legally prohibited from delivering betting services online inside of IN, you are not prevented from engaging in online gambling as a player as long as the site is licensed and regulated outside of the United States.
Is Online Gambling Legal In Indiana?
Indiana doesn't offer any state regulated options as of 2016. However the state does not criminalize the act of gambling online, only the act of operating a gambling business. So this essentially means that as long as the player is betting with a site that is located offshore, and in a jurisdiction that has already legalized online gambling, then the player is not not breaking any state or federal laws.
Penalties For Violating Indiana's State Gambling Laws
The state's stiffest penalties are reserved for individuals providing illegal gambling services. Indiana's code of statutes classifies the operation of an illegal gambling business as a class D felony. Those who violate this law are considered to be professional gamblers. Players who knowingly or participate in illegal gambling activities are in violation of Section 35-45-5-2, a class B misdemeanor. Like most gambling friendly states, IN focuses more on the owners/operators when it comes to illegal gambling activity instead of the players. Stiff penalties are also in place for those who establish online gambling businesses within state borders. To do so is a class D felony and a violation of Indiana's code of statutes. You can review the state's crimes and penalties associated with gambling here.
IN State Facts & Quick Jump Menu
---