US Gambling Laws - What You Need To Know
As of 2021, there are many states that now offer legal and regulated online gambling. If you are a player who doesn't live in one of these states, the good news is there are no current laws or prohibitions in the federal code that would make online gambling illegal in the US. Even US Attorney Catherine Hanaway openly admitted this in a 2007 congressional hearing
Learn more below in our FAQ section.
Domestically, there are only three states where gambling is legal online: DE, NJ, and PA. And because gamblers actually need to be inside these states to play, that leaves most US residents out in the cold. However, offshore operators offer legal online gambling to the majority of Americans, and signing up is quick and easy.
There are only two domestic US gambling laws that apply to Internet-based play: the Interstate Wire Act and the UIGEA.
Wire Act (1961)
The Interstate Wire Act of 1961 is a law barring interstate sports betting. It does not impact individual bettors, and it does not make sports betting illegal. The Wire Act simply says that no domestic sportsbook may accept wagers from across state lines. This is why a bettor in FL cannot participate in NJ online gambling.
Unlawful Internet Gambling Enforcement Act (2006)
Despite its scary name, the UIGEA does not target individual gamblers or casinos. It merely prevents US banks from knowingly processing payments to or from unregulated casinos. The UIGEA is why the best online gambling sites operate offshore and allow Bitcoin for both deposits and payouts.
Gambling Laws By State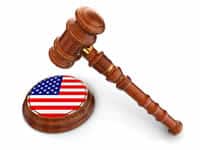 Each state has its own gambling laws. Most states allow some form of legal gambling, but a few do not, and there is no national uniformity in their laws. The legal gambling age in each state is different (18-21), and some states have sports betting while others are limited to casino gaming, horse betting, or bingo and lotteries.
You can learn more about each state's casino and sportsbook laws by browsing our States gambling law index. For online play, only one US state has outlawed the practice:
That said, the best online betting sites will accept members from WA as the state thus far has made no effort to enforce these restrictions. We also have never heard of any gambler in WA being investigated, fined, or arrested for gambling online. Still, please follow all local gaming laws.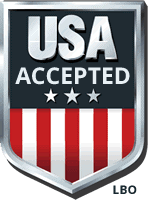 For most Americans, the only way to legally play casino games online is to use an offshore gambling site. These are real online casino operations that employ cutting-edge RNG (random number generation) technology and offer real-money play to the vast majority of US residents. The ones listed here are all operating legally within the industry and they are – for all intents and purposes – the only game in town.
Our legal online casinos guide provides a deeper look at the online casino market in the United States.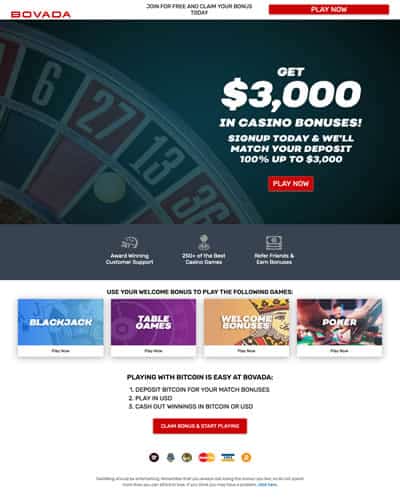 Bovada Casino
#1 Rated Online Casino For American Players
Operates legally in a recognized international gambling jurisdiction (Costa Rica)

Bitcoin + Crypto accepted with same day payouts

$3000 welcome bonus with favorable wagering requirements

Over 200 casino games from multiple software providers

Offers casino, poker, sports betting and racebook
Residents of DE, MD, NJ, NV, NY not accepted

Limited deposit options compared to other sites
Top Rated Legal Online Casinos For USA Players
Most Popular Casino Games For 2022
The best legal casinos are constantly updating their RNG game offerings to give their customers plenty of choice. New online casino games are launched regularly, but the most popular games of 2022 so far are the virtual slot titles "Gods of Luxor" and "Pandas Go Wild," both of which can be found in the Bovada network of sites.
Online Casino Games
All the top sites include the following selection of online casino games for real money:
Legal US Online Sports Betting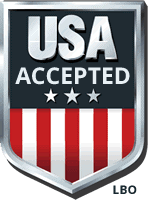 While legal online sports betting is taking off in America since PASPA's 2018 overturn, most states still don't offer domestic sports wagering. To enjoy legal sports betting, USA residents can bet on every contest the world over at the best offshore sportsbooks. And they'll get better lines, too!
For a more in-depth look at sportsbook gambling, our legal online sports betting guide will take you through all the ins and outs of legally betting on sports in the US.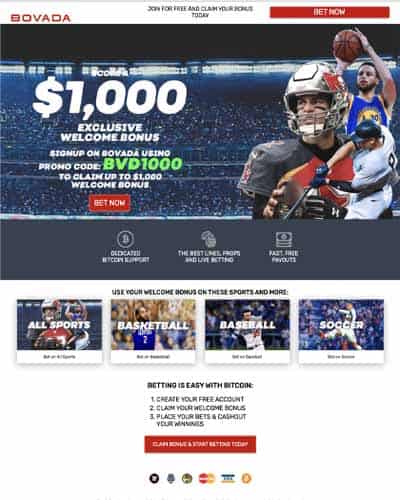 Bovada Sportsbook
America's Favorite Online Sportsbook
Most popular sportsbook in the industry

Betting odds on every sport

Political, Entertainment, eSports, and virtual odds available

Live betting + mobile betting app

Bitcoin, altcoins, vouchers, MatchPay support same-day payouts

Enjoy sports betting, poker, casino and racebook
Residents of DE, MD, NJ, NV, NY not accepted

Limited deposit options compared to other sites
Top Rated Legal Online Sportsbooks For USA Players
Current Betting Trends In 2022
The biggest trend of 2022 is that more people than ever are participating in mobile sports betting. But that's a given.
In the last two years specifically, eSports betting, virtual sports betting, and wagering on video game sports simulations have seen drastic upticks in popularity due to the Covid outbreak that suspended real-world sports globally.
Right now, online sportsbooks are taking bets on the following major college and professional sports, as well as many other sports, events, and leagues from around the world. This list contains a few of the most popular sports to bet on in the US.
More Sports Betting Options By Category
Many bettors think that legal online sportsbooks only offer the basics like NFL betting, NBA odds, NCAA action, various international fare, and so on. However, all the best online betting sites operating offshore also host the following popular markets:
Virtual sports are RNG simulations that pit generic teams against one another. Bettors get all the standard lines to wager on, games last only 2-3 minutes, and entire "seasons" play out in a day's time. These contests are 100% computer-controlled with no human input.
Sports sims are just like virtual sports (i.e. no human input), but when you wager on simulated sports, you're betting on real players and teams from popular video game series like Madden, FIFA, NBA 2K, and more. These games play out in real-time, and you can use real-world research to get an edge as you watch the livestreamed action unfold.
eSports is a popular market where professional video game players compete in AAA games, and you can bet on the outcomes. eSports games aren't strictly related to sports, either. In addition to the Madden, FIFA, and NBA 2K series, eSports include FPS games, RTS games, and other competitive titles.
If you want to bet on American Idol, The Voice, DWTS, the Academy Awards, or any other major television event, that's all covered by the entertainment betting market at online betting sites. No domestic US sportsbook offers these odds, which is just another great reason to play offshore.
Election odds and political betting are only available from offshore betting sites. If you want to wager on impeachment odds, debate odds, political props, and Presidential elections, you can "stuff the ballot box" at any reputable offshore betting site.
Horse racing betting online is extremely popular, and every top-rated legal online sportsbook offers a full racebook. If you want the best horse betting app experience, the sites listed here are all Thoroughbred champions!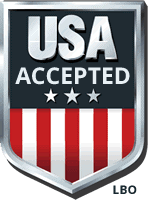 US legal online poker is extremely popular, though it's largely unavailable from domestic operators. For most American players, Texas Holdem poker online is only available offshore, as are other popular poker games like Omaha and Omaha Hi-Lo. You can play real money poker online using any of the sites listed here.
For more information, check out our legal online poker guide for USA players.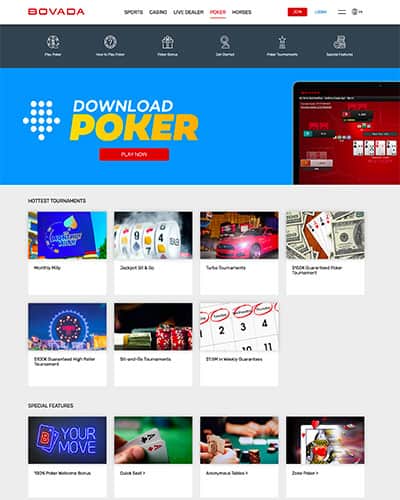 Bovada Poker
America's #1 Rated Online Poker Room
Bitcoin + crypto supported with same day payouts

Cash tables and multi-table play

Mobile friendly poker app

Generous welcome bonus up to $500 to new players
Players from DE, MD, NJ, NV, NY not accepted

Only US and Mexico players accepted
Top Rated Legal Online Poker Sites For USA Players
While none of the legal online betting sites operating offshore have traditional iPhone or Android betting apps, they each provide their members with browser-based mobile interfaces that mimic the look and feel of the best native App Store or Google Play offerings.
These web applications are the best online gambling apps anywhere, and you can get the following experiences at most top-tier gambling sites, all of which are web based for maximum device compatibility and require no downloads or updates of any kind:
Legal Category / Sports Category
Legal Online Gambling FAQ's
There are only three major US federal gambling laws that affect US players who wish to participate in online casinos, poker rooms, sportsbooks, and racebooks. Fortunately, the act of gambling with offshore sites doesn't violate any of the following, nor do these laws target individual gamblers in any way:
Federal Wire Act of 1961 – This law, discussed above, prevents domestic sportsbooks from accepting wagers across state lines. Because the best offshore sports betting sites all operate outside of US jurisdiction and are fully licensed and regulated in their home countries, US residents are able to use these services safely and legally.
Unlawful Internet Gambling Enforcement Act of 2006 – The UIGEA is also discussed above, and it is a banking regulation that applies to domestic financial institutions, preventing them from knowingly processing payments to or from non-US-regulated online casinos and sportsbooks. The UIGEA does not target individual players, but it can cause a credit or debit deposit to be declined on rare occasions.
The Interstate Horse Racing Act of 1978 – This law allows horse racing betting to take place via OTBs and simulcast services across state lines. The Wire Act, at one time, prevented this, but the pari-mutuel nature of horse betting allowed legislators to put it in a different category with its own regulations. Not all states allow access to domestic online horse betting, however. The IHRA does not criminalize US residents from betting with offshore racebooks in any way.
Yes! Domestically, fewer than 10 states allow online casino gambling, while over half of all US states allow online sports betting and over 40 states allow online horse racing betting. Online poker is only available in six states, despite being arguably the most popular form of gambling in America.
However, if you use a reputable offshore gambling site, you can safely and legally enjoy all these markets – and more! – from the convenience of your own home, 24/7.  
Yes, it is. And it's also the fastest-growing legal betting market in the country.
However, it will be many years before all (or even most) US states have their own sports betting regulations in place, so for the foreseeable future, legal offshore sportsbooks are the best way to bet on your favorite players and teams.
Additionally, online sportsbooks in America do not offer political betting odds or entertainment betting, which means offshore sites are polling higher – and have better ratings – than ever!
There are some extra hoops that online betting sites must jump through in order to legally service the United States gambling market. It is a hefty investment and a lot of work to offer US-friendly online gambling, and not all brands are in a position to meet the standards necessary for success. 
Gambling-related financial transactions for US gamblers must be done using only reputable, US-friendly funding options that utilize reliable payment processors in order to operate successfully within the confines of the UIGEA, and only the most established and committed gambling sites are going to be able to pull that off.
For many less popular sites, its just easier to stay out of the US market altogether.
Offshore gambling is simply the act of participating in real money casino games, poker games, sports betting, and horse racing betting at casinos, poker rooms, sportsbooks, and racebooks that operate from outside of the United States.
These companies are often headquartered in places like Costa Rica, Curacao, the Isle of Man, and other global regions that allow them to offer such amusements to an international clientele.
There are no US laws that criminalize offshore gambling, and there are no domestic online gambling sites that even come close to offering the variety of games, odds, and lines that offshore operators provide.
If you use the legitimate gambling services listed here, you are guaranteed a safe, secure betting experience.
Because these sites use state-of-the-art SSL and TLS encryption standards – and because they never share or sell private information with third parties – you can rest easy knowing that your gambling hobby is not only legal but secure, as well.
All the operators we recommend are legit online gambling sites with years of experience in the industry and millions of satisfied customers.
These sites may not be bound by US law, but that doesn't mean they don't have to be licensed or comply with regulations in their own home countries.
We will never suggest playing with an operator that doesn't meet these standards, and you should make sure that any site you choose is totally transparent about all its licensing credentials.
Not if you use the best online casinos and sportsbooks in the business!
These sites all employ sophisticated, audited RNG (random number generation) technology in their computer-controlled games, and they're all regularly audited to ensure that your chances to win are identical to the odds you'd get at a state-regulated brick-and-mortar establishment.
All the best online casino games at the top offshore sites are created and maintained by developers like Realtime Gaming, Rival, and Betsoft.
These are world-class, highly respected brands in the casino industry, and retail casinos the world over employ their services to design the RNG electronic slots and casino titles you see at the best Vegas, AC, Monaco, and Macau casino resorts.
Yes!
If you're looking for a fair casino online experience, all the sites listed here offer that – and more! Every offshore gambling site we recommend is dedicated to fair play, and they employ third-party auditors to ensure full iGaming certification and compliance.
For casino games, that means that the chances you have to win are exactly the same as they would be in brick-and-mortar casinos in Las Vegas and Atlantic City, while for sports betting, it means that the lines you see are the lines you get.
Poker, like the above casino games, is governed by provably fair RNG technology, and the racebooks also pay out exactly as they would at any real-life racetrack.
Most reputable gambling operators in the offshore industry offer a number of banking options to US players. While each comes with different fees, minimum and maximum limits, and transfer times, you can usually select from the following for deposits and withdrawals:
Deposits – Bitcoin, altcoins (Litecoin, Ethereum, Ripple, Stellar, Bitcoin Cash, USD Coin, Chainlink, Dogecoin, Cardano, Solana, Tether, etc.), credit/debit cards (Visa, Mastercard, American Express, Discover), international gift cards, cashier's checks, money orders, bank wires, retail money transfers, gambling vouchers, MatchPay (Bovada only), Zelle-to-BTC
Withdrawals – Bitcoin, altcoins, courier checks, money orders, bank wires, vouchers, MatchPay (Bovada only)
Note: Bitcoin (BTC) and crypto are the only ways to deposit and withdraw offshore gambling funds without incurring any added fees, and they're also the only same-day payout methods available from any offshore operator. You can occasionally get same-day payouts via vouchers, player transfers, and MatchPay at participating sites. 
Vouchers, player transfers, and MatchPay allow players to indirectly use popular P2P instant-pay money transfer apps like PayPal, Venmo, Cash App, Zelle, Apple Pay, etc. to make deposits and receive withdrawals.
Nobody knows for sure, as the political climate in the US – and the social attitude towards accessible online gambling – is constantly changing.
While states are embracing online sports betting in large numbers thanks to the PASPA overturn, they are less likely to legalize online casino gambling and online poker. We don't think this is going to change any time soon.  
Yes! But if you're new to cryptocurrencies, you might first ask:
"What is Bitcoin?"
Well, in technical terms, its tough to explain, as it's a new paradigm in digital currency and is the most secure banking method in history. Essentially, Bitcoin (BTC) is a financial transaction and trade platform that uses an open-ledger blockchain system to process transfers in a way that is quantum-hacking resistant.
For those interested in Bitcoin betting, there is no more secure way to fund your account, and BTC offers the only way to claim same-day payouts (as do other cryptocurrencies supported by the top sites).
Plus, Bitcoin/crypto gets you the very best casino bonuses and sportsbook bonuses, so not only can you wager with these alternative currencies, but all the top sites prefer that you do!