New Jersey Online Gambling 2018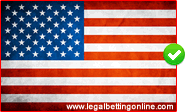 New Jersey may not have been the first state to legalize online gambling and offer state regulated gambling options, but at this point in the game, they are considered the state that has been the most successful thus far. Unlike the state of Nevada which has launched only online poker, NJ has included both online poker and online casino gambling in their platform. This allows a much larger player base to participate since the options are not limited to poker alone. New Jersey did follow the same general structure that Nevada did, running all online initiatives through existing brick and mortar destinations. This makes sure the online venue does not cannibalize the existing gambling industry already present in New Jersey, which was necessary to expand the state's revenue rather than harm businesses that already contribute. The Garden State is serving as a model to other states that are in the process of bringing the option forward in their own territories, such as California, Florida and Pennsylvania.
While many industry professionals feel that Governor Christie has far overshot his predictions when it comes to just how much additional revenue the state can expect from their online gambling industry, there is no denying that it will provide a healthy boost to the economy in New Jersey and the state's coffers. From among the three states that have already legalized online gambling at the time of this writing, New Jersey has seen the most return for their efforts. They are also the most ambitious of the three states. Not only have they covered both poker and casino games in their offerings, they have also made valid attempts at legalizing online sports betting. This continues to be a work on progress.
---
New Jersey Online Gambling Laws

In January 2011, NJ Senate Bill No. 490 was passed by the state legislature, and it legalized online gambling by players who are located within the state's borders and were at least 21 years of age. This first version of the bill was vetoed by Governor Christie. The bill was revised and later introduced again, and passed overwhelmingly in February 2013. This version met with Governor Christie's approval and he subsequently signed the bill into law, officially legalizing online casino and poker gambling for NJ state residents and visitors. Players who are physically located in NJ can legally participate in state based online gambling from their computer or mobile device. Location is verified with GPS software embedded in the online gambling site interface.
In 2012 the state also passed legislation which legalized sports betting for NJ bettors. This law was challenged through a lawsuit filed by a group of major league and collegiate sports organizations, including the NFL, NBA, MLB, NHL and NCAA. The courts ruled in their favor and determined that NJ could not legally offer sports betting options to their bettors. NJ has appealed this ruling to a higher court and are currently awaiting a response. Once a decision is handed down, we will update this section to reflect the updated information. Needless to say, it may be some time before New Jersey is successful in securing permission to offer any type of sports betting offerings, whether land based or virtual in nature. For the time being, NJ sports bettors will have to rely on the legally licensed and regulated online sportsbooks located outside of the United States. These sites offer legal sports betting options to bettors in the USA, including those from New Jersey.
Additional options for NJ gamblers include the legal casinos and poker rooms that are located outside of the US, and are regulated and licensed by governing jurisdictions that have already legalized online gambling for their respective territories. Because these sites are regulated by genuine government bodies, they are subject to strict oversight, as well as regular auditing of their RNG technology and fair gaming practices. This ensures that they always provide compliance certified and fair gaming options. It is the same type of regulation that state based gambling sites are subject to. We provide access to these legal gambling sites through the links found on this page. Each brand has been vetted by our team of professionals to ensure they are a legally operating gambling site that provide the highest quality gambling experience possible. There are no US gambling laws which prohibit NJ players from participating in legally licensed online gambling sites which are regulated by a legitimate governing jurisdiction located outside of the USA.
New Jersey Legal Gambling Age: Players in New Jersey who wish to participate in land based or virtual gambling must be at least 21 years of age. Those players who wish to participate in online gambling licensed by the state of NJ must also be physically located within the state's borders.
Is Online Gambling Legal In NJ?
As mentioned above,
online gambling is 100% legal in New Jersey
. They are one of only a handful of states that offer any state regulated gambling options as of 2018.
NJ State Facts & Quick Jump Menu
---