Legal Online Bingo Guide 2018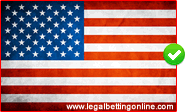 Just how big is legal bingo betting? Hugely popular in the United States, Canada and the UK, playing bingo can mean either hopping in your vehicle and driving to a local church sponsored bingo hall, enjoying a game offered by a fraternal organization, or simply powering up your smartphone or personal computer. With literally hundreds of websites online offering legal bingo games around the world, the financial numbers may surprise you. 888 Holdings operates several online bingo halls and communities, and they reported revenue of $14 million in the first quarter of 2012 from their online bingo websites alone. Most people would not have guessed that bingo would become an intricate part of the overall legal USA online betting industry. It is beginning to earn a place in the online gambling community, and may end up next to legal USA online poker in stature someday.
That is simply the revenue generated by one business for three months online. And when you add the money generated in more traditional land-based bingo halls, as well as the financial take from all the various different legal USA bingo sites, you realize bingo is a billion dollar business. Catholic churches and organizations like the Knights of Columbus are well known for offering bingo several nights a week as a revenue generator. And with a wonderful sense of community added to the simplistic, "total luck" characteristic of the game, it is easy to see why this low-cost form of entertainment is so popular at land-based bingo halls worldwide.
Current Legal Status Of Playing Online Bingo The United States?
Since bingo is considered a game of chance rather than skill, most US states can not offer it online. The UIGEA bill which was passed in 2006 is thought by many Americans to outlaw online gambling, but actually regulates and restricts gambling transactions which online casinos, poker rooms and bingo halls process. This is why American owned online bingo halls cannot legally offer their services to US citizens, but offshore platforms which are legally licensed and regulated outside the United States are perfectly legal for US players, as well as international bingo lovers. We have listed the most reliable, safe and secure online bingo halls on this page which legally support US players, and frequently review and update this web page.