Legal Online Golf Betting 2018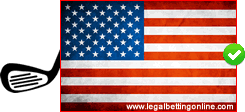 Betting on golf is actually a lot more popular among American sports fans than some may guess. Some feel that Tiger Woods helped propel the sport of golf to a more mainstream following, attracting fans that previously did not have much interest in the sport. Whatever the reason, legal golf betting is in high demand and garners the attention of leading oddsmakers.
It is because of the growing momentum of betting on golf that we have created a guide for those in the United States seeking legally licensed and regulated US friendly golf betting destinations. The gambling landscape for US players can be a tricky one, and having accurate and up to date resources regarding the legalities involved in betting on golf and access to legally sanctioned betting sites that accept American players are two components that can keep you on the legal side of betting and ensure an enjoyable and high quality experience. In addition to discussion the legal status of betting on golf in the US, this page also looks at how to read and interpret the odds and what major tournaments and events are prominent in the global golf circuit.
Is betting on golf legal in the US?
There are numerous elements that impact the legal status of betting on golf for American sports bettors. US federal laws play a role in what opportunities are available to US residents, as does the location of the sportsbook business that you are considering bringing your action to. The state in which you reside can even play a part in determining what is and is not legal for you as a gambler (check to see if online gambling is legal in your state). We decided to break it all down for you so that there is no guessing involved and that your course of action comes down to a highly informed decision based on the facts. All the facts are not pretty and wrapped up with a nice bow, but some of them do lean in your favor. Please keep In mind that if you are searching for a definitive legal response to any questions you may have, you should contact an attorney.
There are three primary federal laws which directly impact USA online sports betting and gambling in general for United States Residents: the Federal Wire Act, the Professional and Amateur Sports Protection Act (PASPA), and the Unlawful Internet Gambling Enforcement Act (UIGEA). Each one addresses a different segment of the US legal gambling market, and we address each one individually in our USA gambling laws section.