Legal Soccer Betting Guide 2018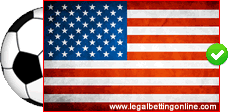 Legal online soccer betting gives adults of legal gambling age access to one of the most popular spectator sports in the world, offering immediate wagering options through smartphones and PCs. The global popularity of soccer derives from its inexpensive and cross-culture playability. A round ball and a friend or two is all that is required for children of rich and poor Third World countries alike to quickly begin playing. This is why the sport has such age-old and rabid support in many countries like Brazil, England, France, Germany and Spain.
Betting on MLS soccer in the United States might not be as popular as football or basketball, and it's certainly not as popular in America as it is in other countries. But it's still a sport intensely followed in the US and there are many legal online sports betting options available. This page discusses the legalities of betting on soccer for USA players and recommends where to place bets legally online. The sites we list are all legally licensed to accept American players and are some of the most trusted names in the industry. So whether you are new to betting on soccer or are an expert player looking for the most reputable sites to bet at, we've got you covered.
Is It Legal To Bet On Soccer In The US?
Due to the Paspa law, sports betting is only legal in 4 US states. But Paspa only makes it illegal to offer sports betting as a business. This is why Vegas is one of only a handful of cities where you can actually place a sports bet in person at a brick and mortar casino. And what comes as a surprise to many is the fact that other Federal laws such as the UIGEA or the Federal Wire Act don't actually make the act of placing a bet illegal in the United States.
As soccer is extremely popular in offshore countries and jurisdictions as well as the UK, Australia and other parts of the world, there are areas which, unlike the United States, support and regulate online gambling. Companies obtain specific licensing in these locales which allows them to legally offer online soccer betting options to players located anywhere in the world including the U.S. via the Internet. All of the sportsbooks listed on this page are licensed, regulated, very reputable and can legally accept USA players because they are located offshore in a jurisdiction that legally supports online gambling.