Legal USA Soccer Betting For 2023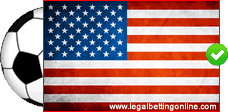 Legal online soccer betting gives adults of legal gambling age access to one of the most popular spectator sports in the world, offering immediate wagering options through smartphones and PCs.
The global popularity of soccer derives from its inexpensive and cross-culture playability. A round ball and a friend or two is all that is required for children of rich and poor Third World countries alike to quickly begin playing. This is why the sport has such age-old and rabid support in many countries like Brazil, England, France, Germany, and Spain.
Betting on MLS soccer in the United States might not be as popular as football or basketball, and it's certainly not as popular in America as it is in other countries. But it's still a sport intensely followed in the US and there are many legal online sports betting options available.
This page discusses the legalities of betting on soccer for USA players and recommends where to place bets legally online. The sites we list are all legally able to accept American players and are some of the most trusted names in the industry. So whether you are new to betting on soccer or are an expert player looking for the most reputable sites to bet at, we've got you covered.
Is It Legal Bet On Soccer In 2023?

Yes, it is.  Depending on what state you are placing your bet from, you may have more than one legal option for betting on soccer.  There are multiple states that have legalized domestic sportsbook gambling, and with the exception of only one state (WA), US residents can also enjoy online sports betting sites that are operating legally offshore, such as the ones listed in this guide.
PASPA has been repealed, and the Federal Wire Act only limits domestic sportsbooks from accepting bets across state lines.  The UIGEA simply places regulatory oversight on how gambling-related transactions can be processed.  None of these federal gambling laws prohibit US bettors from placing bets on soccer games either online or in brick-and-mortar sportsbooks.
Bovada Sportsbook
#1 Rated Legal Online Sportsbook For 2023
America may not have the best soccer leagues (sorry MLS betting fans!), but there are millions of die-hard soccer bettors in the US that call Bovada Sportsbook home. The Bovada soccer sportsbook features Premier League betting, Bundesliga betting, La Liga betting, UEFA Champions League betting, FIFA World Cup betting, and more!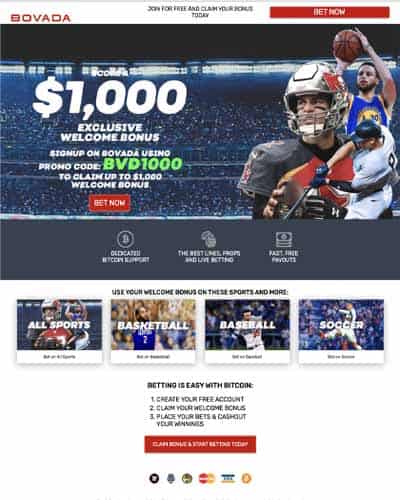 US Friendly - Most US States Accepted

Most reputable name in online sports betting

Licensed by Curacao - Operates within Costa Rica

Generous 50% bonus up to $1,000 for new members

Easy deposits using credit cards or Bitcoin/crypto

Fast and reliable payouts guaranteed
Only US, Mexico and Brazil players accepted

Residents of DE, MD, NJ, NV, NY not accepted

Limited deposit options compared to other sites
Legal USA Friendly Soccer Betting Sites
We mentioned above how important verifying credentials is when you are shopping for a soccer betting sportsbook. As sports gamblers ourselves, as well as industry consultants, we know what to look for in a review process that identifies the most legitimate soccer betting sites.
Our investigative process is intense and focuses on identifying legitimate credentials first, then locating those legitimately registered soccer betting sportsbooks which provide attractive lines and numbers, instant PC and mobile access, a wide range of banking options, and a safe, secure, and easy to understand user interface. We recommend the brands listed here as reputable soccer betting websites which also offer access to other sports betting options. All these sites pay off like a bank when you win.
FAQ's Related To Soccer Betting
Most Popular Soccer Leagues In 2023
The following are some of the most popular soccer leagues found throughout the world.
USA Major League Soccer (MLS)
English Premier League
Mexican Primera
La Liga
Ligue 1
Serie A
Bundisliga
Soccer Betting Rules
For the novice player, here is a short breakdown of the rules of a soccer game as it pertains to wagering in a sportsbook. Please keep in mind that these are general rules and will vary from sportsbook to sportsbook.
They are included in this guide to provide bettors with an overview of soccer betting rules and do not constitute any guarantees. We advise that you consult the rules page at any online sportsbook you visit to make sure you have a clear understanding of the rules prior to placing any real money wagers.
1. Sportsbooks will provide a specific length of time for this rule, but most sportsbooks consider a match official for wagering if it has gone between 40 – 90 minutes. Some sports betting sites require the entire 90 minutes, while others set the bar at 40. You will need to check the rules of the website you are at to confirm this.
2. If a venue change or date change occurs, or if a scheduled soccer match is abandoned or postponed by more than 24 hours, all wagers will be considered no action. If a match is abandoned but at least 40 minutes were played, then the outcome will be determined by the end of the match at the time of abandonment.
3. Unless specifically noted otherwise, the score that is recorded at the completion of regulation play is what will be used for wagering results. In most cases, extra time played, golden goals scored and penalty shootouts that occur are not included in the 90-minute playtime.
4. Wagers that are placed via moneyline have only three potential outcomes: win, lose or draw. If a match ends in a tie (draw), but you did not select this option in the moneyline, then you will lose the wager.
5. There are specific rules on player props and goal props. For example, a player who does not enter the game until after the first goal is scored is rendered as no action for wagering purposes. If a match is abandoned after a goal has already been scored, all bets that were placed on First Goal and No Goal will stand as active, whereas the wagers placed on Last Goal will be rendered null and refunded accordingly.
There are a large number of props bets that can be placed on soccer, and these also will vary by brand. For a complete list of props betting options and the rules which apply to them, you will need to refer to the sportsbook at which you intend to bet at.
6. Soccer sports betting sites afford a Double Chance wager. This is when you bet on 2 of the 3 possible outcomes for the match.
7. For bets that are placed on the Time of First Goal, most sportsbooks use www.flashscore.com to settle the goal time.
8. Concerning bets placed on the Total Corners Line, the actual number of corners is determined by the total number of corners a team accrues during a designated match. Corners that are retaken are counted as one, and corners that are awarded but not taken will not count.
9. Man of the Match wager is determined according to the UEFA.
10. There is also a bet that can be placed predicting which team will win both halves. The winning team will score more goals than their opponent in both halves of the match.
Wrapping It Up
A Draw or Tie happens more in professional soccer than in any other globally wagered pro sport, and the savvy bettor who can identify a hot underdog can capture significant money line odds by placing the right wager here. The traditional spread, money line, and over/under point total bets are also generally offered by your better soccer betting sites, and in some cases, futures and proposition bets are available as well.
The international FIFA soccer league offers sports fans an opportunity to make a patriotic bet on their own country in events such as betting on the FIFA World Cup, and the UEFA CL (Union of European Football Association Champions League) allows some of the world's most devoted and fanatical soccer fans gambling opportunities on famous and prestigious professional soccer games held in that country.
Loyal soccer fans wishing to place a wager on their beloved Real Madrid, Manchester United or Arsenal squads now have more instant access available than ever before if they wish to place a real money wager on the outcome of a match, but should always check out the soccer betting sites where they play first.
Legal credentials in certified jurisdictions should be confirmed before you place your first soccer wager. Betting software and site security should also be investigated, and multiple banking and betting options, not to mention a wide range of attractive betting lines, should be your goal if you are looking for an online soccer betting destination.
As industry consultants who have worked hard to earn a respected spot in our industry, we have compiled an extensive review process we apply to all soccer betting websites that we employ before we recommend any online sportsbook. And soccer fans should also demand in this day and age that there are mobile sports betting options for their preferred online soccer betting portal.
Legally, this may still mean that US players cannot use an American banking institution deposit method like a credit card to fund their Internet gambling account. However, the intelligent operators of the more reputable and legitimate online soccer betting sites generally offer several safe and secure banking options for US players who wish to legally open an Internet sportsbook account and place some responsible, adult wagers on soccer contests.
These same companies usually offer excellent numbers when they list their lines, sides, money lines, and totals on soccer matches, as they understand the loyal nature of the typical soccer fan. To recap, as long as a US citizen sticks to those reputable soccer betting websites which have obtained all the necessary credentials to operate in legitimate online gambling jurisdictions, their experience will be dependable, reliable, and enjoyable.
We have compiled a list of reputable Internet sportsbooks here, many offering attractive online sportsbook bonuses and other player incentives when you open up a real money account. Learn more about your soccer sports betting options in our detailed online sportsbook reviews.