Legal Football Betting 2017/2018 Season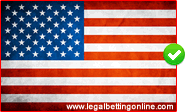 How big is legal football betting online? The NFL itself is a $10 billion a year business, but that number pales in comparison to the amount gambled on each NFL season. In 2012, a full $1.34 billion (41% of the entire sports gambling picture) was wagered in Nevada's physical casinos on National Football League contests. And the National Gambling Impact Study Commission estimated recently that more than $380 billion is wagered annually on college and pro football, including events like Superbowl betting and College Playoffs, through online accounts, and through illegal local bookies in the United States alone. The take-away here? Betting on football games is big business, and with the advent of current technology and gambling laws, you do not have to risk placing a wager with your local illegal bookie or frequent a shady offshore operator to get involved.
With hundreds of billions of dollars at stake, there will be all types of operators trying to get their hands on a piece of that pie. This is why, more than ever, taking some valuable time to do extensive review work before opening an online sportsbook account is even more important here than it may be if you simply enjoy some easy-going, low key online casino gambling. With so much information available to anyone with a computer and an Internet connection, the veteran gambler understands that by legally betting on football games online, either pro or college, he can give himself one of the best opportunities at winning of all the online gambling options. It is no secret that a successful football betting strategy can return to the disciplined gambler a very healthy income each year, if you know what to look for online.
It is absolutely imperative that wherever you decide to enjoy legal football betting on the Internet, you guarantee several things are offered. You need to know that you can get your money in and out quickly, and can make deposits with traditionally safe banking options. In this day and age, it is also almost necessary to demand a mobile app for your smartphone or mobile handset, and we feel it is as important to understand the management group behind a particular online operation. A site does not necessarily have to exist for several years to be reputable and secure, as long is it is run by a seasoned ownership group. Obviously, you should own accounts at multiple legal online sports betting sites, ensuring that you have access to several different and competitive football betting lines. Learn more in our section covering online sportsbook reviews.
Is It Legal To Bet On Football Games In The United States?
The legal picture in the U.S.A. regarding both NCAAF and NFL gambling is different than in other countries. Many Asian and European countries openly support online gambling, but the US as a whole does not. Even the few states which have moved forward with legalizing online gambling in their states have not yet successfully added online sports betting to their offerings.
So what exactly does that mean for US players? In order to remain on the legal side of the law, players looking to bet on football games must do so with an offshore sportsbook. By being located outside of the United States, these sportsbooks can legally offer their services to American players. All of the US friendly football betting sites we recommend on our website are legally licensed and under strict regulation. We only promote reputable sportsbooks that do things by the book.