2023 NFL Betting Strategy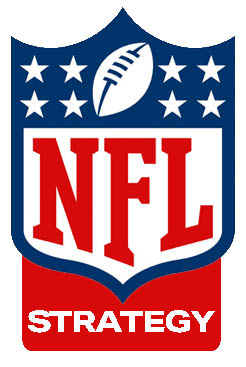 Every year, the new NFL season brings new bettors into the fold, and that isn't changing anytime soon. In fact, with all the increased interest in legal online betting, more people than ever are taking up NFL betting. That, of course, means that there's a lot of interest in the basic NFL betting strategies.
For newcomers to the pastime, the different NFL wagering systems might seem overwhelming, as might the sheer amount of lines and odds on the NFL betting boards. Of course, that's not actually the case, and you can learn the basic football betting tactics by giving our brief primer a quick rundown. While you can always call an audible, if you start with the following plays, you'll have a solid game plan to build on going forward.
To get you in shape for NFL prop betting this season, we've provided examples, and a detailed explanation for each type of prop bet you'll encounter when legally betting on NFL football this year. Additionally, we've also included our recommended list of the best NFL prop betting sites, so you can see all the proposition wagers offered for yourself.
Top Rated US NFL Betting Sites For 2023
Here are the top-rated US sportsbooks that operate online and feature NFL betting lines. Each of the sites below has multiple ways to bet on NFL games including game lines, props, and NFL futures. You can click the play now button and navigate to current betting lines or see our in-depth sportsbooks reviews on each site to learn more about their best features and uses.
Betting Against The Spread
If you're looking for NFL spread betting tips, you first need to understand how to read an NFL spread. Most simply, this is how an NFL spread works: The point spread shows the minimum points a favorite must win by or the maximum points an underdog can lose by in order for your bet to be graded a winner.
When betting against the spread (ATS), you should focus on a team's ATS record, not just their straight-up wins and losses. Many bettors make the mistake of gauging only a team's normal NFL record when betting ATS. But consider this: In the 2018 NFL season, the champion New England Patriots went 11-5, but they were only 9-7 ATS. Meanwhile, the Cleveland Browns went 7-8, but they were actually 10-6 ATS. Always check the ATS rankings when betting against the spread.
Many professional bettors use or develop their own NFL handicapping software, but you're probably going to have to do it manually. Essentially, "handicapping" is just gambler lingo for "researching," and there are many factors involved. The main things to take into account when handicapping NFL games – besides the actual on-field prowess of the teams or players themselves – are listed below. Remember, intangible elements can often be just as important as measurable, empirical datasets.
Weather (temperature, wind, humidity, etc.)
Arena/crowd size
Game location (travel time, jet lag, etc.)
Game start time (day vs. night, field lighting)
Injuries/illnesses
Suspensions
Team and player rivalries
Locker room issues
Off-field issues
Season standings
Playoff seeding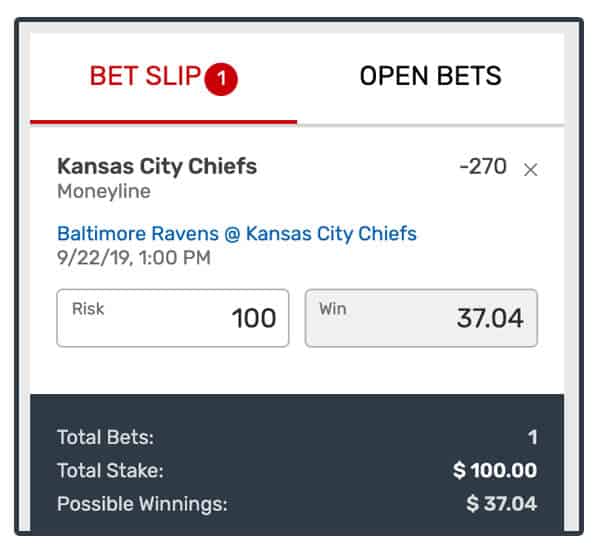 Even betting is great for beginners because it simplifies things considerably. A wager can be considered and even NFL bet if the payout is the same on both sides. The most common even bet for NFL matchups is the point spread, as betting sites often give the same moneyline odds on either side of the wager (usually -110). However, with more sophisticated line-setting algorithms in use at most sports betting sites, it's getting harder to find even odds reliably and consistently.
In sports wagering, the rule of thumb for even betting is that if you can win 52.4% of your wagers (provided they're always at -110 odds), you will profit in the long term. In other words, with NFL even betting, if you win 6 out of 10 contests, you will always win money. Contrast that with NFL straight betting, where you can win 60% of your bets and still lose a bundle!
Buying points for NFL betting means that you're altering a given point spread and its associated payout. Let's say the Kansas City Chiefs are -7 favorites against the Los Angeles Chargers, and they pay out -115. If you "buy points," you can move the spread to -6 or -5, but the payout will drop accordingly. Similarly, you can "sell points," increasing your potential payout by moving the spread up to -8 or -9.
Some online NFL sportsbooks allow bettors to buy and sell points, while others will post all variations of a given wager as "alternate lines." Still others put limits on how many points you can buy, or even when you can buy them. Since each book has different rules, you definitely need to read the fine print, as this can help you determine which NFL betting site to choose.
Single Vs. Multi-Single Bets
An NFL single bet requires you to wager on one single outcome, like a game's point spread. If you wager correctly, you win the bet. Between straights, spreads, totals, and props, there are thousands of single NFL bets available each week from your sports betting site of choice. For most bettors, single betting is the way to go.
However, there are multi-single NFL bets, too. Also called NFL multi bets or NFL parlays, these types of wagers are good for the gambler who wants to turn a few dollars into a big payday. A Multi bet is comprised of a series of single bets, each of which must hit for the ticket to be graded a winner. If any "leg" of the parlay or multi bet loses, the entire bet loses. There are many kinds of NFL multi bets to be aware of, and each legal sportsbook site has its own selection.
Most first-time NFL bettors focus on betting on the favorite. Doing so is easy and accessible because even the most casual fans can see which teams are (or will be) NFL favorite picks. However, betting the favorite – as an overarching gambling strategy – can often backfire, as strong teams lull bettors into false senses of security.
For example, historically good teams might be favored in 14 or 15 of their 16 regular-season games, but they will very rarely get that many wins. They'll even more rarely get that many wins ATS (see above). And because of the "high risk, low reward" nature of favorite betting straight up, one loss on a favorite can wipe out several weeks of winning bets on the same team(s).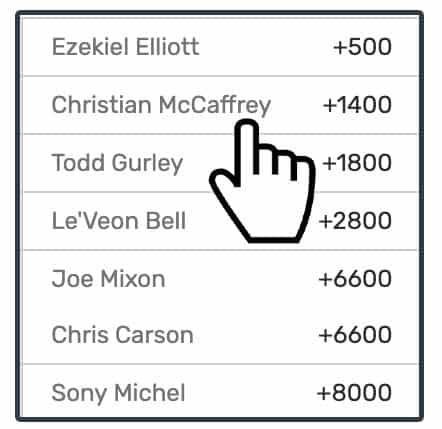 As with favorite betting, many NFL bettors favor underdog betting. Betting on the underdog in football is considered a "low risk, high reward" proposal, where small wagers can reap huge payouts. Of course, if you limit yourself to this strategy, you can lose your entire bankroll before you know it.
While most of the biggest paydays for NFL bettors will have underdogs playing a part (they often work as "multipliers" on parlay tickets, for example), if all you bet is the NFL underdog, it's a safe bet that you'll lose everything. As with all NFL wagering strategies, there is no right play for every single occasion. Sometimes, you can wheel and deal in your comfort zone, and other times, you'll have to call an audible.
Managing Your NFL Bankroll
Though not an NFL betting strategy per se, managing your bankroll is arguably the most important thing you can do if you want to be a successful bettor. Without good gambling discipline, you're guaranteed to lose money, and that's never a good goal. In fact, it's wide right every time!
Luckily, managing your betting funds is easy enough. The main rule is to break up your bankroll into small increments so you can limit your bets to reasonable maximums. If you deposit $500 and put $250 on a big NFL favorite, you could lose half your money in that one game. But if you limit your max bets to $2, $5, or $10, you can mitigate losses while building up good habits and refining your own NFL betting tactics.
The main thing to consider when depositing at an NFL betting site is how much time there is before gameday. With contests being played on Sundays, Mondays, Thursdays, and even Saturdays, a deposit option that takes a week or more to clear isn't the way to go. The best NFL deposit methods are credit/debit cards and cryptocurrencies like Bitcoin, Bitcoin Cash, Litecoin, etc.
If you're going to be betting on the NFL all season long and don't need immediate payouts, withdrawal timeframes might not be important to you. Traditional payout methods like bank wires and money orders should be adequate, and each takes 3-5 days to clear. However, if you need your football winnings right away, the only same-day withdrawal option at any reputable offshore betting site is Bitcoin (or other supported crypto altcoins).
Whether or not you should accept an NFL deposit bonus is always up for debate. The rule here is simple: If you plan to bet frequently throughout the football season, you will probably have no trouble meeting the bonus rollover requirements and should accept the deal. Otherwise, it is best to avoid any bonuses so you can withdraw your winnings ASAP.
2023 NFL Betting Strategies - Quick Tips
Understand the difference between betting odds and statistical odds.
Betting odds are not the same as mathematical or statistical odds. Traditionally, "odds" indicate the actual likelihood that something will occur. Betting odds, on the other hand, simply show you where the public is evenly split on a betting line (i.e. where approximately the same amount of money is being spent on both sides of a wager).
Past performance is not an indicator of future results.
Many new NFL bettors make the mistake of basing their wagers on past performances. While the data backlog of a given team is important for handicapping, it's not necessarily the best indicator of whether or not a team will win. Remember, this is the NFL, and "any given Sunday" was coined for a reason.
Bet with your head, not your heart.
If you're a die-hard fan of a particular NFL team, you may find it difficult to bet against that team, even when they're likely to lose. Fall into this trap, and you're guaranteed to lose money. Always bet with your head, and if you can't stand to wager against your club, you shouldn't wager for them, either. Many bettors "blacklist" their favorite players and teams for this exact reason.
Pay attention to the NFL injury report.
The NFL injury report is issued every week, and teams are required to be as forthcoming as possible with their disclosures. Savvy football bettors will use injury reports to their benefit, as a lot can be anticipated about a team's game-time strategy based on the health of its players.
Consult fantasy rankings for player props.
Though fantasy football is considered to be its own industry separate from sports betting, you can get a lot of information about a player's expected performance in any given game by taking a look at their DFS projections.
Don't get carried away with live betting.
NFL Live betting is the most engaging and immersive way to wager on the NFL. However, live betting (aka in-game betting) also adds hundreds of new betting opportunities to each contest, and it's easy to get caught up in the fun. Then, before you know it, your bankroll is depleted. Certain NFL events like the NFL Pro Bowl are hard to predict due to their nature and all-star lineup. Always be frugal when live betting on the NFL. Stay in the red zone, not the red!
Don't chase losses.
What's the fastest way to make back the money you lost on a bad NFL wager? If you said "Bet more on the next game," you're wrong. That's actually the worst thing you can do! Chasing losses by trying to recoup bad bets with new wagers you wouldn't have otherwise made is one of the quickest ways to the poorhouse when betting on the NFL. Make a plan and stick to it, win, lose, or draw.