Super Bowl 58 Betting Guide - How To Bet on the Super Bowl Legally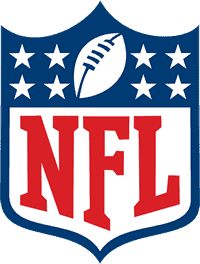 Super Bowl 58 futures for which NFL franchise will win are now live, with odds currently favoring the Buffalo Bills. Being the most-watched sports event each year, it stands to reason that the Super Bowl also receives the most betting action as well.
Super Bowl odds now take in an estimated $8 billion in total wagers from roughly 3 out of 10 American adults, and nearly all of that total is bet at legitimate offshore sportsbooks.
With increased access to legal football betting in the US through state-regulated sportsbooks and mobile betting apps from offshore sites, we are expecting Super Bowl LVIII to see an unprecedented level of engagement from NFL fans, easily surpassing last year's figures.
Our goal is to provide you with only the best NFL betting sites that are both legal and safe and give you the best value when placing a wager on the point spread, money line, over/under, prop bets, or SB futures.  We will also provide you with helpful information concerning the legal status of betting on the Super Bowl.
Most Trusted Super Bowl Betting Site For 2023
Bovada Sportsbook
Top Rated USA Online Sportsbook
Bovada is the most popular NFL betting site, so it only makes sense to bet on the most popular NFL game – Super Bowl 58 – at this trusted online sportsbook. With literally thousands more Super Bowl odds and Super Bowl props than Vegas – including Super Bowl futures bets, Super Bowl Halftime Show odds, Super Bowl commercial odds, and more – Bovada is always the defending NFL champion. For Super Bowl LVIII betting, leave it to Bovada LV!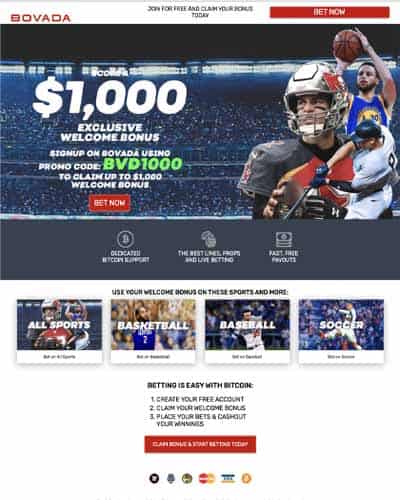 US Friendly - Most US States Accepted

Most reputable name in online sports betting

Licensed by Curacao - Operates within Costa Rica

Generous 50% bonus up to $1,000 for new members

Easy deposits using credit cards or Bitcoin/crypto

Fast and reliable payouts guaranteed
Only US, Mexico and Brazil players accepted

Residents of DE, MD, NJ, NV, NY not accepted

Limited deposit options compared to other sites
Best Sportsbook Sites for Betting on Super Bowl 58
Is Betting On The Super Bowl Legal In 2023?
Yes, it is legal to bet on the Super Bowl, NFL playoff odds, and the Pro Bowl as long as you place your wagers at an authorized state-regulated sportsbook or at a legitimate offshore sports betting site.
There are no federal laws prohibiting the placing of bets through domestic or online sportsbooks that are operating legally within the industry either in-country or offshore. Bettors in WA are banned from participating in all types of online gambling via state gambling laws, but many of the sportsbook sites we list in this guide allow for members from Washington. 
The repeal of PASPA in May of 2018 has made it possible for all US states to legalize domestic sports betting if they so choose. The act of placing a bet on the Super Bowl is not considered illegal in the United States, and opportunities to bet on the most-watched annual sporting event in the United States are expanding throughout the country at a rapid pace.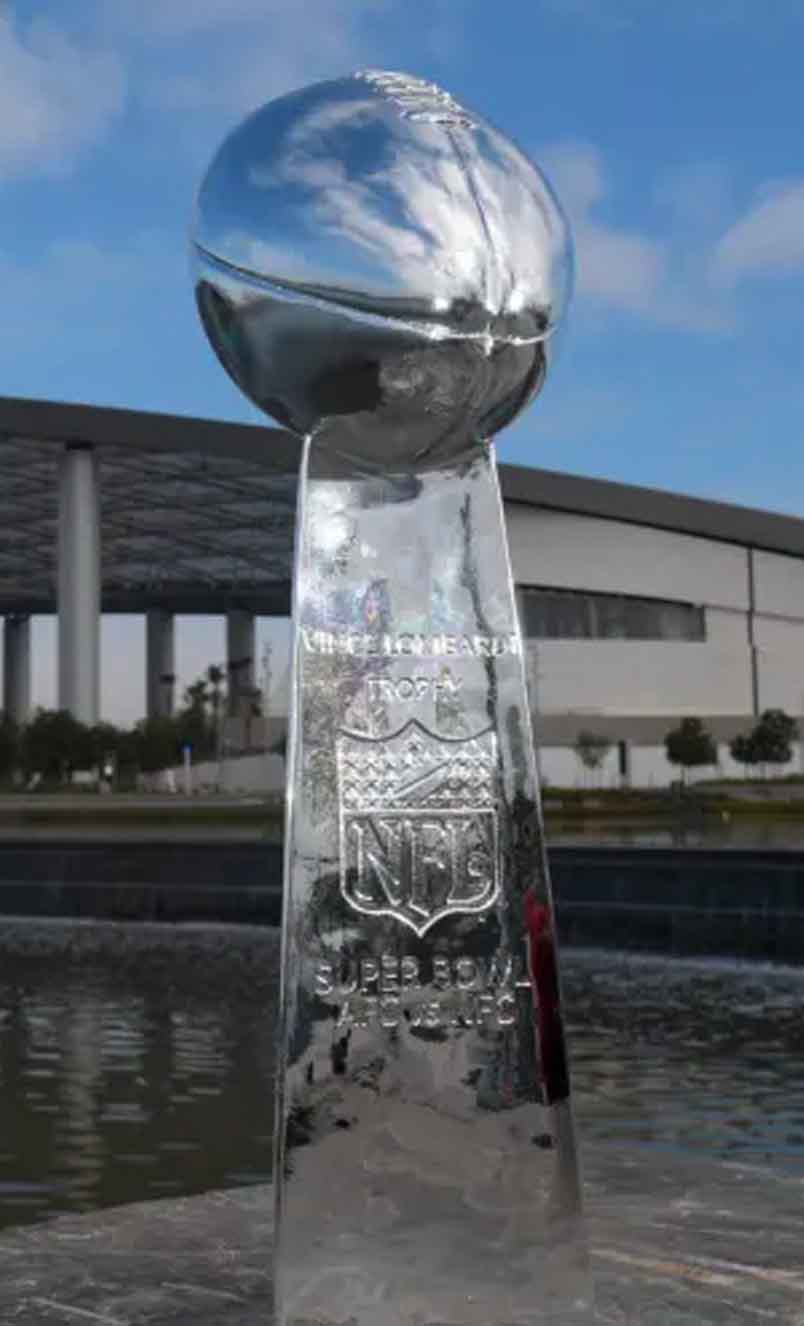 SUPER BOWL LVIII Details
What Day Is Super Bowl 58: Sunday, February 11, 2024
When Is Kickoff Time? 6:30 pm (EST)
Teams: TBD
Where: Allegiant Stadium, Las Vegas, NV
Which TV Channel? CBS
Announcers: TBA
Who Is Playing The Super Bowl Halftime Show? TBA
Can I Stream The Super Bowl Live Online? CBS
Who Won Super Bowl 57 in 2023? KC 38 - PHI 35
Super Bowl LVII
I Odds
AFC vs. NFC
Spread TBD
Win TBD
Total TBD
Best Bonuses For Betting On The Super Bowl
As the single largest US sporting event, more Americans will be betting on the Super Bowl than ever before. As a result, legal offshore betting sites are primed for an influx of new bettors looking to put a few bucks on the annual contest. In order to cater to these players, most operators are offering new members a host of Super Bowl bonus offers. And returning members can score big reload perks in time for the Big Game, too.
While each site listed here is reputable and features a robust selection of Super Bowl props, lines, spreads, and futures, you can maximize your bankroll by choosing the books that boast the best sportsbook bonuses for your needs.
Attention Bitcoin users: Most online sportsbooks have special Bitcoin bonuses as well, and these usually increase your free plays by around 50% compared to the standard sports betting bonuses offered.
The following promotions are currently available for Super Bowl bettors, and most have reasonable rollovers so you can get paid out as fast as possible. (Rollover requirements are in parentheses.)




Where To Bet On The Super Bowl Legally in the US
If you're looking for where to bet on Super Bowl action, it's actually quite simple: For those of you lucky enough to live in a state that has already legalized sports betting, you can wager at a casino sports betting lounge or – in many cases – by using an online betting app. However, the majority of Super Bowl fans don't have access to these options. For these bettors, offshore sportsbooks are the answer.
International Super Bowl betting sites offer plenty of options, including spreads, lines, totals, futures, and more. One of the most popular markets – Super Bowl prop bets – are especially well-represented online, with hundreds of different wagers to choose from. Not even the best Las Vegas Super Bowl betting venues can match the sheer quantity of the props on hand at overseas NFL betting sites.
How To Bet On Super Bowl LVIII
There are two options for betting on the Super Bowl in the United States. The first is with an offshore sportsbook site. The online NFL sportsbooks recommended here operate offshore and, between them, accept members from every state in the USA.
Domestic Super Bowl sportsbooks are offered in a majority of US states, with each region providing its own gambling age and allowances for in-person, online, or mobile NFL betting. If you are in or near a state that regulates sports betting, you can use one to wager on Super Bowl odds.
How To Bet On The Super Bowl Online
Before any online Super Bowl bets can be made, gamblers must do two things - decide which book they want to join and then sign up as a member. For those that intend to shop the Super Bowl lines for the best NFL odds, think about joining more than one online sportsbook that we endorse.
The signup process is simple and can be completed by:
Clicking on the link to the desired sportsbook on this page
Locating the join button on the top of the sports betting site's homepage
Submitting account data and creating a sportsbook login
Funding sports betting accounts with cash to wager on Super Bowl odds with
New members may be required to verify their accounts via email or smartphone.
A Video Tutorial For How To Bet On The Super Bowl
What Kind Of Bets Can I Place On The Super Bowl?
Super Bowl 58 Futures
The Super Bowl only happens once per year, each February, but Super Bowl futures lines are available all year long. The most popular betting line for Super Bowl futures is for which team will win the Lombardi Trophy at the end of the next season. All teams will be listed in order of most to least likely, with money line odds placed next to their chances.
Other SB future bets include the exact matchup of the NFL championship game, with many two-team pairings provided with money line odds placed next to their names indicating the likelihood of them making it to the final game of the year.
Super Bowl Game Lines
A Super Bowl game line operates just like any other individual NFL betting line, which includes the following options for placing a wager:
Super Bowl Prop Bets
Arguably the most popular of all the Super Bowl 2023 betting types are prop bets, or proposition bets, which involve in-broadcast occurrences that may or may not affect the outcome of the game. Wagers can include what coach will be seen first on-screen, how long the National Anthem will take to sing, the SB coin toss, halftime show, SB team props, SB player props, and more. There's literally no limit to what can be offered up as prop bets for Super Bowl 58, and the variety is what makes them so fun to wager on.
Each year, the Super Bowl receives the most amount of NFL prop bets out of any sporting event in the country and this year will be no different for the NFL's biggest game.
Sportsbooks go all out on prop specials for the NFL's championship game and include odds on things such as the national anthem, coin toss result, halftime show props, the color of the Gatorade shower, MVP props, whether the President will tweet during the game, Super Bowl commercials, and dozens more.
Super Bowl Prop Builder Apps
As mentioned above, there are countless SB props that are posted each year for the big game making it difficult to lay eyes on all of them. To combat this issue, our top NFL sportsbook sites now offer Super Bowl prop builders that pull all player and team-related propositions into a single screen. You can also try buying points for NFL bets and other popular NFL betting strategies for wagering on the big game.
The applications also include a Super Bowl parlay calculator onboard so that combination NFL bets can be made on the fly. Just look for a "prop builder" or "applications" tab at most of the Super Bowl betting sites we recommend here at LBO.
Live Betting Odds For Super Bowl LVIII (58)
Live betting odds, also known as in-game odds, are available for Super Bowl 58 and allow for wagers to be placed on the money line, point spread, over/under, and more, all while the clock is running. Each of the SB betting sites we suggest in this guide allows for live Super Bowl betting, often by simply visiting the game line after kickoff.
There's no need to worry about placing your wagers pregame. Check out the online sportsbooks offering live SB odds, and never worry about start times again.
States Where You Can Legally Bet On The Super Bowl In 2023
Below is an updated list for states that don't have any laws against online gambling.
Will State Regulated Sports Betting Ever Be Available In All 50 States?
If you had asked this question about betting on Super Bowl 52 in early 2018, we would have probably told you that it is possible but it will be a long time coming. Since PASPA's repeal in May 2018, many states have started to legalize domestic sports betting, and several states have already begun accepting bets. As far as all 50 states, while it is possible, it is not likely, but we do expect to see many more states enact domestic sports betting laws in 2023 and beyond.
A Video Describing How To Bet On Super Bowl 53 In 53 Seconds
Taken from our coverage of Super Bowl 53, this is a video that we made describing all that can be achieved while NFL betting on the big game, all in 53 seconds.
Helpful Superbowl Resources:
Who Won The Super Bowls Of The Past
Legal Super Bowl Betting FAQs
Bettors can place wagers on the Super Bowl in multiple ways. We recommend using the legitimate online sportsbooks listed on this page because they host a variety of bets including the Super Bowl point spread, money line, totals (over/under), props, futures, and parlays.
The Kansas City Chiefs are the preseason favorites to win Super Bowl 58.
Yes!
Once kickoff occurs and all the standard betting lines are closed, the game will move into live betting. For those who are not aware, live betting is when you place a wager during regulation or overtime of a sporting event. These types of lines are time sensitive and often feature higher payouts.
Live football betting is interesting because the wagers will change per quarter. For example, in Super Bowl 51, when the Patriots were down 28-3 at halftime, anyone who placed a bet on the Patriots to win came up huge based on the odds. You can also find live prop bets.
Live betting comes with its own rules apart from the standard betting lines. You can find these rules within the live betting section of the sportsbook. Since live wagers are typically based on specific occurrences, the rules lay out the guidelines and conditions for those occurrences in order for the bet to hit successfully.
If you're looking for where to bet on the Super Bowl in Vegas, that's easy. Just stumble blindly into the nearest casino and ask for the betting lounge.
However, if you want to wager online from the comfort of your own home (or Super Bowl party), you can bet at any of the industry's leading offshore betting sites recommended here.
During most of the year, you can wager on the Super Bowl winner via NFL futures betting. However, to get specific lines on the big day, you'll have to wait until the conclusion of the AFC and NFC title games.
Generally speaking, though, it's easy to predict which team will be favored, even when several teams are left standing. Essentially, the clubs trending highest on the futures boards – if still alive – will continue to pull the best odds to win, regardless of the matchup they face.
iPads, iPhones, and other tablets such as Android devices are becoming more popular worldwide. The Super Bowl betting sites that we recommend offer mobile sports betting options to any player of legal age. The entire breadth of betting options available at their main websites are available via a mobile means. 
Every year, there are roughly 600 online Super Bowl bets available at every offshore gambling site.
While many sites offer the same wagers with slightly different odds (which is why you should always shop lines), some sites have wholly unique bets to choose from. With so many options, you're sure to find a few no-brainers or chances to hedge and win.
That said, the best Super Bowl bets – for our money – are simply the ones you enjoy the most. A huge part of the betting market is having fun. Remember, for 99% of people, sports betting is about entertainment, not income. (Of course, for those who really want to win big, taking a dog on the moneyline is the best bet on the boards.)
Every sportsbook offers wacky Super Bowl bets, as that's one of the gambling hallmarks of the big game.
You can wager on things like how many times a broadcaster will holler a particular catchphrase, the over/under on the length of the national anthem, what color sneakers the halftime lead performer will wear, whether or not the President will tweet during the game, what color the winning coach's Gatorade shower will be, and much more. 
Super Bowl Squares are a fun way to bet on the game with friends and acquaintances. Many sites offer printable free Super Bowl Squares for your enjoyment, but the game is always the same: You make a grid, with one team representing the columns, and one team representing the rows.
Then, each person in your group selects a number of intersecting "squares." After all squares are selected with each person getting the same number of choices, you randomly assign the numbers 0-9 across the top and side of the grid.
After the first, second, third, and fourth quarters (and overtime, if necessary), you match the last digit in each team's score with its place on the grid. If the Patriots are leading the Saints 14-13 after two quarters, the person with the square at 4-3 on the grid would win the prize. Down, set, bingo!
Lots and lots! Super Bowl 54 (Super Bowl LIV) turned a betting handle of just under $6 billion, with a majority of those wagers being made at offshore sportsbooks. Less than $500 million of that total was wagered domestically. 
This is impossible to track directly, but the general figure can be inferred. Using the $5 billion betting handle estimate from the 2018-2019 Super Bowl, and knowing that the average sportsbook hold is about 5.5 percent, bettors "lost" about $275 million to sportsbooks on the Super Bowl last year.
Current estimates suggest that over 23 million Americans bet on the Super Bowl each year. However, there are no credible estimates of the total once the international betting audience is factored in, though it serves to reason that another 15-20 million global fans also wager real money on the Super Bowl every season.
There have been numerous large bets on the Super Bowl over the years. These are just a few notable examples, but you can expect wealthy bettors to place seven-figure bets on the big game every season.
$1 million - Super Bowl XXIII (1989) – Bob Stupak wagered $1 million on the underdog Cincinnati Bengals at +7 against the San Francisco 49ers. The Niners won 20-16, and Stupak walked away with a cool $100,000 or so in profit.
$2 million - Super Bowl XLIV (2010) – Phil Ivey put $2 million on Peyton Manning and the Indianapolis Colts to defeat the New Orleans Saints. Of course, the Saints won easily, and Ivey lost the entire bet.
$3.8 million - Super Bowl LIII (2019) – Bettor X placed $3.8 million across three separate bets on the Rams to beat the Patriots straight up. Had the Rams won, Bettor X would have earned upwards of $10 million. The Rams lost. To date, this is the single largest bet – and loss – in Super Bowl betting history.
Latest Super Bowl News Stories