South Carolina Legal Online Gambling Guide 2018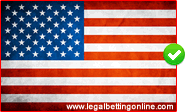 South Carolina is by far one of the most conservative states in the US when it comes to gambling, coming in second to the state of Utah. There are only two forms of state approved gambling formats available in South Carolina: charitable bingo and raffles and the state lottery. Even social games, such as home poker games, are illegal in the Palmetto State. We would have to say that South Carolina is probably not the prime location for anyone seeking even a decent range of state sanctioned gambling entertainment.
With so few options concerning regulated gambling entertainment in the state, why did we even bother creating a resource guide for this state? The primary reason we still considered it worth our time and effort to navigate the gambling legalities in South Carolina is because there are legal gaming options that many citizens or visitors to the state may not be aware of. We want to provide everything possible to support players in making informed decisions regarding their involvement in gambling opportunities.
The following information is a look at the legal status of gambling in South Carolina, covering both land based brick and mortar options as well as legally licensed online gambling opportunities. We provide insight based on our extensive experience in the gambling industry as professional analysts. Please do not mistake our input regarding legal state gambling as a substitution for professional legal advice or services. We are not attorneys and are not qualified or licensed to provide any type of professional legal service. We are however experience gambling professionals with a combined range of experience that spans decades.
---
South Carolina Gambling Laws

The Code of Laws in South Carolina does not address online gambling from an operator or player standpoint. This means that South Carolina has not taken any steps to legalize state licensed online gambling in any form, which makes it illegal for anyone to own or operate an online gambling site within SC borders. However, there is more to the story here. The state's laws also do not prohibit anyone form enjoying legally sanctioned online gambling that is provided by a licensed, regulated and certified online gambling business that is located outside of the United States.
Offshore gambling sites that are licensed and regulated by a respected governing jurisdiction can legally offer their services to players in the US because they operate within a region that has expressly legalized online gambling already. There are no provisions contained with the state laws or US federal gambling laws that legally prevent players in SC from enjoying online gambling at legitimately licensed and regulated South Carolina friendly Internet gambling sites.
Is Online Gambling Legal In South Carolina?
Online gambling
is considered legal in South Carolina
due to the fact that there simply aren't any laws that prohibit players from gambling online in the state. As a matter of fact, SC doesn't even mention online gambling at all in their gambling statutes. We are not lawyers, but we know you can't get charged with a crime for a law that doesn't exist.
SC State Facts & Quick Jump Menu
---