Types Of Bets At Legal Online Sportsbooks
During the dawn of humanity, sports betting entailed placing a wager on an athlete or a team to win. Nowadays, wagering on sports is more complex, as the bet types at legal online sportsbooks cover all aspects of pro and college games.
The following guide to the types of betting odds offered at sportsbook sites details the significant categories of wagering on teams and players. This page also discloses the top online sportsbooks that serve the United States in 2023.
#1 Legal Online Betting Site
Bovada Sportsbook
Top Rated USA Online NFL Betting Site
Bovada.LV has been a top-rated provider of all popular bet types in the United States for over a decade. They offer up-to-date betting odds for all major sports, covering each game, league, and championship with wagering options for every angle imaginable. If you have to choose only one legal online betting site to do business with, make it Bovada.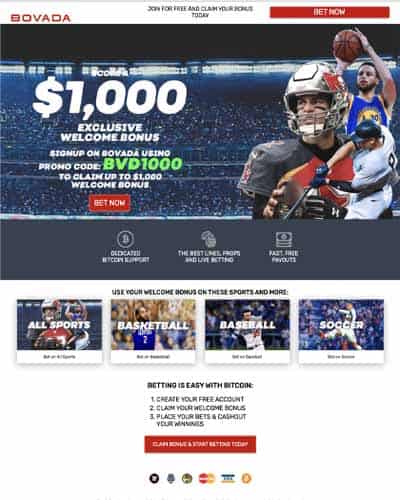 US Friendly - Most US States Accepted

Most reputable name in online sports betting

Licensed by Curacao - Operates within Costa Rica

Generous 50% bonus up to $1,000 for new members

Easy deposits using credit cards or Bitcoin/crypto

Fast and reliable payouts guaranteed
Only US, Mexico and Brazil players accepted

Residents of DE, MD, NJ, NV, NY not accepted

Limited deposit options compared to other sites
Best Legal Online Sportsbooks For 2023
Betting Lines Or Game Lines
Any major pro or college game will feature a betting line at all of the sportsbooks listed here. NFL betting lines are some of the most wagered-upon odds, as pro football is America's most popular viewing and gambling sport. The same can be said for college football betting lines.
Standard betting lines are made up of three major components – the point spread, the moneyline, and the over/under. These three betting aspects of game lines are described in the following sections.

The point spread is always the first item featured in a standard betting line. Betting on the point spread involves handicapping the underdog so that both teams or competitors are even. The projected loser will be granted points, resulting in a positive spread. The favored competitor will have points removed and a negative point spread.
Betting on a team to cover the spread means that the favorite won by more points than the margin or the underdog lost by less (or won the game). Whole-numbered spreads can hit exactly and cause for the bet to push. Fractional spreads remove the potential for a push.
NFL point spreads and NBA point spreads receive the most action out of any other sports at online gambling sites.
The second set of odds featured in a standard game line is the moneyline. These odds represent the team's chances of winning the game. Positive moneyline odds are given to underdogs, and negative odds are posted for the favored team.
There are scenarios where both teams will be even, and there will be no moneylines offered. There are also times when both teams will be listed in the positive or negative. In those cases, the team with the lower odds will be considered the favorite.
If the team whose moneyline you bet on wins, your bet wins. The moneyline also lets gamblers know how much money they can win. +200 odds will payout at $2 for every dollar wagered. -150 odds require $1.50 bets to net $1.
Moneyline odds are also used almost exclusively for betting on futures and propositions. Both of these bet types are detailed in sections below. NFL moneyline bets receive action on the next Super Bowl champions and can be wagered on all year long.
The third part of a betting line is the over/under. The over/under meaning is attributed to what oddsmakers believe both teams will combine to score. Successful over-under bets will correctly choose whether both teams finished above or below the line.
If the over/under total is a whole number, then there is the potential for that sum to hit correctly and cause a push. If the total is fractional, then there is no potential for a push.
Once again, NFL over-under betting is the most popular type in this category, but they are offered for all major sports. Some prop bets offer over/under wagers, but they typically feature moneyline odds for each result.
Live Betting On In-Play Games
All elements of game lines remain open for wagering with live betting on in-play odds. All the sportsbooks featured in our list of legal online betting site reviews offer in-play lines that can be wagered on into each game's final minutes.
Other options for live betting include prop bets and futures, which tend to remain on the boards until a winner is announced. Because of the unpredictable nature of live games, in-play betting lines have the potential to be removed or stricken through at any time during the contest.
Futures odds involves placing a bet on a champion in advance of the title game or series. For example, NFL future odds are for betting on the Super Bowl winners, and NBA futures odds involve betting on the winners of the finals. There are also futures for division and conference champions.
Each team or player still alive for the championship will remain in the futures odds with a moneyline listed next to their name. Because futures usually feature a large field of potential winners, most teams or players have positive moneyline odds that deliver solid payouts.
Betting on anything not included in point spreads, moneyline winner odds, the over/under, and futures are lumped into the category of prop bets. Propositions entail betting on in-game activities that happen during the televised broadcast.
This includes statistical performances of players and teams but also involves random occurrences like a streaker running onto the field, the type of clothes the coach is wearing, or what comments will be uttered in the postgame press conference.
Most prop bets feature a yes or no outcome, but some include multiple options with moneyline odds granted to each possibility. Prop bets are won by placing a wager on the correct outcome.
Super Bowl prop bets are the most plentifully offered each year, as the big game is the most wagered-upon annual sporting event.

Combining any two (or more) wagers into one creates a parlay bet. Just like when calculating probabilities, each additional occurrence makes for lower odds of predicting their outcomes correctly.
That same formula applies to online parlay betting. When more betting outcomes are included in the parlay, the odds go higher and increase the potential cash winnings. Each sportsbook allows for a differing total number of bets in their parlays.
If a bet type cannot be included in a parlay, it will be notated as "singles only." The bet slip at online gambling sites includes a parlay calculator, so members can add and remove elements to see how it impacts the odds.
Whether you want to create an NFL parlay, NBA parlay, or a combination wager on any other major sport, we advise doing so with a legal sportsbook listed here. These online sports betting sites also offer teasers and pleasers, which are adjustable parlays.
Teaser Bets – these are combination wagers that work like parlays but allow bettors to adjust the spreads or moneylines to their liking for lower odds and payouts.
Pleaser Bets – these types of bets are just like teasers, but the adjustment works in favor of the sportsbook. This creates higher moneylines with larger cash-winning potential.
Legal Online Sports Betting FAQs
Domestic sports betting has been made legal in over 30 of the 50 states in the USA, including Washington, D.C. There are no federal or state gambling laws that prohibit offshore sports betting sites from accepting USA-based members and allowing them to wager on games.
The + in sports betting means that points have been granted to a team because they are the underdog or that the outcome is unlikely. A – will be listed next to the number of points the favored team is handicapped by or next to the moneyline odds of a favored outcome.
The spread is the number of points a team or athlete is expected to win or lose by. A team or player's performance against the spread (ATS) is determined by how often they cover (win by more than or lose by less than the spread).
Betting odds for sports are created by bookmakers using their own formula, which weighs past performance, weather, injuries, and other parameters. Once betting odds are posted online, if one side of the line receives more action than the other, it will be adjusted until wagers even out. The odds secured at the time of betting remain in place even if they change in the future.
Each state can create its own minimum sports betting age requirement. Most of them are 21+, but some allow 18 and over patrons to bet on sports. The same is true for offshore sportsbook sites. Some are 18-friendly, but others require their members to be 21 and older.
If you want to bet on sports online, we suggest joining one of the premier sportsbook sites listed here. After creating an account and uploading funds, bets on all pro and college sports in the USA can be wagered on. Once you see the point spread, moneyline odds, or the over/under total that you want to bet on, click on it and enter the amount of money you want to risk. Then all you have to do is wait on the bet to win and collect your payout.