Legal Hockey Betting 2018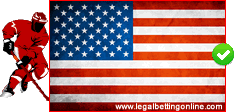 We decided to include legal hockey betting in our guide for several reasons. Not only is it a popular spectator sport, but hockey also brings in a lot of money via gambling. Betting on hockey is huge business, and despite the simplicity of the game overall, there's actually a lot to bet on between the lines. A lot of the betting action that is seen globally originates here in the US, so we determined that the topic of legal hockey betting was very relevant to American hockey fans.
This page will cover the legalities of betting on hockey in the US, offer some basic hockey betting tips, and take a look at who is poised win the 2015 Stanley Cup title. It is our objective to provide US hockey fans with a valuable resource guide for making informed decisions when betting on this popular sport that directs wagering to legally licensed and regulated destinations providing a secure and high quality wagering experience. We desire to dispel some misconceptions and false information circulating about US hockey betting and provide concise and accurate information to our visitors.
Is It Legal To Bet On NHL Hockey Games In The United States?
When it comes to the legal status of betting on hockey, you will not be breaking any federal laws as long as the site you bet at is located offshore and in a jurisdiction that has already legalized online gambling. There are legal options for American sports fans to place bets on the NHL hockey games, teams and players, but in order to remain on the legal side of things, you have to understand the landscape and know where and how to place your bets within the confines of the law. That is the purpose of this section of our guide. There are several US federal laws that address sports betting and online gambling throughout the United States. These gambling laws include the Federal Wire Act, the Professional and Amateur Sports Protection Act (PASPA), and the Unlawful Internet Gambling Enforcement Act (UIGEA). Each of these laws has some impact on the industry and we'll explain how.
How the Federal Wire Act and PASPA Affect US Hockey Betting Options
The Federal Wire Act and PASPA laws combine to effectively prohibit online and offline US based sports betting throughout the United States. The Federal Wire Act was deemed to apply to sports betting in 2011 by the DOJ, and makes USA based online sports betting illegal. The PASPA law was passed in 1992 and restricts US sports betting to four specific regions: Delaware, Montana, Nevada and Oregon. Only two of these regions, Nevada and Delaware actually allow any sportsbook gambling. These two laws do set the stage for all sports betting located within the United States and on an extremely limited basis. Neither of these laws prohibits US players from engaging in online sports betting through legally licensed, regulated and compliance certified sportsbooks that are located outside of the United States. This means that legal hockey betting opportunities are readily available to American residents through legal offshore betting destinations.
The UIGEA and Its Impact on Internet Gambling
The final law impacting online gambling is the UIGEA. It actually doesn't have any bearing on USA friendly sports betting from a player perspective, but rather places regulatory oversight on how online gambling transactions can be processed. It does not prohibit American bettors from engaging in online gambling, including sports betting, as long as you are visiting legally sanctioned destinations that are legitimately operating within the industry. In fact, it doesn't address players or player participation at all. The law is solely directed to gambling site operators and payment processors. This being said, there are no federal laws that make it illegal for residents in the United States to enjoy placing bets on hockey as long as they are willing to only participate at licensed and certified sportsbooks that operate beyond US borders.