Legal Online Let It Ride Poker For 2018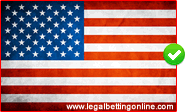 Joining age old casino favorites like stud poker, roulette and blackjack, Let It Ride hit the physical casino scene in early 1993. Created and licensed by SHFL Entertainment (formerly Shuffle Master), Let It Ride was invented by John Breeding for SHFL, which owns the trademarks to both the name and logo of the game. And just about that time the Internet was heating up, but it wasn't until the late 90's that legal let it ride poker made its way to Cyber casinos. While there are sometimes multiple variations of the game found online, most of the legitimate virtual Vegas sites on the Internet deliver the same technically simple and fast version of the game. The player in this case is betting against the house and not the dealer, much like in the game of baccarat. Three cards are dealt to the player face up, and two cards face down.
In some legal online casinos, due to licensing concerns, this game may be listed as Let Them Ride or Let 'Em Ride, and slight game play of variations may exist. But the standard format of five total cards to make your best poker hand will always be present. By shopping different legal let it ride poker casinos you may be able to find that one site offers a more attractive pay table then another, and you will also be presented from time to time with options like progressive betting and other side bets. Obviously, since your first three cards are always revealed, perfect play would constitute only making a total of three bets with a pair of 10s or three of a kind revealed by your initial three cards.
Current Legal Status of Playing Online Let It Ride Poker Games For USA Players
Currently there are various pieces of legislation which dictate how you can play legal let it ride poker online. The bottom line is that legally licensed Internet casinos do offer support for US players and from other countries. In the USA, there are a limited number of states which have legalized state-licensed and US-owned companies for legal let it ride poker and other casino offerings. If you are not located within the physical boundaries of those few states, which constitutes your ability to legally play in those state based casinos, there are still viable options.
Many legitimate operators have obtained and maintain legal licensing in jurisdictions where online casino wagering with real money is a booming industry. Since these Internet casinos are physically located outside the United States, they do not run afoul of US Internet gambling legislation. We have listed links on this page of the most trustworthy, safe and secure casinos where you can play let it ride online, with click-through access and generous welcome bonuses offered below.