Legal US Online Sports Betting For 2018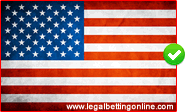 Sports betting is simply the act of attempting to predict sports results while placing a wager on the outcome according to an agreed upon set of rules or laws. That wager can be made either against another single sports bettor such as yourself, against a "house" or bookie, and even involve multiple prognosticators such as playing the weekly office pool. The allowable forms of legal online sports betting may vary drastically form one state or country to another, and wagering on sports events on the internet has become a popular and multibillion dollar industry. Legal betting online has taken off on multiple levels, with sports betting being one of the most popular legalized options available.
Naturally the most commonly wagered on events include football, basketball, and baseball. The comprehensive sports betting sites that we feature also offer a wide range of betting lines that cover both popular sports niches as well as some of the more refined, less popular types of events. You may even find yourself interested in a sports category you really never knew much about until now.
Is Online Sports Betting Legal In The United States?
Some countries like the United States do not allow companies to offer gambling on sports on the federal level. There are actually very few destinations in which you can bet on sports in the US, with Nevada being one of them. Though the DOJ did make a statement that each individual state has the authority to determine their own destiny regarding online gambling, sports betting seems to be the exception to this rule. The only legal option for US bettors who are interested in participating in online sportsbook wagering is to visit licensed and regulated online sportsbooks that are located outside of the United States.
These sites are operated under the regulatory oversight of a governing jurisdiction which has already legalized online sports betting for their territory, legally allowing them to offer their services to bettors around the world, including those in the United States. Engaging in sports wagering at these types of sportsbooks which are operating legitimately within the industry is perfectly lawful. While the US does not allow anyone to operate a online sportsbook within US borders, this does not eliminate the option of visiting certified offshore brands. There are no federal laws prohibiting this type of online gambling. You can learn more about these options in our detailed sportsbook reviews.