Legal NBA Basketball Betting Guide For USA Players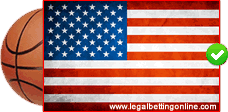 The National Basketball Association was created in New York City, USA in June of 1946, originally named the Basketball Association of America (BAA). That was the humble beginning of the premier professional basketball organization in the world, and today legal online NBA betting determines the winner of billions of dollars. There are even those professional gamblers like Haralabos "Bob" Voulgaris who make a fabulous living betting only NBA basketball games, using complex computer algorithms and formulas. NBA betting lines are offered by a multitude of websites, and there are dozens, if not hundreds, of Internet sportsbooks where you can legally place a wager on a National Basketball Association game no matter where you power up your PC or smartphone. Betting on basketball in general is widely popular with both the NBA and college basketball levels.
The veteran basketball bettor has accounts open at several reputable legal NBA betting online websites, and after studying a particular contest, makes his play at the site which offers the most attractive number. Whether betting a side, money line, total or placing a halftime bet, the availability to quickly place a wager after studying multiple NBA betting lines is a successful NBA betting strategy employed by experienced Internet sports gamblers. When you like the Celtics as an underdog and you are forced to take 3 points because you only have an account at one online sportsbook, you are not giving yourself the best chance at winning if there are other competing and trustworthy legal online betting portals which are offering Boston +3.5 or 4, and you do not hold an account at those legal US spotsbooks.
Over the years we have come to realize that having access to multiple NBA betting odds, quick mobile Internet access from our smartphone, tablet or laptop, and legal NBA betting online availability in our jurisdiction forms an efficient NBA betting strategy. In this day and age even American gamblers can enjoy online NBA betting that is legal, as long as they place their Internet wagers through a U.S.A. friendly online sportsbook which is legally licensed and registered outside of the physical United States. This means the successful NBA gambler from the US, UK, or any other country takes the time to become intimately familiar with the licensing, safety and security, integrity and banking process offered by several competing Internet sportsbooks before opening a money account. Learn more about accessing reputable sportsbook brands in our section dedication to online sports betting site reviews.
Is Betting On NBA Basketball Legal In The US?
The NBA betting legality for U.S. players is not in question. There are multiple options which are licensed and regulated outside of the United States that offer legal sportsbook wagering to American NBA fans. The law which causes some confusion among players is the UIGEA bill that was signed into law back in 2006. This piece of legislation addresses regulation of how online gambling transactions are processed, and does not prohibit USA players from participating in online gambling entertainment. The bill is designed to protect players and their investment, and is targeted at the online gambling sites and not the players. We expect the range of opportunities for U.S. players to grow as states continue legalizing online gambling in their respective territories. As those options become available, we will list them in our guide once they pass our vetting process.
Best USA Sportsbook For Betting On The NBA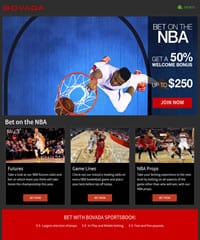 Bovada is one of the biggest and most reputable names in online sports betting. They used to be called Bodog, but opened up Bovada sportsbook to cater exclusively to their USA players.
They offer every NBA betting option a player could want also offer a mobile betting platform, live betting options, horse racing, a full online casino and poker room. With all the betting options available at Bovada, there is really no reason to bet anywhere else. They also offer some of the highest parlay payouts in the industry.
New depositing players can claim their generous 50% bonus up to $250 on their first deposit.
 Pros
They legally accept players from 45/50 states
Best reputation in the entire industry
Generous 50% signup bonus up to $250 Free
Deposit using credit cards or bitcoin
They always pay, no monkey business here
Cons
Only accepts U.S. Mexico And Brazil Players
Excluded States: NY, NV, NJ, DE, MD
More Reputable NBA Betting Sites For USA Players
A Look At The 2017/2018 NBA Season
The 2017/2018 NBA season kicked off with 2 interesting matchups—Cleveland Cavaliers v. Boston Celtics and Golden State Warriors v. Houston Rockets. There were several noteworthy trades and pickups in the offseason, but many analysts are expecting a fourth-straight rematch of Cleveland and Golden State in the NBA Finals. The Warriors have won 2 of the 3 are the current defending champions, but Cleveland could give them a run for their money in a 7-game series.
The Cavs added veterans Dwayne Wade and Derrick Rose to their roster in the offseason. While youth may not be on their side, they still have plenty of skill and valuable experience. They also acquired a new point guard in Isiah Thomas with a controversial trade to the Celtics, sending franchise star Kyrie Irving over to Boston. Irving reportedly wanted out of Cleveland, more specifically LeBron James' shadow, and sought out the trade. Thomas was invaluable to the Celtics last year, especially in the postseason, and was blindsided by the trade. Thomas won't be able to play for the Cavs for a while, as he is recovering from a hip injury. The Cavs also saw Jae Crowder and Ante Zizic come over via the trade, adding some much needed depth to their squad.
With Irving, who is arguably approaching the height of his career, Boston became a much stronger team. They also added Gordon Hayward from the Utah Jazz, making them a legitimate threat to the Cavs in a weak Eastern Conference. However, things changed for the worse on opening night. Hayward broke his leg in the middle of the first quarter, putting the Celtics in an awkward position. Hayward will likely be out for the rest of the season, and then some. The Celtics' aspirations of challenging for a title are all but gone, barring a miracle. Cleveland, on the other hand, looks poised for another NBA Finals berth. They ended up beating Boston—perhaps a sign of things to come.
On the Western front, the Houston Rockets managed to hand the defending champions their first loss of the season. The Rockets acquired Chris Paul from the Clippers in the offseason, giving them a much better option at point guard. Despite the win, Golden State still looked to be the best team in the league. They simply have too much fire power with Steph Curry, Klay Thompson and Kevin Durant. It will be hard for any team to beat them in a 7-game series.
There are always a few outside contenders that could pull off an upset. The current NBA is dealing with a serious lopsidedness in terms of teams—the Western Conference is significantly better than the Eastern Conference. The difference in quality is so high, the league changed the format of the All-Star Game to make things more competitive. In the East, the only real threat to the Cavs are the Celtics, but with Hayward out, the Cavs would be considered a flop if they didn't make it to the Finals. In the West, you have the Rockets, San Antonio Spurs and the Oklahoma City Thunder as the 3 challengers to the Warriors' dominance.
The Spurs are a constant presence in the West and possess the best coach in the league. They reached the Western Conference Finals against the Warriors last year and could've won, if not for an injury to star player Kawhi Leonard. If the Spurs can stay healthy, they will be a team to look out for. The Thunder picked up Paul George and Carmelo Anthony in the offseason, giving them a dangerous starting lineup. The only problem is that they have combined the focal players of 3 separate teams into one, begging the question of whether they can coexist. If things go well in OKC, the Thunder provide a sleeper threat in the West. Russell Westbrook had the best season of his career last year and will look to build on that. Add George and Anthony into the mix and you have a lethal team.
You can find betting lines on all the NBA teams in any of our recommended offshore sportsbooks. These sportsbooks provide odds comparable to ones you would find in Las Vegas. You can place a futures bet on which team will win the league if you are feeling confident. As things stand now, the Warriors are favored to win. However, the Cavs, Thunder and Spurs are not far behind. Check back frequently, as betting lines are updated constantly. Each of the teams mentioned above will be solid bets on a game-to-game basis. One of the attractive qualities of NBA betting is the high number of games throughout the season, creating lots of betting opportunities. If you bet smart and often, you stand to make a lot of money throughout the season.
NBA Resources
Players who are wanting to follow news until the NBA season starts can visit the NBA official website.
NBA Commissioner Calls For Legal Sports Gambling In America - Adam Silver is the one guy in professional sports that seems to have any common sense when it comes to legalizing sports betting.
Additional Basketball Betting Guides
Legal NCAAB Betting Sites With March madness right around the corner, check out our guide for college basketball betting and which sites are your best options.
Additional Sports Betting Guides Included In Our Series:
Legal USA NFL Betting Sites: Finding safe and reputable online sportsbooks at which to participate in NFL betting is the key to a successful online gambling session, and this guide will help you do that with access to legal and licensed online sports betting sites.
Legal USA MLB Betting Sites: MLB baseball betting is a highly active venue that requires players to be conscientious about their sportsbook selections. We can point you in the right direction for safe and trusted sports betting brands.
Legal US Horse Betting Sites: Horse betting has become one of the more prestigious sports betting options, and has driven high quality sportsbooks to expand their racebooks to include safe and overall pleasing horse racing opportunities.