Legal Georgia Online Gambling 2018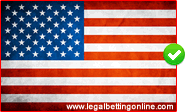 The state of Georgia is one of the less gambling-friendly destinations in the US. There are very few options for legal gambling within the state. The state lottery and a few gambling cruises are the extent of the state's offerings. The gambling cruises offer a limited range of casino games and poker in some cases. These gambling boats are allowed to provide betting services to players once they are three miles or more offshore. This is the extent of any type of casino or poker gambling available in GA. Charitable and non-recreational bingo and raffles are also legal in Georgia.
There are efforts being made to legalize pari-mutuel wagering that includes both dog and horse racing via Senate Resolution 135. However, time ran out before the Georgia Horse Racing Coalition could secure enough votes to allow for a constitutional amendment to support putting the issue before the voters. They were only 2 votes shy when time ran out. Georgia is one of the few states that does not offer pari-mutuel wagering to its residents and visitors.
Clearly, Georgia residents have very little to choose from when it comes to legal gambling entertainment. This is the type of climate that strongly fosters an interest in the online gambling arena. Many US residents, including those living in Georgia, are unclear about the legalities of online gambling in their region, and what legitimate opportunities are genuinely available and legally sanctioned. This guide was created to provide the necessary information that players are looking for that will allow them to make informed decisions regarding what type of gambling entertainment options fit best with their personal situation and preferences.
---
Georgia's Online Gambling Laws

Georgia's gambling laws do not address online gambling. There is no form of state regulated online gambling available to residents at this time. Based on the state's unfavorable stance concerning gambling in general, we do not expect this to change anytime soon. That's the bad news. The good news is that there are a number of legitimate gambling sites that accept players from Georgia.
Is Online Gambling Legal In Georgia?
There are
no state laws and no federal laws that prohibit Georgia residents from participating in online gambling
entertainment at licensed and regulated gambling sites that are located and certified outside of the United States. By restricting your online gambling to these types of destinations, you will not be violating Georgia gambling laws and will not be risking any type of negative consequences legally.
What Is The Legal Gambling Age In Georgia? – The legal minimum gambling age for playing the lottery or participating in bingo or raffles in Georgia is 18 years of age. We anticipate that when pari-mutuel wagering is approved in the state that it also will carry a minimum legal gambling age of 18. The gambling cruises require participants to be at least 21 years of age in order to play casino games or poker. These state gambling age laws translate to any type of gambling done within the state, including online gambling. Which means that Georgia gamblers must adhere to the minimum age of 18 for online bingo or horse racing, and a minimum age of 21 for online casino, poker or sports gambling.
GA State Facts & Quick Jump Menu
---