Massachusetts Legal Online Gambling For 2018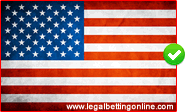 Massachusetts has a colorful history with gambling, with significant transformation over the years that has resulted in an up and coming gambling environment. The gambling laws in Massachusetts allow a variety of legal gambling entertainment options, with some fairly recent referendums that allow some of the long awaited venues to emerge as regulated gaming for the first time. Some wrinkles are still being ironed out where it concerns tribal gambling properties, but the state is definitely on a forward moving trajectory to providing premium betting destinations in three specific regions of the state.
With so many changes taking place concerning gambling in the state, including overturned court decisions, it is easy to get lost in the maze of legalities when trying to navigate the betting landscape. This page was designed to serve as a resource guide for Massachusetts players seeking information on legal gambling entertainment options that are at their disposal and an overview of what the state's laws have to say about gambling both online and offline. We provide clear and concise information on each gaming venue, state laws and how federal laws play into the situation.
Our team of gambling professionals provides experienced and informed input that comes from decades of combined experience in both land based and the legal state online gambling arena. We are not lawyers and are not seeking to replace professional legal advice or services. We are simply providing our readers with the most current and concise overview of information relevant to gambling laws and opportunities in The Bay State.
---
Online Gambling Laws In Massachusetts - Recent Developments

Several attempts have been made to legalize online poker in the state of Massachusetts. In 2013, State Senate Minority Leader Bruce Tarr introduced legislation that would legalize the issuance of legal online gambling licenses to existing casinos. The measure was unable to gain much momentum until Tarr attempted to integrate the bill as an amendment to the Massachusetts Senate Budget. He was able to garner some support there from Republican senators, but not enough to get the bill passed.
A few months later, another bill was introduced that would amend an existing transportation bill to include taxation regulations, establishing license fees and legalize online poker and casino games. Unfortunately the effort was rejected. However, in early 2014, the Massachusetts Gaming Commission agreed to hold a hearing, and also requested that the Lottery Commission be allowed to experiment with online lottery gaming on a trial basis. Again, the efforts never gained enough traction to produce any real results.
2016 appears to be much more promising, with yet another bill being brought forward by Bruce Tarr. This new piece of legislation works in tandem with efforts to expand the gambling industry in Massachusetts in order to compete with increasing competition from bordering states. The Gaming Commission and Lottery Commission are on board with the measure, and the Poker Players Alliance feels positive about the possibilities we could see emerging in Massachusetts.
Penalties For Violating Massachusetts State Gambling Laws
As is the case in most states, penalties for operating illegal gambling activities is much more severe than the penalties for participating in illegal gambling as a player. Individuals convicted of promoting or organizing illegal gambling activities can face up to fifteen years in prison. Players of illegal gambling activities still can face some punishment, including small fines and jail sentences that are less than a year.
If you want more information about the laws that could potentially affect your online gambling activity, check out our U.S. federal gambling laws section for insight into which regulations come into play on the federal level.
Is Online Gambling Legal In Massachusetts?
At this time, operating or owning an online gambling business in Massachusetts is not legal because online gambling is simply not addressed in the state's laws. The laws of the land have not made it illegal for MA residents to participate in legally licensed and regulated offshore internet gambling. This being the case, we can confidently say that operating an online gambling site in Massachusetts is not legal, however
gambling online is not a violation of Massachusetts state or federal laws
. The gambling sites in this guide are legitimately licensed, subject to strict regulatory oversight, and accept players from Massachusetts. The gambling laws in the state do specifically prohibit using a telephone to place bets.
Is Massachusetts Going to Legalize Online Gambling Anytime Soon?
We actually have high hopes that the state will in fact embrace legal online gambling within their borders. Bruce Tarr's relentless effort to bring legislation forward that legalizes online gambling in the state might just pay off in 2016. If not, we have no doubt that this committed proponent of online gambling will have something new up his sleeve. The fact that neighboring states such as Pennsylvania who is close to passing their own laws or New Jersey which already offers legalized gambling does present some competitive pressure to lawmakers in Massachusetts. This should only help the issue.
MA State Facts & Quick Jump Menu
---