Legal USA Online Slots Guide 2018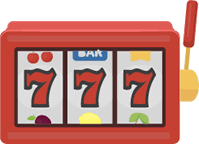 What do land-based casinos, riverboat cruise ships, some internet cafes and your smartphone have in common? They all offer legal slots betting for real money, albeit with unique advantages and disadvantages. The traditional "one armed bandit" which can still be found in abundance in brick and mortar casinos worldwide is known as a "slot machine" in the US, "fruit machine" in the UK, "the slots" in Canada and a "poker machine" or "pokie" in New Zealand and Australia. And this incredibly simple game is also unbelievably thrilling and enjoyable, with a mere push of a button or pull a lever dictating a chance outcome. What makes slots so popular and a far cry from poker is that you really don't need to have any refined skills to enjoy and do well at slots games either online or offline. And with enticing bonuses and promotions available to USA players, it's no wonder this is the most popular casino game around.
Is Playing Online Slots For Real Money Legal In The US?
We understand how confusing it can be for USA residents to make heads or tails out of the legal online gambling climate. Unless you have a law degree, it's down right confusing for most people. But that's one of the main reasons why we've created this website, to help players understand the legalities of gambling online in the United States, and which if any laws might apply to them.
To put it as plainly as possible, there is nothing illegal about playing online slots for real money in the United States. Most of the confusion comes from the Unlawful Internet Gambling Act of 2006, also known as the UIGEA. This law actually targets the banks and financial institutions that process gambling related transactions, but does not have any language in it whatsoever that targets the players themselves.
So the bottom line is Americans can still access legal and reputable online slots casinos sush as those recommended on this page, as long as those operations have been licensed and certified in the jurisdictions known to offer legitimate online gambling licenses. All of the casinos listed on our website are in fact legally licensed and regulated.