Maryland Legal Online Gambling 2018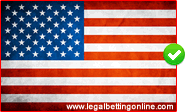 Maryland's gambling laws have been evolving slowly since the early 70's when the state lottery was established. The last 8 years have seen significant changes take concerning regulated gambling in the Old Line State. While most of the recent progress has been rather straightforward, the state had an on again off again relationship with slots in the late 50's and early 60's. As the dust settles from recent expansion, it is accurate to say that Maryland has developed a thriving gambling industry that provides a high quality range of options for enjoying responsible gambling entertainment.
This guide exists to provide Maryland residents and visitors with insight into the available options for enjoying legally sanctioned online and offline betting action. We cover the legalities concerning gambling in MD, and break down the information concerning the state's gambling laws into easy to understand segments. We are providing this guide as informational only. We are not licensed attorneys and are not qualified to provide professional legal advice or services. We are experienced gambling professionals and are well versed on navigating the legal betting landscape in the United States. Below you will find information on specific gambling laws in Maryland, what penalties are involved for violating these laws, and how to legally access online gambling opportunities without violating state and federal laws. We also provide recommendations for accessing the best legally sanctioned online gambling sites that accept players from Maryland.
Is Online Gambling Legal In Maryland?

While Maryland has not expressly legalized state regulated online gambling, their gambling laws also do not prohibit legitimately licensed offshore gambling sites. Therefore, there are not any state or federal gambling laws that make it illegal for gamblers in Maryland to participate in legally licensed and regulated online gambling that takes place at legitimate gambling sites located outside of the US.
Online Gambling Laws In Maryland
As far as state licensed online gambling is concerned, Maryland does not offer any options for residents or visitors to the state. Governor O'Malley vetoed an effort made by the Lottery and Gaming Commission to legalize online lottery ticket purchases. State leaders have expressed a 'watch and see what happens' stance by the state, meaning that they want to see how other states handle initiating a regulated online gambling infrastructure and platform and how successful they are prior to taking any steps to approve or achieve this in Maryland. This leaves a glimmer of hope for MD residents hoping to see state licensed online gambling emerge in their region.
It is important to note that while MD does not offer any state regulated online gambling options yet, there are no state or federal laws which makes online gambling illegal in the state. The online gambling sites recommended in this guide are all legally licensed and subject to strict regulatory oversight. They also offer a high quality betting experience and secure protection for players and their sensitive information.
MD State Facts & Quick Jump Menu
---