Legal Online Gambling In Hawaii For 2018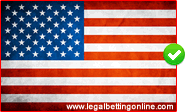 Hawaii is one of the few states in the US that literally doesn't have any type of legal gambling entertainment, not even a state lottery. There was an effort to bring forth a proposal for a brick and mortar casino in 2010, however it failed. A year later legislation was introduced that would establish poker as a game of skill and therefor exempt from the state's gambling laws. The measure failed in the house finance committee, lacking any real public support. There have been a number of gambling related bills presented between 2009 – 2015, including ones that addressed online gambling, however the state remains staunchly positioned in opposition to embracing any type of gambling entertainment.
This does not eliminate all gambling options for Hawaii residents however, and this guide was created to make sure you have access to information about the legalities surrounding your involvement in gambling entertainment in HI as well as the resources that are available to you. We break the information down by venue, and provide professional recommendations, comprised from the knowledge and experience of a team of experts.
---
Hawaii Gambling Laws

The state of Hawaii has not passed any specific laws making online gambling legal or illegal. What this means is that nobody will be able to legally operate an online gambling site within the state, and on the flip side, nobody is going to get in trouble for engaging in online gambling that is legally licensed and regulated. Their choice to not address the issue puts it squarely in the 'gray' area. Gray is what we do best!
Is Online Gambling Legal In Hawaii?
There are not any state laws that prohibit online gambling in Hawaii. However, there are some conditions that must be met to keep things kosher. For one, any gambling site you bet at should be legally licensed and subject to regulatory oversight through a governing jurisdiction that is recognized as legitimate within the industry. Secondly, they must be located outside of the US, beyond the reach of federal regulation. If you become involved in online gambling that is not licensed or regulated, then you could find yourself not only in legal trouble, but also at risk for theft or fraud from cyber predators.
There were some attempts made to present legislation to legalize online poker in Hawaii a few years back. Unfortunately none of them were successful. Many residents had hoped that previous Hawaii Senator Daniel Akaka's favorable stance concerning online gambling would help the state realize some strides in this area, however his influence remained largely with the federal push for online gambling.
You can read more about federal gambling laws that apply to US citizens here.
HI State Facts & Quick Jump Menu
---