California Legal Online Gambling Guide 2018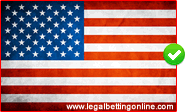 The Golden State's position concerning gambling has historically been fairly friendly, with a long history of gambling activity in the region. State regulation of California's gambling businesses did not begin to emerge until 1984, and has transformed over time to support a thriving industry. Land based gambling has been around a long time in the state, and remains a very popular form of entertainment to residents of and visitors to the state. Already one of the most heavily visited states with the lure of San Francisco and LA's Hollywood scene, there are more than enough locals and tourists to support the gambling businesses located within the state's borders.
California's political landscape is highly complex, with polarized sides to most issues and a great deal of controversy over social issues. Having one of the largest populations of any state makes them an influential region, and it provides an enormous customer base for any type of business platform that puts their roots down in the state, including both land based and legal online betting. The potential revenue with a player base this large in the Golden State is jaw dropping. This is one reason that efforts continue to launch state regulated online poker despite the opposition of powerful individuals such as Sheldon Adelson. This page will address the legal status of gambling in California, and will provide insight into each of the most popular platforms within the gambling industry.
Is Online Gambling Legal In California?
If you don't want to read through the legal text, we can summarize everything for you in one brief sentence. While online gambling hasn't yet been legalized or regulated by the state,
there are no laws that specifically make the act of gambling online illegal in California
as long as you are placing your bets with licensed offshore gambling sites who are located in regions that offer legalized gambling. All of the websites found on this page meet this criteria and are very reputable names in the industry.
CA State Facts & Quick Jump Menu
---