Rhode Island Legal Online Gambling 2018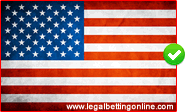 Rhode Island is indeed the smallest state in the Union. This fact alone makes it difficult for the state to compete in some industries, gambling being one of them. Rhode Island faces stiff competition from neighboring states that offer legal gambling which have invested generously into creating a thriving gambling entertainment industry that is attractive to players. Connecticut offers two impressive casino resort properties and Pennsylvania has one under construction as of this writing. This places pressure on Rhode Island to also deliver when it comes to betting entertainment or see all that revenue go to neighboring states that do step up to the plate.
Gamblers in Rhode Island will be best served with a clear and concise understanding of the legalities concerning gambling in their state. This is the prime objective of our resource guide. In addition, we provide access to information about legally sanctioned destinations at which to enjoy gambling entertainment. We are in hopes that this data will benefit players seeking to make informed decisions regarding their participation in gambling entertainment, and the legal options that are available. This guide is not designed to substitute for professional legal services or advice. If you are seeking professional legal advice concerning gambling, we recommend that you speak to a licensed attorney.
---
Is Online Gambling Legal In Rhode Island? Laws And Statutes To Consider.

Like most states, Rhode Island doesn't address online gambling in their state laws and statutes. This being the case, it is not legal for anyone to own or operate an online gambling site of any type in Rhode Island. It also means that it is not illegal for anyone in RI to participate in online gambling that is provided by a legally licensed and regulated destination that is located outside of the Untied States. This is great news for residents of Rhode Island seeking legally sanctioned online gambling that is not in violation of state or federal laws. The gambling sites you see recommended on this page are all legally licensed and regulated offshore gambling sites that accept players from Rhode Island. Our US gambling laws section will provide more details on the overall status of legal online gambling in America.
RI State Facts & Quick Jump Menu
---