Legally Betting on Basketball in 2019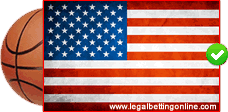 Basketball is played by over 450 million people in 170 countries, and as a result, is one of the most bet on sports in the world with the NBA, college basketball, and the Olympics being the most popular basketball options in the United States.
We want to make sure you don't commit any fouls when betting on basketball this season and have reviewed numerous sports betting sites, selecting only the best to ensure your choice for betting on basketball this season is legal, safe, and a slam dunk.
Is Online Basketball Betting Legal in the United States?
Offshore: Yes. There is not a single U.S. federal law that makes betting on basketball at an online sportsbook illegal. If the sports betting site is licensed and located offshore, like the ones we've chosen below, then you have nothing to worry about.
Domestic: It depends on which state you're from. The PASPA repeal in early 2018 opened the door for states to begin legalizing sports betting operations within their state, but most are taking a wait-and-see approach before beginning the legislative process.
Best Basketball Betting Site for USA Players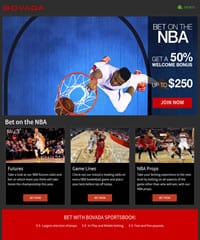 Bovada is the premier destination for USA players looking to bet on basketball games. Being one of the most reputable names in online sports betting gives players the peace of mind they deserve so players can enjoy betting without the worry of getting paid.
New players get awarded with a 50% matching bonus up to $250, and can enjoy a host of betting options through Bovada such as straight bets, parlays, teasers, 1st and 2nd half lines, live betting and so much more. They even offer a robust mobile betting platform for players on the go.
And if that doesn't get you excited, the fact that you can play online casino games as well as horses all under one players account should be the icing on the cake. This makes Bovada sportsbook a perfect all in one trusted and reliable betting solution for USA residents.
 Pros
Accepts players from most U.S. states
Excellent reputation in the industry
Generous 50% signup bonus up to $250 Free
Fast and easy deposits via credit cards and Bitcoin
Very reputable - they've never missed a payout
Cons
Only accepts U.S. Mexico And Brazil Players
Excluded States: NY, NV, NJ, DE, MD
Top Legal Online Basketball Sportsbooks for the USA
Betting on Basketball Leagues and Games
Basketball is the second most popular sport in the U.S. after football, but sports betting sites offer way more leagues for basketball betting due to its popularity around the globe. Here are the top leagues in the U.S. that receive the most basketball action.
NBA – National Basketball Association
The NBA was founded on June 6, 1946, in New York City and is home to 30 professional basketball teams. Each team plays an 82-game schedule with the winner from both conferences play in the NBA Finals, a best-of-seven series where the winner receives the Larry O'Brien Trophy and is named NBA Champion for that season. You can get more information from our page dedicated to betting on the NBA.
NCAAB – Division I Men's College Basketball
Since 1939, the NCAA has been the ruling body and there is currently a total of 353 Division I men's collegiate basketball programs spread across 32 conferences who are eligible to compete in March Madness for a shot at reaching the Final Four and winning the National Championship. Betting on college basketball has become more popular than betting on the NBA in many respects, with March Madness accounting for a lot of the action.
Basketball at the Summer Olympics
Numerous countries compete in basketball every four years at the Summer Olympics with teams for both men and women all vying for the Olympic Gold Medal. USA Basketball has historically been the most dominant Olympic team in the world and will go for the gold again in Tokyo, Japan during the 2020 Olympic Games.
Types of Basketball Bets
The legal sports betting sites we recommend offer many lines for users to choose from when deciding how you'd like to bet on basketball. Here are the most common lines you'll see at online sportsbook along with examples of each.
Basketball Betting Guide – Tips and Strategies
Before placing a bet on basketball, it's important to keep a few key things in mind. These are some helpful beginner tips to help you strategically wager on basketball, and so most of your bets are nothing but net.
Know the game – The basketball meta is one that is always evolving and has changed a lot over the years. When looking at stats or trends from previous years, keep in mind the different rule changes and implementations of new technology that could have a big impact on your bet.
Check the rosters– Player additions made by a basketball team via free agency or trades can play a tremendous role in the future performance of a team, and the same can be said for losing a player. Correctly predicting how a new roster can affect the chances of a team or an opponent winning can serve you well.
Player matchups – Basketball, especially the NBA, is a star-driven sport and knowing how players match up to the counterparts on the other team is crucial to predicting the outcome of a game and is why even the best players can have 50 points one night and 20 points the next night.
Don't list to the media – Unless the media is reporting on basketball injuries or new acquisitions, then do yourself of favor and block them out. This is especially true for the opinionated pundits who likely don't have money on the game when making his or her pick and have nothing to lose.
Manage a bankroll – Basketball seasons are long and last for several months, so it's important to not go bankrupt on the first game of the season. Bet only a small, set percentage of the money you deposit. Basketball betting professionals typically only wager 1-2% of their bankroll on any betting line, so use this as a benchmark to minimize losses and to steadily increase the size of your bankroll when you win.
Legal Basketball Betting FAQ
When Was The Very First Basketball Game?
On a cold, rainy day in Springfield, Massachusetts, a physical education professor needed some way to keep his bored but raucous gym class occupied for an hour each day after being given two weeks by his department head to come up with a new indoor activity for the students during the long New England winters.
The professor would scrap several ideas for either being too rough or simply not being well-suited for a gymnasium. But on December 21, 1891, Dr. James Naismith had a breakthrough and nailed a peach basket to a balcony ten feet high on both sides of the gym and typed a list of 13 rules for the game.
He then chose two students to be captains and after they picked teams, he tossed a soccer ball in the air between the two captains – marking the start of the first ever game of basketball.
Top 10 Basketball Fun Facts – Did you know?
Although the game of basketball was invented in the United States, Dr. Naismith was a Canadian and was born in Almonte, Ontario on November 6, 1861.
During the earliest basketball games at the Springfield YMCA, the game was stopped after each score, so the janitor could use a ladder and retrieve the ball from the peach basket, which led to the bottom of each peach basket being cut off.
The first basketball games were played 9v9 because Dr. Naismith originally had 18 students in his gym class and was used to mimic the number of players on a baseball field. The rules were changed in 1897 and a maximum of five players allowed on the court for each team has been used ever since.
The game was played with a soccer ball until Spalding designed and produced the first basketball for official use in 1894 when founder A.G. Spalding worked with Dr. Naismith to make an official ball for the game.
Although the passing rules have never been changed, dribbling the basketball was originally not allowed and the modern rules allowing players to bounce and advance the ball down the court were not implemented until 1909.
Peach baskets were replaced by wire rims and then to cast iron rims in 1893. This, along with nylon nets being added in 1912, allowed the ball to fall in relatively the same spot after each made shot, which increased scoring and game tempo by a significant margin.
The 24-second shot clock in the NBA was introduced for the 1954-55 season to stop teams from playing "keep away," which frequently caused low-scoring and less entertaining games.
On March 2, 1962, Wilt Chamberlain set the record for most points scored in a single NBA game with his 100-point performance in a win over the Knicks in Hersey, Pennsylvania.
Many basketball historians and fans wish they could watch Wilt's record-setting 100-point game. Audio recordings from the 4th period are the only way to experience the game today. The historic game was not televised, the arena was half-empty, and no members of the press were in attendance.
The 3-point line was first created at the collegiate level in 1945 but was not kept as a rule. It was popularized during the 1970s by the ABA and was officially implemented by the NBA for the 1979-80 season. Chris Ford of the Boston Celtics made the first-ever 3-point shot in NBA history on October 12, 1979, which was also Larry Bird's first NBA game.