Legal Online Basketball Betting 2017/2018 Season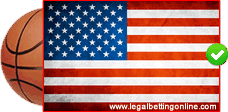 Legal basketball betting in the USA in 2016 saw more than $300 million wagered on both pro and college basketball games, and that total comes just from physical Nevada sportsbooks. We all know how huge the NFL Super Bowl is for gamblers, but the NCAA Tournament in 2016 saw more money wagered on March Madness in Nevada than on this year's Super Bowl contest, which is annually the most wagered-on single sports event. Industry analyst estimates run anywhere from $12 billion to $26 billion wagered annually across the globe on the NCAA Tournament alone, and those numbers do not even include the NCAAB regular season, or betting on NBA professional basketball games. And though even the casual gambler understands that football is the King of sports betting, betting on basketball games delivers a better opportunity to the seasoned round ball bettor for one significant reason.
This is because basketball betting lines are much more difficult to get correct. The sport itself is much more fluid than football, baseball or other popular sporting events. And this is just what the seasoned online gambler is looking for - a way to improve his or her edge. You can carve out a nice piece of this multibillion dollar high by following a strict and disciplined money management system and basketball betting strategy, as long as you are betting on basketball according to the legal outline in your particular jurisdiction. International players will find it easy to place wagers on college and professional basketball games, but unless you live near a physical and legally licensed sportsbook somewhere in the United States, you will have to turn to the World Wide Web to place a round ball wager. However, there are a couple of things you want to do before you open a legal online sports betting account.
Discover where the prospective sportsbook is licensed, find out if the management group is seasoned and experienced in offering online action, and check the basketball betting odds and lines offered. As veteran online sports gamblers ourselves, we hold accounts at several of the more reputable Internet sportsbooks, as this allows us to always access the best possible line, side or total. And while many second tier Internet sportsbooks will try to lure you by offering extreme player rewards and fat welcome bonuses, this should be the last feature you check on when conducting a site review. We dig deep to discover what the overall reputation of a sportsbook is in the online gambling community, and ensure that safe banking features and speedy withdrawals are offered before we open an account. Only then do we consider comparing welcome bonuses, contrasting not just the size of the bonus, but also how easy it is to qualify for that particular reward. This is the same review process we use when vetting any type of legal USA betting sites. You can learn more about our process and our findings in our online sportsbook reviews section.
Current Legal Status Of Online Basketball Betting In The US
After following our extensive review process outlined above, or simply checking out the websites we have already exhaustively reviewed and recommend, you need to understand exactly what is involved with legally betting on basketball in your particular country. As referenced above, international players will find it easier to place online wagers on sporting events than their American counterparts. As of this writing there are only a few US states which legally support online gambling, and most of those do not back Internet sports betting. But fortunately, US regulations only outlaw companies owned and operated in the United States from offering online sports gambling. This means it is entirely legal for American citizens and visitors to place a wager on a basketball game online, as long as the sportsbook they are using has been certified and licensed as operating outside of physical U.S. boundaries.