Legal 2023 March Madness Betting Guide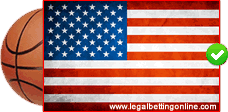 No two words evoke emotion in college basketball fans more than "March Madness." Utter those words and folks from all walks of life will immediately begin thinking about betting on NCAA Basketball and which team will cut down the nets and win the national championship.
But is it legal to bet on March Madness in the United States? And — if so — where and how can you wager real money on this year's tournament?
We'll cover the legalities of betting on basketball and the NCAA Tournament in the United States, offer our tips and strategies, analyze why different tactics for betting on the tournament, and even take a look at why so many people love betting on which college basketball teams will survive the Big Dance.
Is March Madness Betting Legal In The USA?
Yes. There is no law in the United States that prohibits wagering real money on the NCAA Tournament at legally operational offshore betting sites. Also, state-licensed sports betting has been legalized in nearly 30 states following the repeal of PASPA. Check out our state guide for more information on the status of legal sports betting in your state.
#1 Sportsbook For Betting On March Madness
Bovada Sportsbook
#1 Rated Online Sportsbook For USA Players
Bovada is the highest-rated online sportsbook for March Madness betting and big-money March Madness brackets. When it's time for the Big Dance, if you want to put as much on the line as the best NCAA tournament teams have on the line, Bovada March Madness odds boast high limits and slam-dunk payouts!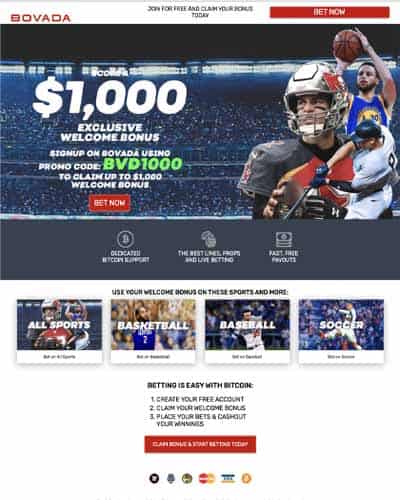 US Friendly - Most US States Accepted

Most reputable name in online sports betting

Licensed by Curacao - Operates within Costa Rica

Generous 50% bonus up to $1,000 for new members

Easy deposits using credit cards or Bitcoin/crypto

Fast and reliable payouts guaranteed
Only US, Mexico and Brazil players accepted

Residents of DE, MD, NJ, NV, NY not accepted

Limited deposit options compared to other sites
Best March Madness Betting Sites 2023
Odds To Win The 2023 NCAAB Mens Basketball Tournament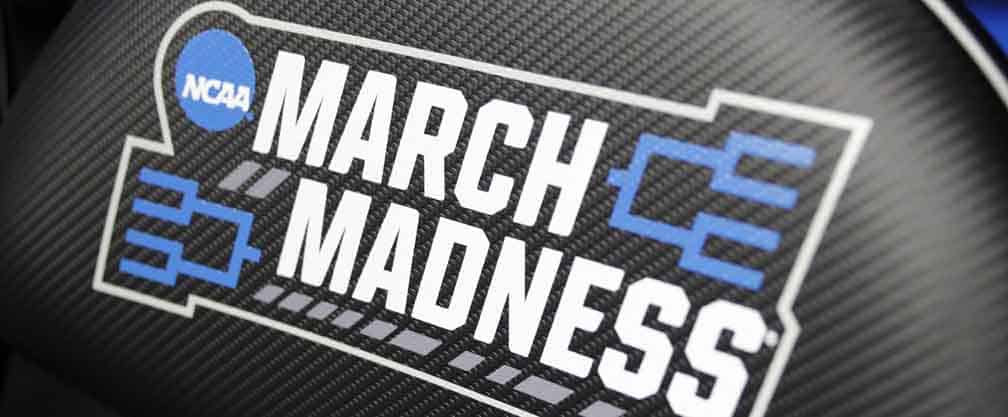 Odds via Bovada.
2023 NCAA DI Men's Basketball Tournament - Odds to win
Houston (#2) +650
Purdue +800
Alabama (#3) +1000
Kansas (#9) +1200
Tennessee (#6) +1200
Arizona (#4) +1400
UCLA (#7) +1400
Baylor (#14) +2000
TCU (#17) +2000
Connecticut (#21) +2200
Texas (#5) +2200
Virginia (#8) +2200
Gonzaga (#16) +2800
North Carolina +2800
Xavier (#13) +2800
St. Marys +3000
Kentucky +3300
Marquette (#10) +3300
Creighton (#23) +4000
Duke +4000
Indiana (#18) +4000
*More odds available online
Where To Bet On March Madness In 2023
The best recommendation we can make for betting on March Madness odds is with the online college basketball sportsbooks listed on this page. Each one has been carefully reviewed through years of collective basketball betting by our staff and is where we go when we wager on March Madness each year.
Offshore sportsbooks allow for cryptocurrency deposits that upload to accounts instantly and can be withdrawn quickly. Another major perk of these offshore March Madness betting sites is that members can join at 18 years old.
2023 March Madness Betting Apps
Mobile sports betting allows for gambling on NCAAB odds on March Madness from anywhere members choose by using Apple and Android web-ready devices.
The top March Madness sportsbooks offer their college basketball betting services using iPads, iPhones and other popular smartphones and tablets, and all that is required is an on-board web browser.
Just click on any of the college basketball betting site links to use your device to bet on March Madness odds from anywhere you want, legally, and at the age of 18.
Types Of March Madness Bets
Just like when betting on College Basketball regular-season games, there will be lines that include the point spread, moneyline, and the over/under for each NCAA Tournament contest.
There will also be March Madness prop bets that allow action on off-the-court occurrences as well as team and player stat totals.
Technically, March Madness champions can be bet on all year long as college basketball futures project the eventual title winners nearly a full 12 months in advance.
How To Bet On March Madness - Betting Tips and Strategies
Fans have various strategies for betting on their basketball brackets when March Madness rolls around, but let's be honest: Few of them are actually worth your time and any strategies "guaranteeing" a win on your bet is flat out lying to you.
However, there are different ways to limit your risks and to increase your odds of success. Those are the methods we'll be covering below.
NCAA Tournament Record in the First Round (1985-2019)
During the 2018 NCAA tournament, the University of Maryland, Baltimore County Retrievers pulled off the biggest upset in March Madness history when they beat the Virginia Cavaliers by a score of 74-54 in the first round, becoming the first ever #16 seed to defeat a #1 seed.
Many experts thought it would never happen, but the bettors who correctly predicted the upset and never said "never" were awarded huge payouts.
But how often do upsets happen? It's no surprise to see that the higher seeds have a higher winning percentage than their lower-seeded matchups. Below is the overall record for each of the first-round matchups since the tournament expanded to 64 (now 68 w/play-in round) teams in 1985.
#1 Seed over #16 Seed: 135-1 (99.26%)
#2 Seed over #15 Seed: 128-8 (94.12%)
#3 Seed over #14 Seed: 115-21 (84.56%)
#4 Seed over #13 Seed: 108-28 (79.41%)
#5 Seed over #12 Seed: 89-47 (65.44%)
#6 Seed over #11 Seed: 85-51 (62.5%)
#7 Seed over #10 Seed: 84-52 (61.76%)
#8 Seed over #9 Seed: 69-67 (50.74%)
How to Bet on the First Round of the NCAA Tournament
The important thing to remember is that there are four regions to the bracket and each one contains 16 teams, meaning there are four matchups between these seeds in the first round each year.
For example, let's examine the #5 Seed over #12 Seed matchup. The win percentage for the #5 Seed over the #12 Seed is 65.44% but there are four games in the first round that will have this specific matchup.
Instead of looking at 65.44% as the odds for each #5 Seed to win, take 65.44% as the percent of #5 Seed teams that will advance to the next round. If the percentage was 75%, then, in theory, 3 out of every 4 teams with the #5 Seed would advance to the next round each year.
This means, on average, 1 out of 4 teams with the #5 Seed will be upset. However, their win percentage is even lower than 75%, sitting currently at 65.44%. Since 50% would mean that the #5 Seed wins 2 games and loses 2 games every year on average and 75% would mean a 3-1 record, we can gather a couple of key data points:
On average, there is at least one upset of a #5 Seed team
On average, there is roughly a 40% chance (measuring 65.44% between 50%/75%) that there will be two upsets of a #5 Seed team
When looking at the data for this specific example, it's pretty safe to say that at least one of your bets in the first round should be on a #12 Seed each year and a second bet on another #12 Seed should at least be considered if you believe the team is being undervalued since they have a roughly 40% chance to be the second team to pull off an upset.
This was just an analysis for the #5 Seed and #12 Seed matchup and detailing the thought process of taking a win percentage and applying it to a bet on this year's tournament. You can use any of the all-time records in the first round and see where upsets are likely to happen in the first round and increase the chance you turn a profit from your investment.
Bracket Analysis: When to Bet on Upsets vs. Chalk
It's not a question of "if" there will be an upset in this year's March Madness, but it's a question of "when," and when betting on games after the first round of the NCAA Tournament, things get a bit tricky due to the various combinations of Seed vs Seed matchups you can have. However, this certainly does not mean that we can't find useful trends to apply before betting.
Below is a breakdown of how many upsets you can expect to see during the tournament on average, including information on which years saw the maximum and the minimum number of upsets from that round.
Total Upsets: 12.2
Max: 19 (2014)
Min: 4 (2007)
Round of 64: 6.1
Max: 10 (2016)
Min: 2 (2007)
Round of 32: 3.7
Max: 8 (2000)
Min: 0 (3 times)
Sweet Sixteen: 1.7
Max: 4 (1990)
Min: 0 (5 times)
Elite Eight: 0.5
Max: 2 (2 times)
Min: 0 (10 times)
Final Four: 0.2
Max: 2 (2014)
Min: 0 (23 times)
From the information, we can gather a ton of vital details. The first being that there are 12.2 upsets (lower seed defeats the higher seed) during March Madness each year, on average.
In fact, the most interesting trend here is that the average number of upsets essentially get halved will each round, starting with 6.1 upsets in the first round, then 3.7 for the second round, 1.7 for the Sweet Sixteen, 0.5 during the Elite Eight, and finally 0.2 for the Final Four.
Since we know that there are 32 games in the Round of 64 for example (2 teams per 1 game), we can divide the number of upsets by the number of games in each round to determine how many upsets you should expect to wager on each year.
Round of 64: 6.1 upsets / 32 games = 19% (nearly 1 upset per 5 games)
Round of 32: 3.7 upsets / 16 games = 23.1% (almost 1 upset per 4 games)
Sweet Sixteen: 1.7 upsets / 8 games = 21.3% (over 1 upset per 5 games)
Elite Eight: 0.5 upsets / 4 games = 12.5% (exactly 1 upset per 8 games)
Final Four: 0.2 upsets / 2 games = 10% (exactly 1 upset per 10 games)
Surprisingly, upsets happen more often in the second round than in the first round and accounts for the highest percentage of upset games for a given round in the tournament. Upsets happen in the first round (19%) and the Sweet Sixteen (21.3%) roughly one-fifth of the time.
However, the Elite Eight and the Final Four experience significant drop-off and if you're someone who likes to bet on the higher seed, then these two rounds are for you since history has been generous to favorites. On average, there is only one upset in the Elite Eight every two years and every 2.5 years for the Final Four. This isn't too surprising since the tournament has a way of narrowing down the field to where only the best teams remain.
In summary, during the first three rounds, at least 20%-25% of your bets should be on the lower-seeded team to pull off an upset if history is any indication. However, after those three rounds, change strategies and bet only chalk before the Elite Eight and Final Four are played since the higher-seeded teams win 87.5% and 90% of the games in those rounds, respectively. After all, who wouldn't like to win 9 out of 10 of the bets they place?
Free Downloadable March Madness Bracket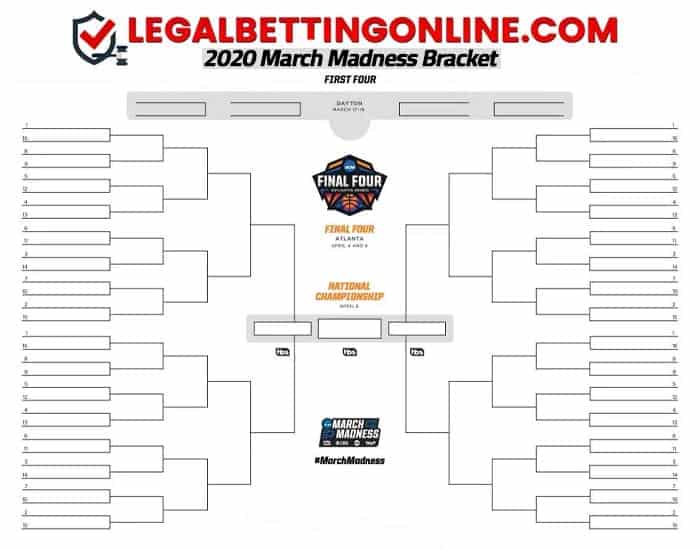 Free Bracket Contests For Huge Cash Prizes
Who doesn't like free? If you're looking to fill out a 2023 March Madness bracket for free, then we've got you covered. Below you'll find a link and the prize details to all the most lucrative contests on the Internet that do not require an entry fee. (*Details will be updated for 2023 as rules are updated)
Yahoo! Sports Best Bracket Millionaire Contest
Qlik Bracket Challenge
Fox Sports Bracket Challenge
CBS Sports Tournament Bracket Games
ESPN Tournament Challenge
March Madness 2023 Schedule: Date For Each Round