Legal NCAAB College Basketball Betting Guide 2018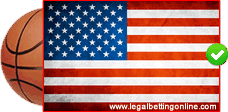 Though the NCAAB hates it, college basketball betting is extremely popular. While it is regulated and legally sanctioned in various parts of the world, the United States has not gotten on board with the concept of betting on collegiate sports en mass. Other than Nevada, you won't find much opportunity for betting on NCAA basketball games or players. This page is designed to discuss the legal status of men's college basketball betting as it relates to American bettors, as well as provide an explanation of what legal basketball betting options are available to US residents who are seeking betting services for participating in this type of entertainment. We will provide access to legally licensed sportsbooks that cater to basketball fans, including those residing in the United States. We have worked hard to deliver a resource guide that provides everything you need for making an informed decision regarding your betting action.
Is it legal to bet on NCAA Basketball in the US?
There are legitimate options for US residents who are interested in legally betting on men's college basketball. Those options are not based in the United States, but they are available to US players. It is because a sportsbook is licensed and regulated outside US borders that they can legally offer their betting services to American bettors. A break down of the federal laws that govern legal sports betting in the US will put this in perspective for you. Following is a brief explanation of the applicable sports betting laws in the US and how they affect sportsbook gambling opportunities for USA residents.
The Professional and Amateur Sports Protection Act (PASPA)
Also known as the Bradley Act, this law was enacted in the United States in 1992 and serves as the primary law regulating and defining the legal status of sports betting throughout the United States. PASPA effectively prohibits any US based sports betting with the exception of four exempted regions. Those regions include Nevada, Delaware, Montana and Oregon. This law effectively restricts the expansion of sportsbook gambling in the US, however it does not prohibit US residents from participating in legally licensed and regulated sports betting at online sportsbooks that are located outside of the United States. This means that licensed offshore sportsbooks offering lines on college basketball are legal betting options for gamblers in the USA.
The Federal Wire Act And College Basketball Betting
The Federal Wire Act has been in force since 1961, passed in an effort to curtail illegal interstate gambling being operated by organized crime families. They achieved their goal. The law became highly controversial upon the emergence of online gambling. In 2011, the DOJ declared that the law is only applicable in the case of online sports betting, and does not apply to other types of online gambling. This law now effectively and definitively prohibits US based online sports betting. This law however does not impact US residents who bet on sports, such as college basketball, through licensed and regulated sportsbooks that are located outside of the USA. Therefor there are no US federal laws that make it illegal for US residents to engage in sportsbook gambling online as long as players restrict their betting to legally sanctioned destinations that are regulated beyond US borders.
The Unlawful Internet Gambling Enforcement Act (UIGEA)
The UIGEA was passed in 2006, and caused quite a bit of commotion throughout the online gambling community. Because the law primarily focuses on how online gambling related transactions are processed, many payment processors exited the US online gambling market. Since then the dust has settled and US players once again have some very reliable options for funding their accounts at licensed and regulated offshore sportsbooks. The law does not prohibit USA players from participating in online gambling of any kind as long as the gambling destination is licensed and regulated outside of the United States and by a legitimate governing body in a respected jurisdiction. Many would-be gamblers mistakenly believe that this law makes it illegal for them to enjoy responsible gambling entertainment online when in fact the law does not even address players at all. The UIGEA only targets gambling site operators and payment processors, and has ensured a safer environment for funding your betting accounts.