Legal NCAAB College Basketball Betting Guide For USA Players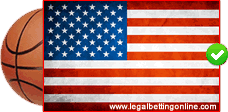 Though the NCAAB hates it, college basketball betting is extremely popular. While it is regulated and legally sanctioned in various parts of the world, the United States has not gotten on board with the concept of betting on collegiate sports en mass. Other than Nevada, you won't find much opportunity for betting on NCAA basketball games or players. This page is designed to discuss the legal status of men's college basketball betting as it relates to American bettors, as well as provide an explanation of what legal basketball betting options are available to US residents who are seeking betting services for participating in this type of entertainment. We will provide access to legally licensed sportsbooks that cater to basketball fans, including those residing in the United States. We have worked hard to deliver a resource guide that provides everything you need for making an informed decision regarding your betting action.
Is it legal to bet on NCAA Basketball in the US?
There are legitimate options for US residents who are interested in legally betting on men's college basketball. Those options are not based in the United States, but they are available to US players. It is because a sportsbook is licensed and regulated outside US borders that they can legally offer their betting services to American bettors. A break down of the federal laws that govern legal sports betting in the US will put this in perspective for you. Following is a brief explanation of the applicable sports betting laws in the US and how they affect sportsbook gambling opportunities for USA residents.
The Professional and Amateur Sports Protection Act (PASPA)
Also known as the Bradley Act, this law was enacted in the United States in 1992 and serves as the primary law regulating and defining the legal status of sports betting throughout the United States. PASPA effectively prohibits any US based sports betting with the exception of four exempted regions. Those regions include Nevada, Delaware, Montana and Oregon. This law effectively restricts the expansion of sportsbook gambling in the US, however it does not prohibit US residents from participating in legally licensed and regulated sports betting at online sportsbooks that are located outside of the United States. This means that licensed offshore sportsbooks offering lines on college basketball are legal betting options for gamblers in the USA.
The Federal Wire Act And College Basketball Betting
The Federal Wire Act has been in force since 1961, passed in an effort to curtail illegal interstate gambling being operated by organized crime families. They achieved their goal. The law became highly controversial upon the emergence of online gambling. In 2011, the DOJ declared that the law is only applicable in the case of online sports betting, and does not apply to other types of online gambling. This law now effectively and definitively prohibits US based online sports betting. This law however does not impact US residents who bet on sports, such as college basketball, through licensed and regulated sportsbooks that are located outside of the USA. Therefor there are no US federal laws that make it illegal for US residents to engage in sportsbook gambling online as long as players restrict their betting to legally sanctioned destinations that are regulated beyond US borders.
The Unlawful Internet Gambling Enforcement Act (UIGEA)
The UIGEA was passed in 2006, and caused quite a bit of commotion throughout the online gambling community. Because the law primarily focuses on how online gambling related transactions are processed, many payment processors exited the US online gambling market. Since then the dust has settled and US players once again have some very reliable options for funding their accounts at licensed and regulated offshore sportsbooks. The law does not prohibit USA players from participating in online gambling of any kind as long as the gambling destination is licensed and regulated outside of the United States and by a legitimate governing body in a respected jurisdiction. Many would-be gamblers mistakenly believe that this law makes it illegal for them to enjoy responsible gambling entertainment online when in fact the law does not even address players at all. The UIGEA only targets gambling site operators and payment processors, and has ensured a safer environment for funding your betting accounts.
Best NCAAB Betting Site For USA Players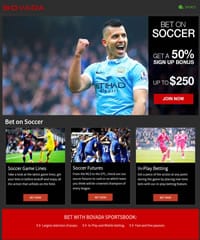 Bovada Sportsbook is the creme of the crop when it comes to sports betting for US players. They are the highest rated sportsbook and cater exclusively to American players. As you may or may not know, Bovada is part of the one of the most reputable names in online betting (Bodog), so players know they are dealing with a 5 star company who pays out winners like a bank.
Basketball fans can enjoy all types of wagering options including NBA, College Basketball and every other sport under the sun. They offer huge parlay payouts, some of the best in the industry and reward new depositing players with a 50% matching bonus up to $250.
Outside of being one of the most reputable US online sportsbooks, we really love Bovada because they offer not only sports betting, but also horse betting and casino and poker action all under one roof so players don't need to go anywhere else.
 Pros
US players from 45/50 states accepted
Excellent reputation in the industry
50% signup bonus up to $250 Free
Easy deposit options via credit cards or bitcoin
They always pay winners, no monkey business
Cons
Only accepts U.S. Mexico And Brazil Players
Excluded States: NY, NV, NJ, DE, MD
Top Rated Legal Online Sportsbooks
To Bet On NCAAB College Basketball
What Stats to Pay Attention to When Betting on College Basketball
First things first: Let's look at the stats that matter when betting on basketball. Your natural inclination may be to go with the winning team. For instance, the Kentucky Wildcats are juggernauts this year with their platoon system of NBA-ready players. And so you might find them with a record of 22-0 vs. a team that's 17-5. But that has little bearing on anything. You want to look at stats like offensive points scored juxtaposed against points allowed. For instance, if Kentucky scores 90 points per game, but gives up 88, you know that teams are hanging close. So, if you find a team that averages 96 points per game, while giving up only 86, then the odds suggest that they'll score enough to win. These aren't Kentucky's real numbers, however, so be careful. Make sure you research the legitimate numbers for each team.
But that's where you want to start. Look at the PPG (points per game) average, both scored and allowed. This is a much better barometer of potential success than wins or losses. But another stat to look at is shooting percentage – both at home and on the road. If, for example, you're betting on Georgetown vs. Villanova, and you want to initially take the Hoyas (Georgetown), you might find that the Hoyas only shoot 36% on the road, vs. 46% at home. Weigh this against the defense they're playing. What does Villanova give up in shooting percentage at home? Let's say the number is 40%, which is pretty solid. Now, take a solid defense against a team that already struggles to shoot the ball on the road, and you have the makings of a game that's probably going to go to Villanova.
Team statistics are the best to look at. Always focus on a team's percentages for offensive output and defensive stifling. An individual player might put up a lot of points, but often is the case a player can go off for 40 points and his team still loses. Just look at the NBA. Kobe Byrant still scores big points, but the Lakers are atrocious. Focus on team stats the paint the picture.
The Controversy Surrounding NCAAB Betting Action
There's currently a very heated debate taking place across the American landscape, and it all has to do with college athletes. Collegiate athletics is a billion-dollar industry, yet the students don't make any money. In fact, if the students do make money in any manner save a government-taxed job, they will be disciplined by the NCAA and perhaps even lose a scholarship. Before Cam Newton was an Auburn Tiger, he was a Florida Gator who got in trouble for breaking the rules. So, rather than succeeding Tim Tebow, he had to go to division 2 ball before transferring back to Auburn. College takes its rules very seriously, though ironically they are all about encouraging betting, so long as it brings more viewers.
This may seem like cognitive dissonance to some, while looking like good business to others. Either way, the fact of the matter is that people love betting on college sports, particularly NCAA Men's Basketball.
The yearly Division I Men's Basketball Championship, also known as March Madness, is a world-renowned tournament of 68 (yes, sixty-eight!) different teams, split into two brackets of 34 teams. As one might imagine, such a structure leads to a lot of betting. In fact, for the past few years, billionaire investor Warren Buffet has been offering a one-billion-dollar prize to anyone who creates the perfect bracket! The odds of this are well over a billion to one, but millions try. There are many ways to bet on basketball, and we'll discuss some of them below along with what to look for when betting. We have a march madness betting section that highlights some of the great promotions and free brackets offered at various sportsbooks and websites.
NCAAB Resources
Official NCAAB Site - Offers everything from team stats, to the latest college basketball news.
ESPN NCAAB Scores - Stay up to the minute on all college basketball scores. Filter by top 25 teams, read game previews or signup for their insider package to read expert picks and analysis.