How Coach Jimmy V's Legacy Will 'Survive and Advance'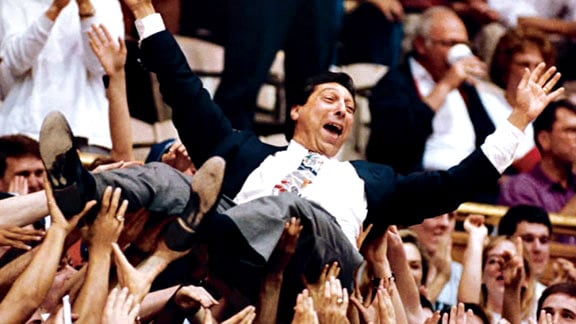 "Don't give up... Don't ever give up!"
These are the words of a fighter and comes from Coach Jim Valvano's speech at the 1993 ESPYS, where he and ESPN announced the founding of the V Foundation for Cancer Research – using these words as the motto.
The Queens, New York-born coach was exceptional at turning a phrase and inspiring hope – though this wasn't always the case, as noted by himself during the ESPYS when telling the story of a botched attempt at motivating his Rutgers players by reenacting a speech from his childhood idol Vince Lombardi.
"Gentlemen, we'll be successful this year if you can focus on three things, and three things only. Your family, your religion and the Green Bay Packers," he told his confused Rutgers basketball players at his first coaching gig.
Despite the stumble out of the gate – or into a locked locker-room door as he would call it – he would eventually be hired as the head basketball coach of N.C. State Wolfpack in 1980.
During his Wolfpack's run through the 1983 NCAAB Division I Men's Basketball Tournament, Coach Valvano told his team that in order to win the single-elimination tournament, they must "survive and advance" – a phrase commonly used during March Madness every year.
Coach Valvano would lead his 1983 N.C. State team on one of the greatest runs in the history of college basketball, which saw his team win nine do-or-die games through the ACC and NCAA tournaments.
Over the course of the runs' first eight games, his team managed to beat not only Michael Jordan's Tar Heels but three other top 10 teams on their way past the Final Four and on to the finals.
In the 1983 NCAA Championship game, the Wolfpack had to face the No.1-ranked Houston Cougars, a team that included Hakeem Olajuwon and Clyde Drexler, two future NBA stars and Basketball Hall of Famers who many – myself included – would put in their top 50 greatest to ever play the game.
Coach V and the sixth-seeded Wolfpack were one of the biggest underdogs ever in a national title game with Houston listed as a 7.5-point favorite before tipoff.
N.C. State came out swinging, rushing out to a 33-25 lead at halftime and causing Drexler to get into foul trouble, picking up four in the first half and leaving him with one remaining before being disqualified.
However, Houston would storm back after coming out of the locker-room, going on a 17-2 run to open the second half and taking the lead 42-35.
Olajuwon would need to receive oxygen several times due to the face pace of the game, causing Houston to slow the pace but allowing N.C. State to chip away at the lead.
With 44 seconds remaining and the game tied 52-52, N.C. State held the ball for the final shot. After Houston narrowly stole the ball with a few seconds left on the clock, Dereck Whittenburg shot a desperation 3-pointer from 30 feet away.
The shot would fall short, but Lorenzo Charles would grab the ball in mid-air and dunk it before the buzzer went off, giving N.C. State the 54-52 victory and winning the 1983 NCAA title – becoming one of the first "Cinderella teams" to win it all during March Madness.
In addition, Coach Valvano's 1983 team was nicknamed the "Cardiac Kids" in the tournament due to winning seven of their final nine games after being down in the final minute of play.
Along with the game-winning dunk, the camera shot of an exuberant Coach Valvano running out on to court looking for someone to hug after the buzzer sounds is one of the most enduring moments in sports history.
Jimmy V's Speech
"If you laugh, you think, and you cry, that's a full day. That's a heck of a day. You do that seven days a week, you're going to have something special."
The legendary speech was filled with unforgettable lines and often gives me a "heck of a day" whenever I watch it.
The speech also marked the announcement of his charity, the V Foundation, to fund cancer research to make sure that one day no one would have to suffer the disease again, adding that "It may not save my life. It may save my children's lives. It may save someone you love."
He would close his speech with the line: "Cancer can take away all my physical abilities. It cannot touch my mind, it cannot touch my heart and it cannot touch my soul. And those three things are going to carry on forever. I thank you and God bless you all." – receiving a standing ovation from the crowd.
Less than two months after his famous speech, Jim Valvano passed away at the age of 47 on April 28, 1993, at the Duke University Medical Center in Durham, North Carolina.
Jim Valvano is buried at the Cedar Hill Section of Oakwood Cemetery in Raleigh, North Carolina, and his tombstone reads: "Take time every day to laugh, to think, to cry."
This year marks the 25th anniversary of his famous speech and the founding of the V Foundation for Cancer Research, which to date has raised and awarded over $225 million in peer-reviewed grants to the top cancer researchers in the country.
The V Foundation operational cost is covered by generous donors and because of this, 100 percent of direct donates made by the public go to cancer research. If you'd like to donate to the V Foundation during ESPN's V Week, click here.
There will be an estimated 1,735,350 new cases of cancer diagnosed in the United States and 609,640 people will die from the disease in 2018, according to the National Cancer Institute.
No one is perfect, as I'm sure Coach Valvano would agree, but his will and determination can never be questioned, and his strength is something I hope we all will try to match someday because ending cancer will require nothing less of us.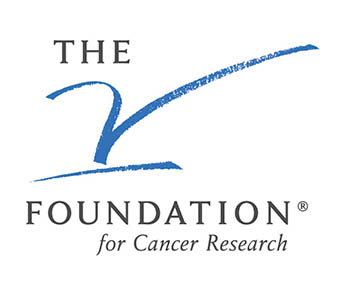 The legacy of Jimmy V lives on and will never die, and his last gift to the world was one that will never be forgotten as it may very well be a donation from his charity that leads to the breakthrough that will allow us to declare victory over cancer.
"Don't give up… Don't ever give up!"
- We won't Jimmy V. We won't.