Pennsylvania Legal Online Gambling Guide with Insight into PA Gambling Laws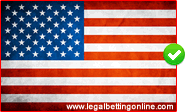 Pennsylvania is a gambling-friendly environment that specifically favors poker. There are multiple casinos, racinos and poker rooms throughout the state. The brick and mortar poker industry has grown significantly in the last few years. State based online gambling has not yet been legalized for PA residents, hence there will not be any type of state regulated online casinos, poker rooms or sportsbooks for players in the Keystone State. There are not any state laws that make it illegal to participate in legally licensed and regulated online gambling that is located outside of the United States, and there are multiple high quality Internet destinations that welcome players from Pennsylvania. This guide will break down the legal status and availability of online gambling by venue, covering online casinos, poker sites and sportsbooks. We will take a look at the state's gambling laws, and provide you with an FAQ section as well. Our objective in creating our legal state gambling directory is to provide a comprehensive resource that delivers valuable data for making informed decisions regarding your participation in legal online gambling opportunities.
---
Pennsylvania Online Gambling Laws

At this time, there are no online gambling laws regulating any type of state based options, nor are there any state laws prohibiting legal betting online at legally licensed and regulated offshore gambling sites. House Bill 1235 was introduced during the 2013 session, and upon its reading was referred to the Committee on Gaming Oversight. It has not since been seen. If the bill were to become law, it would authorize and regulate online casino and poker gambling for residents and visitors in Pennsylvania. We simply don't know where the bill stands at this point as there has been no more mention of it. It is reasonable to assume that the bill was tabled indefinitely. Industry analysts, including Morgan Stanley Research, predict that a new poker-only bill will be introduced during the 2015 session and could lead to online poker opportunities by 2018. A poker only bill is less controversial then one that includes casino gambling, and with the state's obsession with poker, it is simply more likely to pass according to various analyst predictions.
Regardless, there is nothing concrete at this point concerning Pennsylvania's move towards online gambling. We will keep you updated with any new information that surfaces regarding online gambling in the state.
Legal Gambling Age in Pennsylvania
The legal minimum age for Pennsylvania gamblers who wish to participate in casino or poker gambling is 21 years of age. For those who wish to participate in pari-mutuel betting, lottery or bingo, the minimum legal age is 18 years of age. This translates into online gambling identically. You must be 21 to enjoy online casino, poker or sports gambling and 18 to enjoy online bingo.
Is Online Gambling Legal In PA?
For the time being,
there are no state or federal laws that prohibit or ban players in PA from gambling online
. Enjoying online poker, casino and sports betting from legally sanctioned online destinations located outside of the USA is perfectly legal since the state doesn't regulate online gambling. You will find more information about this below.
PA State Facts & Quick Jump Menu
---