Oregon Legal Online Gambling 2018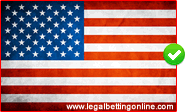 There are a variety of betting opportunities available to Oregon's citizens. From nearly a dozen tribal casinos to pari-mutuel wagering, charitable gambling and lottery options, gamblers in the state of Oregon are sitting quite pretty. There is a long history of gambling in the Beaver State, with the first state sanctioned betting emerging in 1931. Since that time, the gambling industry in Oregon has flourished, becoming a vital segment in the state's economy and providing much needed tax revenue for a struggling state budget. Though the state leans progressively left as is demonstrated by the legalization of recreational marijuana use in Oregon, residents are not necessarily always warm and friendly to the concept of gambling expansion in their state.
This page of our guide will focus on the legal landscape of gambling in Oregon. We will take a look at the land based brick and mortar betting options as well as the legal status of online gambling in the state. It is our intent that this guide will provide you with valuable information that allows you to make an informed decision concerning your involvement with gambling that is beneficial to your specific set of circumstances. We are not intending to serve as or substitute for any type of professional legal advice or services. We are not attorneys and are not qualified to provide professional legal services of any kind. This guide is provided for informational purposes only and its contents are based on our expertise as gambling industry professionals and not as experts on the law.
---
Is Online Gambling Legal In Oregon? State Laws And Statutes To Consider.

Oregon is one of the few states that have actually created laws concerning online betting inside of their legal framework. According to Oregon State Statute 167.109 , it is a Class C Felony to accept online bets from individuals within Oregon's state lines. The anti online gambling laws in the state are fixated on the operators of illegal online gambling operations, and not players. This means that this law prohibits the operation of an online gambling site within Oregon's borders, but does not expressly prohibit participating in legally licensed online gambling from a player perspective.
Does this guarantee that the state will never become interested in pursuing players? No, there are no guarantees. However there has been no indication that the state is remotely interested in that course of action, and there has never been a case in which law enforcement in Oregon investigated, arrested or prosecuted anyone for engaging in online gambling as a player. It would require tremendous resources for the state to monitor the online activities of their citizens, resources that the state certainly does not have the bandwidth for at this time.
OR State Facts & Quick Jump Menu
---