Virginia Legal Online Gambling Guide 2018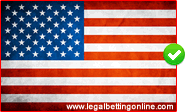 Virginia is one of the oldest states in the Union, and is considered neither progressively liberal nor the most conservative in terms of gambling entertainment opportunities that are available in the state. Is there an exciting Vegas style gambling environment in Virginia? No, absolutely not. But neither is there a 'ban it all' restrictive attitude such as you find in Utah and Hawaii. You won't find any commercial or tribal casinos, and you won' t find any live poker options either. Despite casino and poker gambling not being permitted in any form outside of some social or home poker games, there are a few gambling venues that are worth considering and that provide some interesting and enjoyable options for gamblers in Virginia.
This page of our guide was created specifically for gamblers living in or visiting the Commonwealth of Virginia who are interested in learning more about the legal status of gambling in the state and what betting options are legally available to partake in. This page offers our informed and educated opinion, which is based on our extensive experience in the gambling industry, both online and offline. Our combined experience spans decades, and includes interaction with the gambling community, owner/operators of both land based and online gambling businesses, and various industry professionals.
We are not attempting to provide you with or substitute for professional legal advice or services in any way. We are not lawyers and are not qualified to serve in that capacity. We provide this guide to be used for informational purposes alone, and not to take the place of professional legal advice. Should you have critical questions about the gambling laws or legality relevant concerns that need to be addressed, we suggest you speak to a licensed attorney.
Is Online Gambling Legal In Virginia?
There are no state or federal laws that make participating in online gambling at an online casino, poker site or sportsbook illegal
as long as it is legitimately licensed and regulated outside of the United States. The gambling sites that are recommended on this page all fall into this category, and they all accept players from Virginia. We have personally vetted each one of them, and have verified that they are operating legally within the industry and offer a premium online gambling experience through a highly secure environment.
VA State Facts & Quick Jump Menu
---