Entertainment Betting
Betting on entertainment is a relatively new addition to the gambling world. With the help of popular tv shows such as Game of Thrones, American Idol, Big Bang Theory, America's Got Talent, and The Voice, entertainment betting has grown into a phenomenon that not many saw coming. In addition, you can also bet on awards shows, such as the Academy Awards. Did you know that you can bet on the outcome of your favorite tv shows, movies, and more?
This page was created to help guide you into the realm of entertainment betting. This page will detail several important aspects associated with online betting with a focus on entertainment betting.
Legal Status For Betting On TV shows, Movies, and Other Entertainment
The US has no federal laws against betting on TV shows, movies or other forms of entertainment. US residents can legally access offshore or domestic online sportsbooks and place bets on anything they like as long as they are not breaking any state laws. The only two states that prohibit online betting are Connecticut and Washington, however, these states have yet to enforce these laws.
Our Top Pick For Entertainment Betting Lines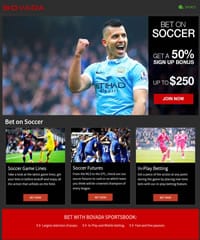 Bovada is one of America's most trusted online sportsbooks and it is easy to see why. Users can access all of Bovada's services with a single user account and take advantage of their extensive collection of entertainment betting lines.
Below you will see why we pick Bovada as our top sportsbook for entertainment betting.
 Pros
US Friendly
Owned And Operated By The Bodog Family (Most Reputable)
Deposit Easily With Your Credit Card Or Bitcoin
Fast And Reliable Payouts Guaranteed
50% Welcome Bonus Up To $250
Enjoy Sports Betting, Casino, Horses Ect.. All With 1 Account
Cons
Only accepts U.S. Mexico And Brazil Players
Excluded States: NV, NJ, DE, MD
Top Rated Entertainment Betting Sites For USA Players
What Entertainment Betting Odds Are Available Online?
On the sites listed above, you will find betting lines for popular tv shows, movies, and more. Right now there are numerous betting lines for Game of Thrones as the last episode is drawing near. You can also find American Idol betting lines and odds on expected movie ratings for the Sonic the Hedgehog movie being released in 2019. We expect to see odds surface for The Voice Season 16 as well.
TV Entertainment Betting Odds
Game of Thrones Betting Odds
Game of Throne is without a doubt the most popular television show on air in 2018. With the show's popularity, it is no surprise that online sportsbooks started offering betting odds on the throne. Below are some examples of entertainment betting lines. These betting lines are provided by Bovada.
Who Will Rule Westeros At The End Of Season 8?
Winner:
Bran Stark +200
Jon Snow +300
Sansa Stark +300
Gendry +600
Daenerys Targaryen +900
Tyrion Lannister +900
Jon And Daenerys' Baby +1500
Arya Stark +2000
Petyr Baelish +2200
Samwell Tarly +2500
Cersei Lannister +3000
Bronn +5000
Jaime Lannister +5000
Varys +6600
Brienne Of Tarth +10000
Davos Seaworth +10000
Euron Greyjoy +10000
Jaqen H'ghar +10000
Daario Naharis +12500
The Hound +12500
Yara Greyjoy +15000
Tormund Giantsbane +20000
Gilly +50000
The Mountain +50000
* Wager will be settled based on the confirmed 'King' or 'Queen' of the Andals and the First Men. If there is no King or Queen, whoever rules or controls King's Landing will be deemed the winner.
Which Lannister Will Die First?
Winner:
Jaime -200
Cersei +175
Tyrion +500
---
American Idol Season 17 Betting Odds
American Idol has become the gold standard for singing competition television shows. Below you will find the current betting odds for American Idol Season 17.
Winner of American Idol Season 17
Alejandro Aranda
Madison Vandenburg
Laine Hardy
Laci Kaye Booth
Wade Cota      
---
Who Will Win The Voice?
Last weeks shocking episode left team Adam without any contestants left in the competition. Now he must watch as Team Blake, John, and Kelly battle to be the winning coach for season 16. Below you will find the list of current competitors and their coaches. We will post "the Voice" betting lines as soon as they become available.
Team Blake Shelton
Kim Cherry

Carter Lloyd Horne

Gyth Rigdon

Dexter Roberts

Andrew Sevener
John Legend's Team:
Maelyn Jarmon

Shawn Sounds
Team Kelly Clarkson
---
Who Will Win America's Got Talent?
A new season of America's Got Talent will soon be underway. Season 14 will introduce two new judges including Julianne Hough and Gabrielle Union. People travel from around the world for a chance to compete on the game show. We will post odds here when they become available.
---
Movie Entertainment Betting Odds
Sonic The Hedgehog Betting Odds
Sonic The Hedgehog - Tomatometer Rating
Winner:
Over 15.5 +150
Under 15.5 -200
*All wagers have action. Tomatometer rating only. Audience score not counted. Market will be graded with a score based on the resulting release format (80 reviews for wide-release movies, 40 reviews for limited-release movies, including 5 reviews from Top Critics).
Will 'Sonic The Hedgehog' Win A Golden Razzie Award?
Winner:
Yes -130
No -110
*All wagers have action. Any category win counts for action.
Will 'Sonic The Hedgehog' Be Nominated For A Golden Razzie Award?
Winner:
Yes -250
No +170
*All wagers have action. Any category nomination counts for action.
---
Why Bet On Entertainment?
Entertainment betting is for people who like to bet on their favorite shows. Not everyone can foresee the success or failure of a movie's opening weekend, who will win a performance competition show or know who will die first in a popular show, but entertainment betting is for those who want to put their money where their prediction is.
Entertainment betting is a great alternative to sports betting or any other form of futures betting. It is also a great way for non-experience bettors to learn the ropes of wagering online.
Additional Rules For Movie and TV bets
Entertainment betting is betting on a fantasy outcome at best, therefore, additional rules are often associated with placing an entertainment bet. These rules can be found on the betting line itself and generally include exceptions. You can see an example of an additional rule below.
Who Will Perish First In Season 8?
Winner:
Cersei Lannister -400
Daenerys Targaryen +250
*If neither character perishes, wagers will be voided. Bookmanager's decision is final.
FAQ's