2020 American Idol Betting Options for Season 18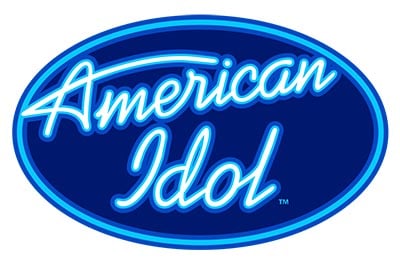 American Idol is one of the most popular live singing shows of all time and is still considered to be the most successful as it enters its 18th season on the air. Not many people would have thought that American Idol would still be popular after 17 seasons, but the show seems to be stronger than ever. Ryan Seacrest and multiple past contestants have made a pretty good life for themselves based on the success of the show.
Due to Idol's increasing popularity, online sportsbooks have started to produce betting lines based on the show. This page was created to inform our readers of the multiple ways to bet on American Idol and to suggest our favorite entertainment betting sites that are legal, fair, and trusted.
Legal Status For Betting Who Will Win American Idol Season 18
There are no US federal gambling laws to prevent online sportsbook users from betting on TV shows such as American Idol.  Very rarely do states pass specific gambling laws targeting offshore betting sites. Based on our research we have only found two states that outlaw offshore wagering: Connecticut and Washington.
While it is illegal to place any kind of online wager in either of these states, we have yet to find any instances where these laws were enforced. Despite this, placing online bets in CT or WA would be taking a risk that could result in criminal charges should the state suddenly decide to enforce these laws.
Top Rated USA Sportsbook For Betting On American Idol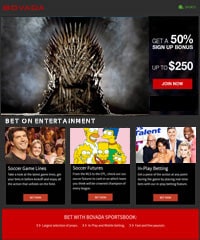 Bovada offers multiple entertainment betting lines including odds on who will win American Idol. In addition to entertainment odds, you can also access all of Bovada's additional features under a single-user account.
Bovada also offers sports betting, online poker betting, casino betting, table games, and generous bonus offers to get new accounts started off right.
 Pros
US Friendly
Owned And Operated By The Bodog Family (Most Reputable)
Deposit Easily With Your Credit Card Or Bitcoin
Fast And Reliable Payouts Guaranteed
50% Welcome Bonus Up To $250
Enjoy Sports Betting, Casino, Horses Ect.. All With 1 Account
Cons
Only accepts U.S. Mexico And Brazil Players
Excluded States: NV, NJ, DE, MD
US Friendly Sports Betting Sites
Offering American Idol Betting Lines Season 18
How Can I Bet On American Idol Season 18?
Online sportsbooks offer betting lines on American Idol season 18. To make an Idol bet you will have to sign up for an account, verify your e-mail, and finally fund your online sportsbook account.
American Idol odds are in the entertainment betting section for each sportsbook that carries these lines. There are also a slew of entertainment prop bets available for Idol. There you can select the odds you like by clicking on the betting line itself. Sportsbooks utilize a virtual bet slip that will calculate a bet, but the bet slip will need to be filled out completely and submitted before the bet is officially placed with the online bookmaker.
Our team of industry professionals has scrutinized the betting sites you see on this page to test their trustworthiness, security, and more. Our team has concluded that these sites are the best for betting on entertainment, sports, and politics. You will also find betting lines for Dancing With The Stars, America's Got Talent, the Voice , the Emmy's and other popular television shows.
The following sites also have other services that account holders can use under their single player account.
Why Bet On American Idol?
Betting on American Idol is a great way to get invested in the show and turn those votes into cash. Betting is not for everyone but if you are of age and have good luck picking the season winner, why not take a small risk that could pay off big? Betting is often unpredictable a lot like the Idol season finale, but just like the finale, someone is going to win.
American Idol 2020 Season 18 Betting Odds
Below are some examples of betting lines focused on the oddsmakers' predictions for this question: Who will win American Idol Season 18?  These betting lines are provided by Bovada.
What Happened Last Night On American Idol?
Last night a new Idol was crowned. Just Sam won season 18 of Idol by garnishing more votes on the live finale than any other contestant. The 2020 Idol was different from previous seasons as the contestants were sent home to quarantine during the live rounds. Despite the pandemic, Idol finished their season remotely.
Who Will Win American Idol Season 18
Season 18 has kicked off and is still in the selection rounds. Next, the contestants will move on to the battle rounds and then on to live shows. Until the season gets further underway it is anyone's game.
---
Season 18 Best Auditions
Jovin Webb:

Arthur Gunn:

Doug Kiker:

Marna Michele:

Gilberto:

---
American Idol History
American Idol was created by Simon Fuller and broadcast on FOX from 2002-2016. The show garnered a massive following and sprung many other competition shows including the Voice, Pop Idol, the X Factor, the masked singer, and multiple others. In 2018 after a year off the air American Idol was picked up by ABC for season 16.
American Idol Past Winners
Season 1 – Kelly Clarkson
Season 2 – Ruban Studdard
Season 3 – Fantasia Barrino
Season 4 – Carrie Underwood
Season 5 – Taylor Hicks
Season 6 – Jordin Sparks
Season 7 – David  Cook
Season 8 – Kris Allen
Season 9 – Lee DeWyze
Season 10 – Scotty McCreery
Season 11 – Phillip Phillips
Season 12 – Candice Glover
Season 13 – Caleb Johnson
Season 14 – Nick Fradiani
Season 15 – Trent Harmon
Season 16 – Maddie Poppe
Season 17 – Laine Hardy
Season 18 - Just Sam
American Idol Judges
Season 18 Judges:

Katy Perry
Luke Bryan
Lionel Richie
Past Judges:
Paula Abdul
Simon Cowell
Randy Jackson
Kara DioGuardi
Ellen DeGeneres
Jennifer Lopez
Steven Tyler
Mariah Carey
Nicki Minaj
Keith Urban
Harry Connick Jr.